Superior Ease of Exchange Could Allow Ethereum to Overtake Bitcoin
Bitcoin's lofty valuation and manic price swings receive intense news coverage, but Ethereum may provide the foundation to build an alternative worldwide financial system.
Ethereum, the world's second most popular cryptocurrency, has generated innovative financial products that could lead to decentralized finance, called "DeFi" in crypto circles, allowing for peer-to-peer transactions without using a commercial bank.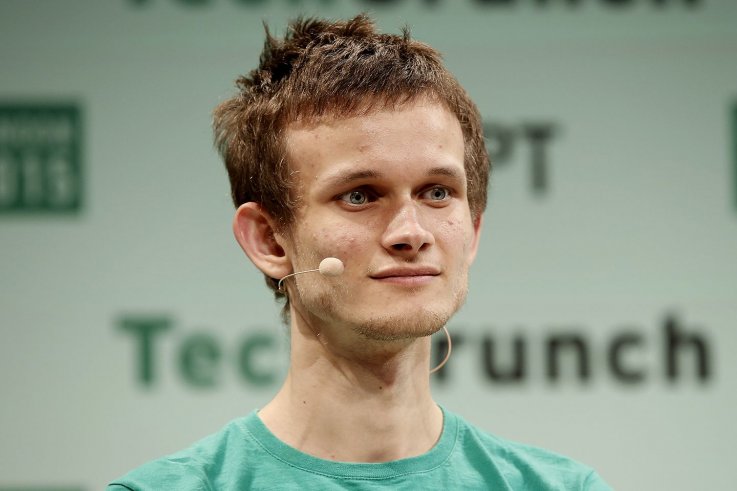 Founder of Ethereum, Vitalik Buterin during TechCrunch Disrupt London 2015 - Day 2 at Copper Box Arena on December 8, 2015 in London, England. Buterin's Ethereum holds just surpassed $1 billion, making him the youngest crypto billionaire in the world at age 27.
John Phillips/Getty for TechCrunch
"DeFi uses smart contracts to create protocols that replicate existing financial services in a more open, interoperable, and transparent way," Dr. Fabian Schär said in a research report published by the St. Louis Federal Reserve Bank.
"DeFi still is a niche market with certain risks but it also has interesting properties in terms of efficiency, transparency, accessibility, and composability," he said. "As such, DeFi may potentially contribute to a more robust and transparent financial infrastructure."
Smart contracts automatically launch computerized transactions when specific conditions are met. But expanding the system to meet future demand while maintaining security may be risky.
"Unfortunately, there seems to be an inherent trade-off between usability and security," the report said. "For example, some decentralized blockchain applications will ask for permission to transfer an infinite number of tokens on behalf of the user—usually to make future transactions more convenient and efficient. Such permission, however, puts the user's funds at risk."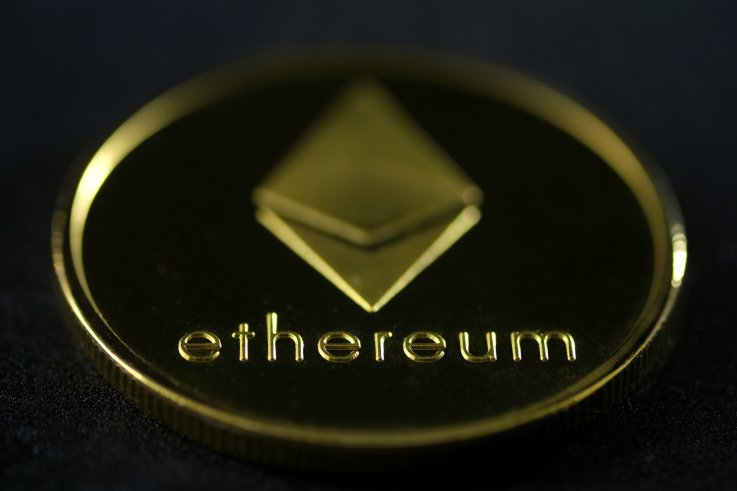 In this photo illustration, a visual representation of digital cryptocurrency Ethereum is arranged on December 17, 2020 in Katwijk, Netherlands.
Yuriko Nakao/Getty
Ethereum, often called Ether, was launched in 2015. It's an open-source, blockchain-based software. Open source means the source code is available at no cost and others can build on it or modify it for specific tasks. It doesn't mean that a usable, off-the-shelf software package is available at no cost.
In 2016, Ethereum was split into distinct blockchains, Ethereum and Ethereum Classic, after the theft of about $50 million in smart contracts. There are about 115.73 million Ethereum tokens now in circulation, while the number of Bitcoin is capped at 21 million.
In theory, many of the new Ethereum coins will replace those lost due to negligence. Therefore, the number of new coins isn't infinite. A maximum of 18 million Ethereum can be created each year. The growing number of coins won't erode the value as long as demand remains strong, proponents say.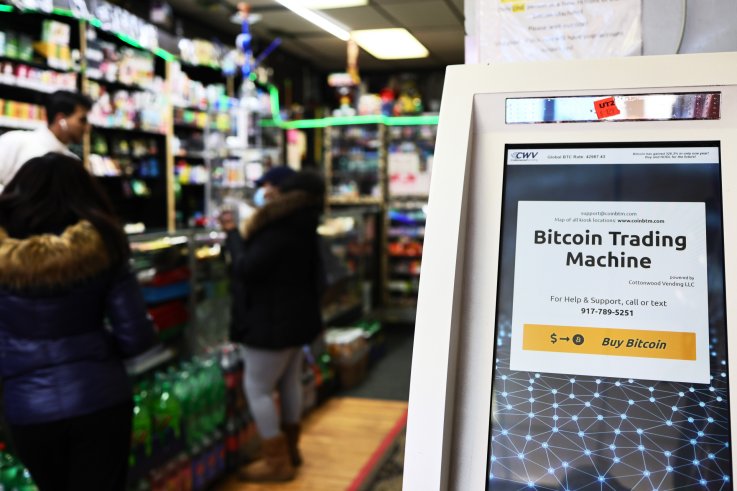 NEW YORK, NEW YORK - FEBRUARY 08: A bitcoin ATM is seen inside the Big Apple Tobacco Shop on February 08, 2021 in New York City.
Michael M. Santiago/Getty Images
Bitcoin proponents say it has emerged as a distinct asset class, and many investors buy and hold it as a bet on future price appreciation as well as a hedge against inflation. True believers don't spend Bitcoin on the theory that it could buy a Mercedes today, but might buy a Lamborghini in the future.
Sitting on Bitcoin is its strength as a long-term investment and its weakness as a medium of exchange, creating an opening for Ethereum. In addition, critics say Bitcoin is too volatile to be a medium of exchange.
There is no limit on the number of Dogecoins produced. The cryptocurrency was launched in 2013, and has been playfully ballyhooed by billionaire entrepreneurs Elon Musk and Mark Cuban. There are about 129 billion Dogecoins in circulation, currently valued at $0.54 each.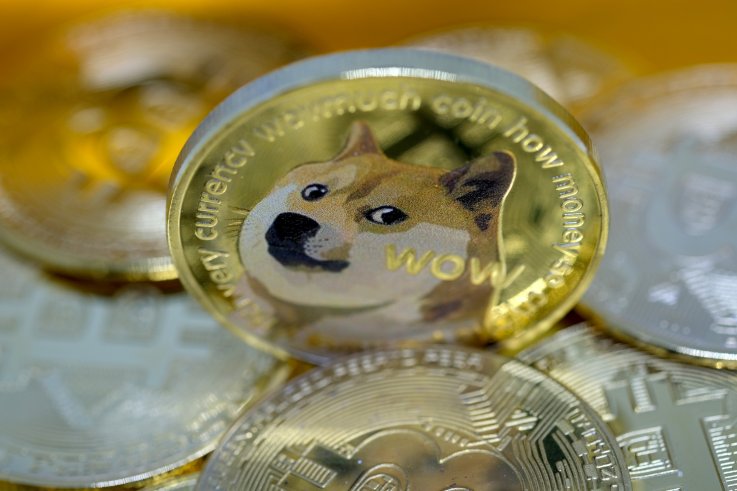 A visual representation of a Dogecoin token, taken in Katwijk, Netherlands, January 2021.
Yuriko Nakao/Getty
Illicit use of cryptocurrency is a growing concern. Officials recently told a House subcommittee that investigators lack the legal tools to combat money laundering and terrorism.
But the Federal Reserve study said that checks are in place if the crypto is converted into dollars or other fiat currencies.
"Fiat on-and off-ramps are the interface to the traditional financial system," the St. Louis Fed report said. "Whenever people want to move assets from their bank account to the blockchain-based system or the other way, they have to go through a financial service provide. These financial service providers are regulated and may require background checks on the origin of the funds."
Smart contracts can be used fraudulently, and rising transaction fees as well as increased wait times for confirmation now slow the Ethereum system. But such problems can be solved, creating the potential for a new way to transfer money and conduct business.
Schär, a professor of Distributed Ledger Technology/Fintech at the University of Basel University's School of Business and Economics in Switzerland, said Ethereum has "unleashed a wave of innovation" built on blockchain technology.
"DeFi offers exciting opportunities and has the potential to create a truly open, transparent, and immutable financial infrastructure," the report said.
"Because DeFi consists of numerous highly interoperable protocols and applications," he said, "every individual can verify all transactions and data is readily available for users and researchers to analyze."
Like any new technology, Ethereum comes with risks and rewards. The researcher said the crypto has the potential to change everything because it could create an open, transparent and unalterable record of all transactions. Last month, the European Investment bank for the first time issued a digital bond on the blockchain using Ethereum.
"DeFi may lead to a paradigm shift in the financial industry and potentially contribute toward a more robust, open, and transparent financial infrastructure," the report said.
Ethereum has gained about 350% this year and recently traded at an all-time high of $3,456.57.
In mid-day trading Tuesday, Bitcoin fetched $53,983.18, down 6% in the last 24 hours. However, Bitcoin is up 86.26% for the year. The record high is $64,829.14, CoinDesk reported.
Market Pulse
A trial underway in Oakland, California may alter the multibillion-dollar market for distributing apps for mobile phones and other devices.
Epic Games alleges that Apple's iStore is a monopoly and therefore has the power to take as much as 30% of each sale.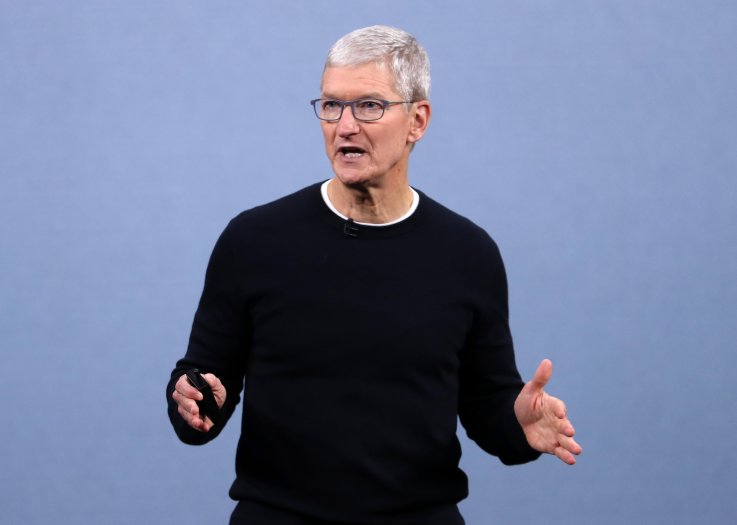 Apple CEO Tim Cook delivers the keynote address during a special event on September 10, 2019 in the Steve Jobs Theater on Apple's Cupertino, California campus.
Justin Sullivan/Getty Images
But Apple argues that users can easily switch to other services to purchase apps. It said companies selling products through Apple have made billions, and Epic has made about $750 million.
The non-jury trial is expected to last about three weeks. U.S. District Judge Yvonne Gonzalez Rogers is hearing the evidence and will decide the case.
Whatever the verdict, the losing side is almost certain to appeal. That could take years.
Epic, based in Cary, North Carolina, seeks to open what detractors call Apple's "walled garden" to all app developers. It doesn't seek monetary damages.
Tim Sweeney, who founded Epic Games when he was in his early 20s in 1991, said his company deliberately inserted an unauthorized payment system into versions of "Fortnite" to avoid Apple's 30% fee. Apple then booted Epic from its app store.
Epic Games is now valued at about $29 billion.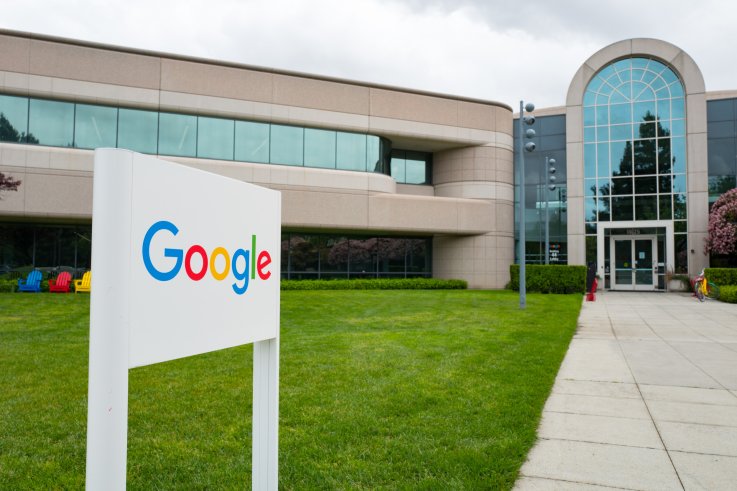 Google headquarters in California
Smith Collection/Gado/Getty Images
Apple doubled its market cap in about two years and last year became the first publicly traded U.S. company to be valued at $2 trillion. Epic has sold apps through the iStore since 2010, but the company alleges that Apple's policies have become more restrictive.
Epic is also suing Google, which removed "Fortnite" from Play for the same reason Apple removed the game from the iStore. No trial date has been set for the lawsuit against Google.
Apple, based in Cupertino, California, denied that its policies have become more restrictive. It said current rules are needed to assure the app store's strength and success.
Apple said it doesn't seek to exclude app developers and invites wide participation while assuring the privacy and security customers demand. It said all apps on its site are screened, and about 2% are rejected because they contain malware.
Apple said the App Store is one of many competing outlets for games. It argued that Epic can distribute via Sony's PlayStation, Google's Android and personal computers.
Defining the digital market may be key to deciding the case.
Epic alleges that Apple's App Store is a monopoly because it's the only distributor of software applications for iPhones and iPads.
Apple's services business generated about $54 billion in revenue in the company's last fiscal year. Apple launched its App Store in 2008 and opened the iPhone to other software developers.
Since then, the number of available apps has grown to about 1.8 million from 500. Apps available through the store have helped create new enterprises such as Uber Technologies, now a publicly traded company.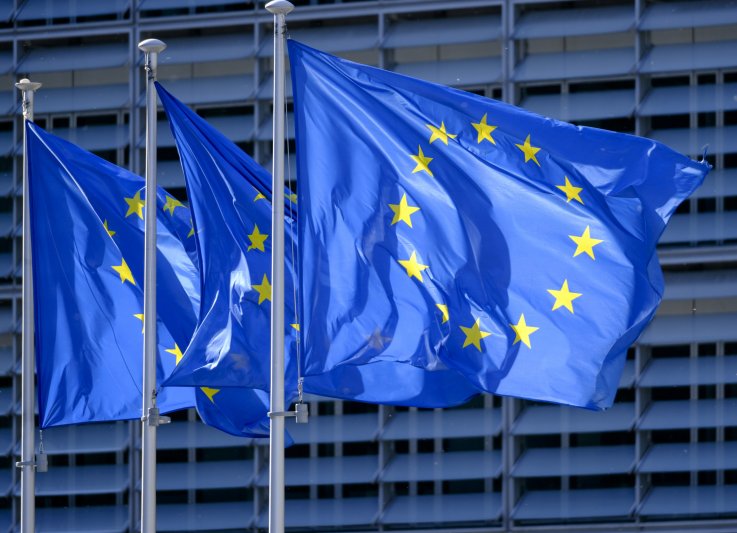 File photo: European Union flags fly in front of the EU Commission headquarters in Brussels, Belgium.
Thierry Monasse/Getty Images
Foreign regulators are also taking a hard look at Apple's sales practices. The European Union charged Apple with violating antitrust laws in its distribution of music streaming apps. The United Kingdom is investigating whether the company slaps app developers with anti-competitive rules.
At home, members of Congress have alleged that Apple is a monopoly.
Meanwhile, Apple reported record second-quarter revenue for fiscal 2021 of $89.6 billion, up 54% from the same period a year ago. The company said international sales accounted for 67% of the quarter's revenue.
The new iPhone is expected to be released in September.