Bitcoin Investors Still Bullish, Despite Signs of Bear Market Ahead
Bitcoin investors appear to be buying the recent dip and tucking the cryptocurrency away as a bet on future price appreciation.
Bitcoin fell Thursday to $51,358, a 16.57% decline from the all-time high of $61,556. A bear market is defined as a 20% drop from its high.
But there appears to be no panic and the world's largest cryptocurrency by market cap rebounded Friday to $53,912 in midday trading, a gain of 4.87%
Still, some analysts urged caution.
"Even if a proper sell-off does not materialize for stocks and other risk assets today, Bitcoin traders need to proceed with caution because in recent days we have been getting more and more signs that the appetite for risk is slowly fading away across the financial markets," Fawad Razaqzada, an analyst at ThinkMarkets, said in a research report. "Bitcoin could be the next domino to fall as investors rush to book profit."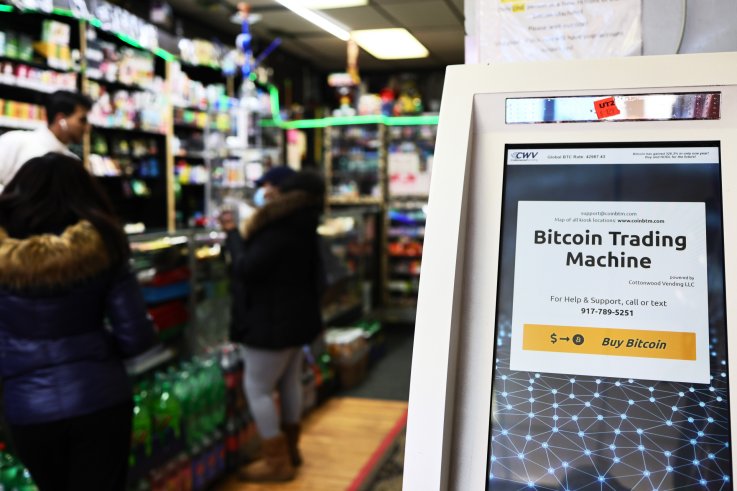 NEW YORK, NEW YORK - FEBRUARY 08: A bitcoin ATM is seen inside the Big Apple Tobacco Shop on February 08, 2021 in New York City. (Photo by Michael M. Santiago/Getty Images)
Michael M. Santiago/Getty Images
Bybit, a competing online trading platform, urged investors to beware of a bear market.
"The signs of exhaustion we've seen recently have temporarily knocked Bitcoin below its 50-day simple moving average for the first time since January, which to some might mean a slughorn (negative indicator) for incoming bears," a commentary posted on the company's website said.
"Is this train headed north, or southbound?" Bybit asked in their commentary. "Pullbacks during a bull cycle are nothing new. If history teaches us anything, Bitcoin has sustained longer and more severe blows as previous price retracement fell below the 21-week (simple moving average) before climbing back."
Lennard Neo, head of research at Stack Funds in Singapore, previously said the correction was healthy.
"We believe a healthy correction is in play as short-term traders put profits on the table after a good run from $45,000," he said.
Data compiled by Glassnode showed no signs of panic selling. This suggests any correction won't be as severe or as prolonged as 2018's downturn.
"Yesterday, we saw the second largest daily supply lockup in over 3 years," Glassnode said in a market commentary, "which once again proves that many newcomers are in it for the long run and the eventual supply short squeeze is imminent."
The supply of Bitcoins is limited to 21 million and demand, especially among institutional investors, is strong.
Major companies, including Tesla and Microstrategy, have invested in Bitcoin, and top Wall Street firms now offer exchange-traded funds to their clients.
As long as institutional interest remains strong and investors continue to tuck coins away as a bet on future price appreciation, the number of coins in circulation will continue to decline. Over the long-term, that suggests steady price appreciation despite short-term dips.
However, critics argue that Bitcoin benefits from the "Tinkerbell effect," and rises only because enough investors believe it will increase in future value.
If so, Tinkerbell may yet supplant market forces in the sometimes volatile world of cryptocurrency.
Market Pulse
Inflation is low, but some see parallels to the 1970s when double-digit inflation ripped through the U.S. economy from about 1973 to 1981. Prior to the run-up in prices under presidents Richard Nixon and Jimmy Carter, the economy was strong and unemployment was low.
Before the lockdown intended to curb spread of COVID-19, annual economic growth was about 3%, unemployment remained below 4% and inflation wasn't a concern at 1.2%.
But the COVID-19 lockdown slammed the economy and unemployment reached 14.7% in April 2020. Demand collapsed and the price of West Texas Intermediate Crude, the guide for U.S. oil prices and a proxy for future economic activity, briefly turned negative.
The Federal Reserve, the nation's central bank, has cut interest rates to near zero to encourage consumer spending and business investment. It also injected trillions into the economy through bond purchases.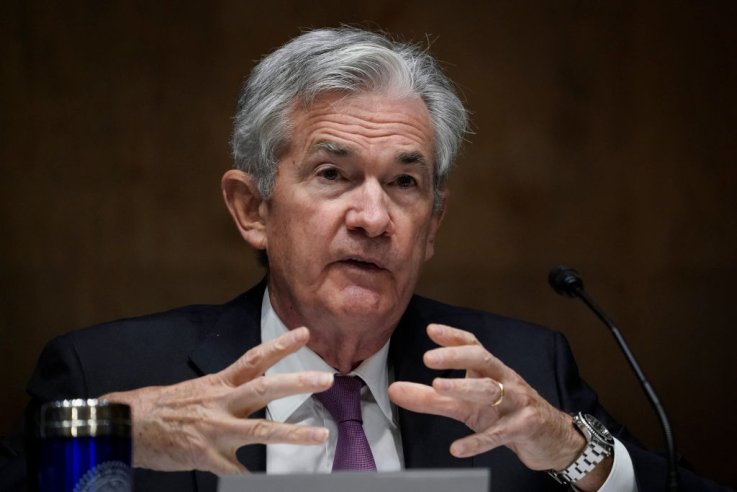 Federal Reserve Board Chairman Jerome Powell testifies during a Senate Banking Committee hearing on Capitol Hill on September 24, 2020 in Washington, DC.
Drew Angerer/Getty Images
People appear eager to spend as the shutdown eases, especially as employment rebounds.
Real estate values are climbing, copper, lumber and other commodity prices are rising while supply chain problems crimp production in some sectors.
The concern is that strong demand will be limited by supply and production, driving prices up. But so far most economists foresee annual inflation at about 2%.
During the 1970s, the annual inflation rate peaked at 13.3% in 1979. It fell to 1.1% in 1986 under President Ronald Reagan.
In Asia, Oxford Economics expects rising, but not runaway, inflation.
"The heady cocktail of stronger global recovery prospects, surging prices for crude oil and other commodities, supply-side disruptions, and rising container shipping costs has fueled concerns of rising inflation," Priyanka Kishore said in a research report.
"We forecast a sharp rise in Asian inflation to 2.4% year over year in second quarter 2021 from 1.7% in fourth quarter 2020. But we don't think this pace can continue given that sizeable output gaps should contain demand-pull pressures, and we expect cost-push pressures to abate in the second half of 2021."
The expected higher inflation appears stark, but history may soften the impression.
"While the magnitude of the inflation increase in 2021 seems large, we note that: This just brings back inflation to pre-pandemic levels. Over 2018-2019, Asia (without) India inflation averaged 2.1%," Kishore said.