Black Lives Matter: America Is Having A 'Naked Lunch' Moment On Violence Towards Black People
It was on a Facebook page that the #BlackLivesMatter hashtag first took root—and five years later, social media continues to play a major role in propelling the movement forward and shining a light on the cases Black Lives Matter has come to represent.
In July 2013, community organizer Alicia Garza, who would go on to become a co-founder of the Black Lives Matter (BLM) movement, wrote a post that she would later call a "love letter to black people" after George Zimmerman was acquitted in the shooting death of black 17-year-old Trayvon Martin.
"Black people, I love you. I love us. We matter. Our lives matter," the letter ended.
Patrisse Khan-Cullors, who would join Garza and friend Opal Tometi in co-founding the BLM movement, was able to capture the sentiment in just three words, responding to the letter with the hashtag that has since transformed the world: #BlackLivesMatter.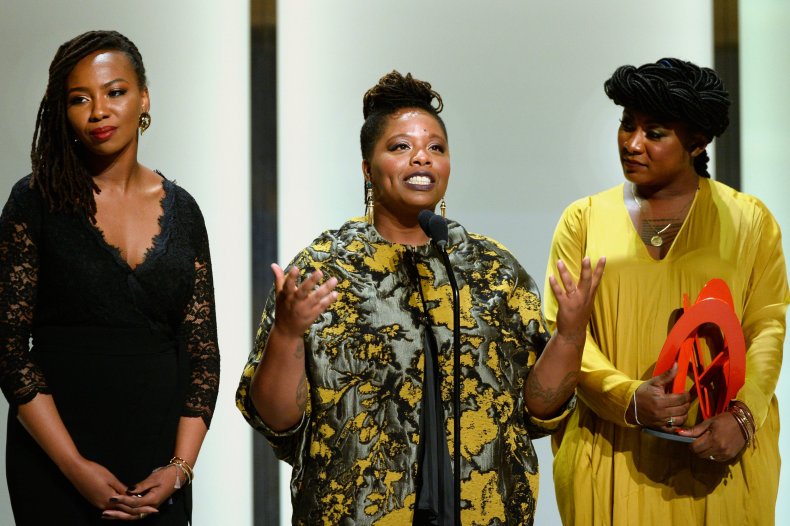 Sparking a nationwide conversation
"We started Black Lives Matter because we saw a need and we saw that there was a gap in our dialogue, in our infrastructure around black people," Khan-Cullors told Newsweek.
"There was a serious gap. And so, we inserted this conversation and really forced people in our movement and outside of our movement to reckon with anti-black racism. And I think we succeeded."
In the five years since, the BLM movement has arguably proven itself to be one of the most effective modern campaigns for social change—especially when it comes to social media.
Read More: Black Lives Matter Founder Patrisse Khan-Cullors Says Trump Is One Of The 'Greatest Threats' To U.S. Democracy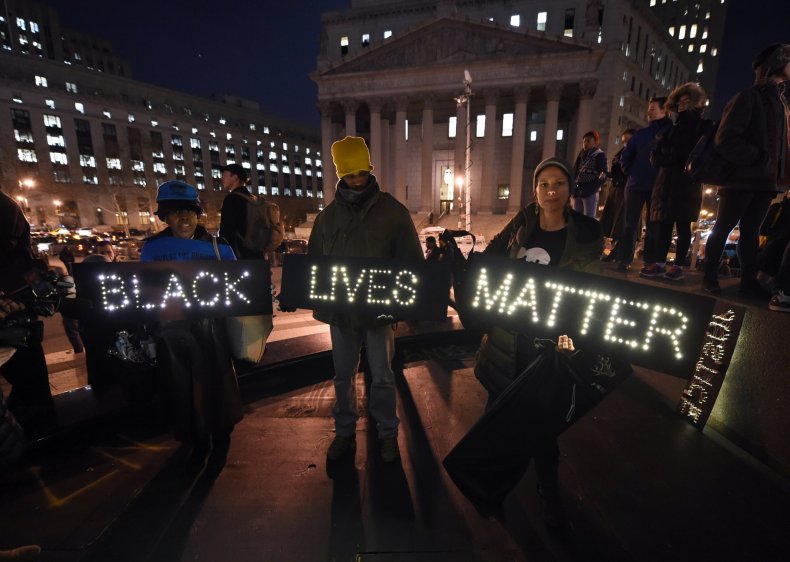 Between July 2013, when the movement first began, and March 2016, the #BlackLivesMatter hashtag was shared nearly 11.8 million times on Twitter alone, according to Pew Research data.
While the hashtag's use emerged in the wake of Zimmerman's acquittal, the movement would become known across the U.S. and around the world in August 2014 when Michael Brown, a black teenager, was fatally shot by a white police officer in Ferugson, Missouri.
In the three weeks following Brown's death, the #BlackLivesMatter hashtag appeared on Twitter an average of 58,747 times a day, according to Pew Research.
When a grand jury decided against indicting the officer involved in Brown's death on November 25, 2014, the hashtag's use burgeoned to 172,772 times a day, which saw it posted to Twitter as many as 1.7 million times in just three weeks after the decision was announced.
Read More: Black Lives Matter: 5 Years on, What Has the Movement Achieved and Where Will It Go From Here?
Social media as evidence
Hawk Newsome, a civil rights activist who leads Black Lives Matter of Greater New York, an unofficial chapter of the movement, told Newsweek that social media has not only been key to building awareness around the BLM movement, but has also been essential to shining a light on individual cases.
"With the use of technology, we're able to pump out instances [of documented violence or racism towards black people] and spread them via social media that would have been swept under the carpet before," Newsome said.
"So people know that these injustices are happening, whether they admit to them or not. They know that these things are going on."
Read more: U.S. Police Shootings Reflect Structural Racism Across States, Study Finds
In incidents such as the July 6, 2016 police shooting death of Philando Castile, social media played a crucial role in documenting and shining a light on violence.
Castile's girlfriend, Diamond Reynolds, shocked the world when she posted a Facebook livestream showing the horrific moments after her boyfriend was shot by Minnesota police officer Jeronimo Yanez while reaching for his wallet during a traffic stop.
Reynolds not only created irrefutable evidence as the incident unfolded, but she also forced viewers to confront a reality in which your loved one might be shot dead right in front of you and your child during a routine traffic stop.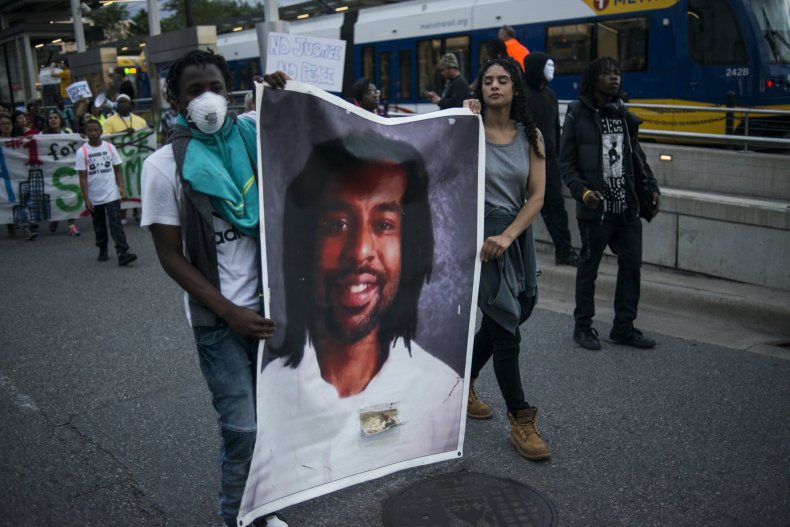 In Pictures: Black Lives Matter: Five Turbulent Years in 80 Iconic Images
"Stay with me," Reynolds pleads in the video. "We got pulled over for a busted tail light in the back. And the police just… He killed my boyfriend…" she continues.
"He's licensed to carry," she says of her boyfriend. "He was trying to get out his I.D. and his wallet out of his pocket and he let the officer know that he had a firearm and he was reaching for his wallet and the officer just shot him in his arm."
The officer, still pointing his gun at Castile, can be heard swearing in the background, audibly distressed. "I told him not to reach for it," he shouts. "I told him to get his hand open."
Reynolds immediately refutes his statement, saying: "You told him to get his I.D. sir, his driver's license." As Castile appears to fall unconscious, Reynolds pleads: "Please don't tell me he's dead. Please don't tell me my boyfriend just went like that."
Castile's death sparked widespread protests across the country, led for the most part by BLM organizers.
Yanez, who later testified in court that he had stopped Castile because he believed he matched the description of a robbery suspect, ultimately avoided a conviction in the shooting death. Castile's family won a near $3 million settlement with the city of St. Anthony, where the shooting occurred, 10 days after his acquittal.
Read More: Black Lives Matter: Deborah Danner Is One Of Many Who Did Not Have To Die
'Naked Lunch' moment
Newsome said that the amount of attention generated on social media can play a crucial role in holding law enforcement and government bodies accountable—a reality BLM is acutely aware of.
"There's nothing loose around the way we operate," Newsome said. "We're huge on optics, so having those signs held above our head which state exactly why we are out there, who we are out there for and the parties responsible, that image is captured by the media and sent out across the world, so once we get involved, it heightens the awareness around the issue."
American Civil Liberties Union (ACLU) Deputy Legal Director Jeffery Robinson told Newsweek that the use of social media to heighten awareness around police violence towards black people has given America a "naked lunch moment."
Read more: Why cops who kill are rarely prosecuted
"[Police brutality] is nothing new. The only thing that is new about it is that America has now had to watch it on video and hear it on audio, instead of listening to black and brown voices," Robinson said. "They can't just say, 'oh, you're exaggerating'."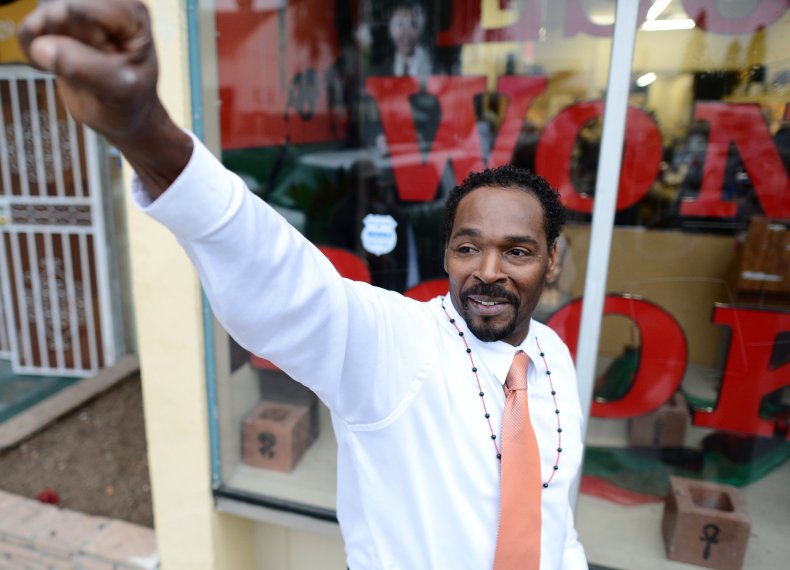 Video and audio recordings have long played a crucial role in documenting acts of police violence towards black people in the U.S., such as the high profile case of Rodney King. Video from a bystander showed King being brutally beaten by several Los Angeles Police Department officers during an arrest on March 3, 1991. The subsequent acquittal of use of excessive force by the police officers involved sparked the 1992 Los Angeles riots.
Robinson said people are now able to easily record—and share—incidents of racism and violence, creating "a much greater awareness of police bias in black communities and brown communities than there was five years ago."
Read more: From Los Angeles To Ferguson, 'there's a South Central in every city and every state'
"Social media plays a big part in this, in what William S. Burroughs, the Beat Generation author, described as a 'naked lunch' moment," Robinson said.
"When Burroughs was asked what that means, he said it's the moment when everybody has to look at what is really on the end of their fork. So, America is having a 'naked lunch' moment with policing," the ACLU deputy legal director continued.
"We're having to really look at what's on the end of our fork and it's not pretty," he said. "It's really ugly and organizations like Black Lives Matter have drawn attention to the issue in the age of social media in a way that has been strategic and powerful."