Black women and girls offered their enthusiastic support for Supreme Court nominee Ketanji Brown Jackson as her first day of Senate confirmation hearings began.
Groups led by Black women gathered outside of the Supreme Court on Monday to support Jackson, who would be the first Black woman to serve on the nation's highest court if confirmed. Supporters held signs that read "Confirm KBJ" and spoke about the importance of Jackson's confirmation for representation of Black women and for providing a role model for Black girls.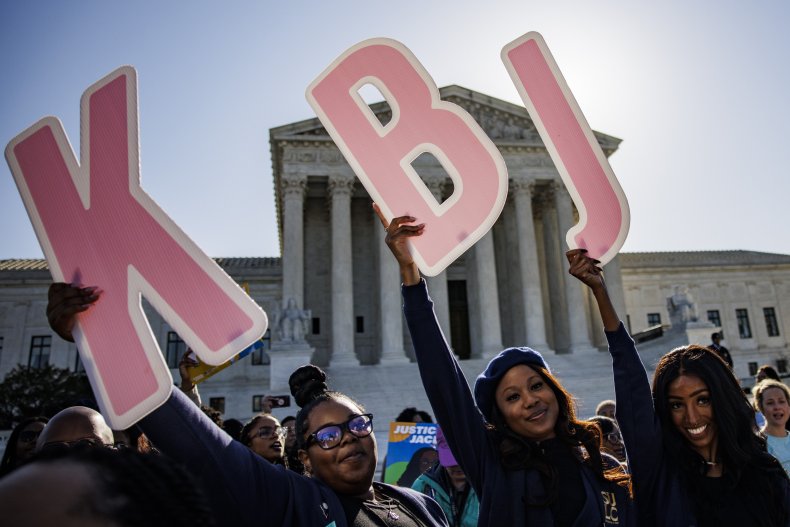 One of the groups gathered to celebrate the beginning of the hearings was She Will Rise, which was formed in 2020 to advocate in favor of a Black woman being appointed to the Court. Sabriya Williams, the group's co-founder, told Newsweek that she introduced a speech by her 16-year-old daughter Samiya.
"We wanted to make sure that we're leaving space for the younger generation who are really going to have to take this up as well," Williams said. "We're doing it for us, but we are also literally doing it for these children.... For us to get the recognition in this way, it's critically important."
"[Jackson could] be an example for all the other little Black girls that are growing up and thinking about 'I want to be a lawyer, but now I can be a Supreme Court justice,'" she added. "It is important to have representation, it matters."
Other groups who were present outside the Supreme Court included the National Organization for Women, the National Women's Law Center and the Black Women's Roundtable. Abortion rights activists were also among those who spoke at the rally.
"We deserve a Supreme Court justice who isn't afraid to protect our ability to walk safely into an abortion clinic," abortion rights activist Renee Bracey Sherman, a Black woman, said to the crowd in a clip shared on Twitter. "We deserve a Supreme Court justice who knows what it is to walk through the world looking just like us. We deserve Justice Ketanji Brown Jackson."
Those opposed to abortion rights were present to protest against Jackson's nomination. A group of anti-abortion rights students, which included women and people of color, held signs that read "Not Today KBJ."
Jackson has not yet ruled on a case involving abortion, although she once joined a brief urging a court to uphold a Massachusetts ban on anti-abortion rights protesters harassing those seeking the procedure.
If confirmed, Jackson would be only the fifth woman to serve on the Court, as well as only the third Black person and the second woman of color to serve.
In an opinion article published by Teen Vogue on Friday, public defender Alexzandria Poole wrote that Jackson's nomination had reminded her "again and again that representation matters. Someone that represents someone like me matters."
Black students at Harvard Law School, Jackson's alma mater, last week told Newsweek that they felt that Jackson would better represent them than the Court's only current Black member, the conservative Justice Clarence Thomas.
"You don't always see yourself [on the Court]," Mariah Watson, president of the Harvard Black Law Students Association, told Newsweek. "To know that there will be a Black woman on the court, who has had similar experiences [as myself]...it's so exciting it's hard to describe what that would mean."
Jackson was nominated to the Court by President Joe Biden on February 25. The Senate Judiciary Committee confirmation hearings will continue through Thursday, while Democratic leaders are pushing for a final vote by April 8. Last week, the American Bar Association rated Jackson as "well qualified" to serve on the Supreme Court.