'Blacks for Trump' Member Says House Was 'Targeted' After Deadly Party
One person is dead following a shooting in southern Florida and the homeowner believes politics may have been a motivating factor following the fatal incident.
Just before 10 p.m. Sunday, officers were called to a house party in Miami-Dade County following reports of shots fired, which ultimately left one person dead and three others injured.
Maurice Symonette, the owner of the house where the shooting took place, said he thinks the house was targeted because he is a supporter of former President Donald Trump, according to CBS4 in Miami.
The station reports that somewhere between 60 and 80 people attended the Easter night gathering. The deadly shooting, police tell CBS4, stemmed from an argument over a cell phone.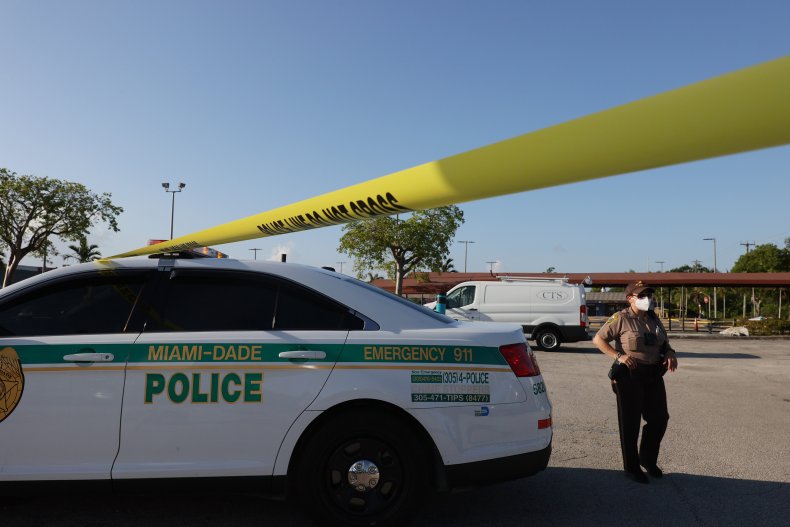 A 22-year-old was taken to the hospital in critical condition but was later pronounced dead. A 24-year-old was also taken to a nearby hospital and is said to be in stable condition.
A 14-year-old also suffered injuries as a result of the shooting. The teen was hit by shrapnel. The teen's mother was also hurt, suffering a graze wound to her foot.
Symmonette, who contends the party was not his, says his neighbors are racists and do not appreciate his support for Trump, and his residence was targeted because of it.
"I can at least talk to the media because I'm 'Blacks for Trump.' They're mad because I'm that and they're mad because I'm bringing Latin, Black, and white (people) together to stop the war," Symonnette told CBS4.
However, one neighbor, who has called the police and code enforcement several times in the past, told the station that neither Symmonette's political affiliation nor race had anything to do with it.
"It would be different if my neighbor across the street or next door has an occasional party, park on my grass, I don't care. But if you do it every weekend, no, my grass can't take that," Elizabeth Judd, who is also African American, told CBS4.
Symonette claims it wasn't his party and if it had been his gathering, he would have done things very differently.
"If I was throwing a party, I would have security, first of all. We wasn't throwing anything, people just came to the house. It was Easter," he told CBS4.
Symonnette told CBS4 he would cooperate with police during their investigation.
It's unclear if there have been any arrests made in connection to the fatal shooting.
Newsweek reached out to the Miami-Dade County Police Department for comment.