Bob Dylan Isn't the Only Artist to Ignore His Nobel Prize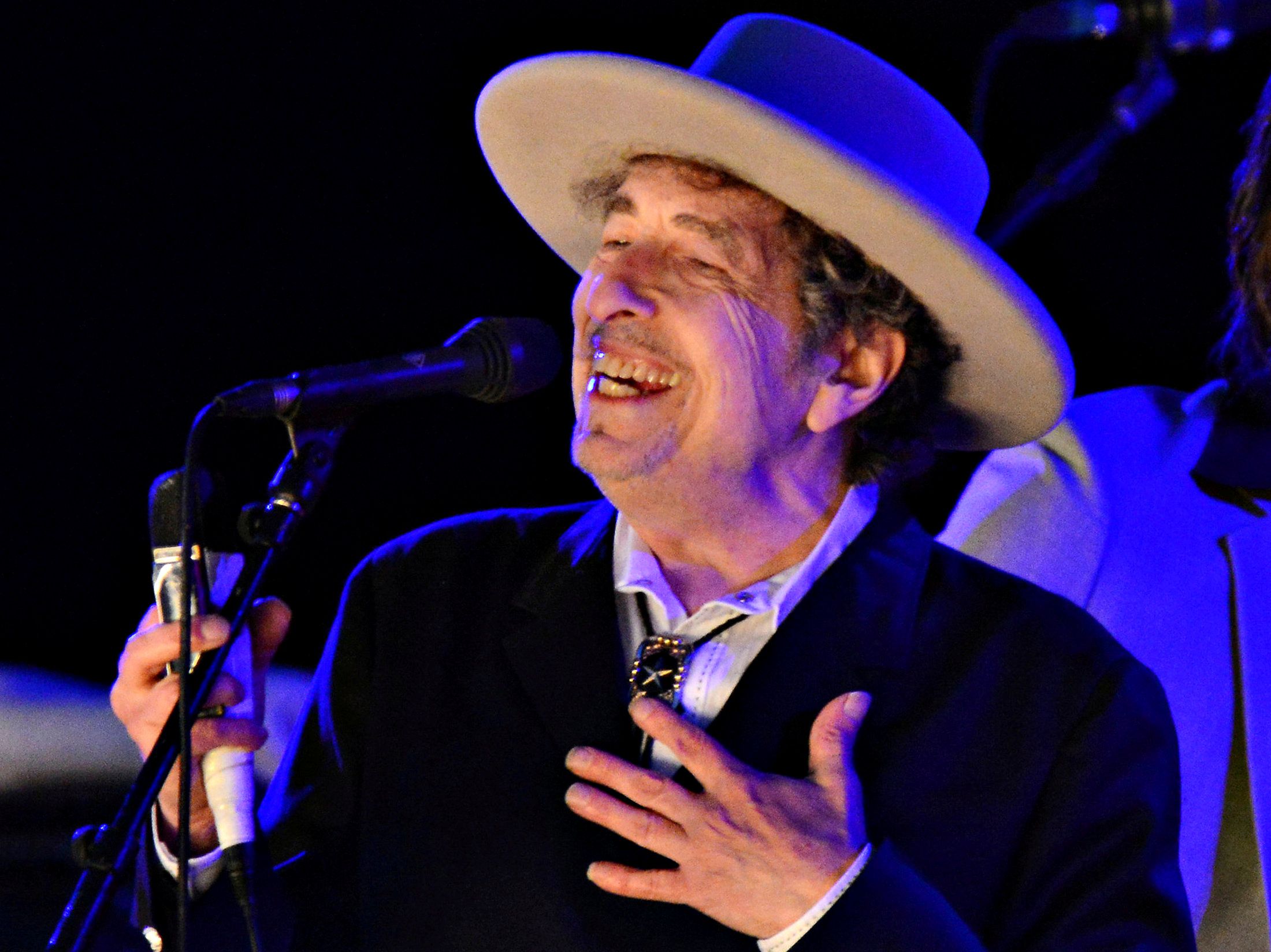 In October, the Swedish Academy announced that Bob Dylan had won the 2016 Nobel Prize in Literature. It was a controversial decision, as the award has never before been presented to a musician, and it was met with a predictable response. Some praised the choice, others decried it, everyone on the internet got mad. The academy justified their choice by citing Dylan's creation of "new poetic expressions within the great American song tradition."
The thing about the Swedish Academy, though, is that it is located in Stockholm, Sweden, and the thing about Bob Dylan is that he is 75 years old, rarely makes public appearances and is the type of artist who doesn't attach much significance to awards and accolades. He's more interested in welding pieces of scrap metal together, apparently.
So, despite the prestigious honor, Dylan decided he wasn't going to make the trip to Sweden to accept the award in person resulting in more controversy, more people on the internet getting mad. According to the academy, the songwriting icon "wishes he could receive the prize personally, but other commitments make it unfortunately impossible." The academy called the decision "unusual but not exceptional."
Instead, Dylan will accept the award "in absentia," meaning he will indeed receive the award despite his inability to attend the December 10 ceremony. On Monday, it was announced that he has written a speech that will be read by Academy member Horace Engdahl, and that Patti Smith will perform Dylan's 1963 song "A Hard Rain's a-Gonna Fall," a particularly appropriate choice considering America's potential slide into ruthless autocratic rule.
Despite the unparalleled prestige of the Nobel Prize, Dylan isn't the first winner to turn down an invite to pick it up in person. In 1954, Ernest Hemingway opted not to make the flight to Sweden to accept his prize, but, like Dylan, he wrote a speech. "Having no facility for speech-making and no command of oratory nor any domination of rhetoric, I wish to thank the administrators of the generosity of Alfred Nobel for this Prize," it began.
In 1906, Theodore Roosevelt, too, cited a lack of capacity to verbally accept the honor when he decided not to accept his Nobel Peace Prize. "Had I a thousand several tongues, they would be inadequate to express to you the deep emotion this distinguished testimonial of your recognition evokes in me," he wrote in a telegram that was read at the ceremony.
Related: Bob Dylan wins Nobel Prize for Literature
That's the thing about accepting an award in absentia, though: You need some sort of an excuse. Hemingway and Roosevelt went for humility. Dylan's citing of "other commitments" is practically a middle finger at the Swedish Academy, as was his initial refusal to return their phone calls after he was announced as the winner. He's not even scheduled to be on tour in December. He'll probably express a little more gratitude in his speech, but in the end Dylan probably just doesn't care enough to fly across an ocean for a single event.
In absentia award-accepting excuses can be a little more creative within the entertainment industry, which seems to be responsible for the vast majority of the world's awards ceremonies. In 1946, Joan Crawford didn't attend the Academy Awards for what is pretty much the exact opposite of humility. Fearing that she would lose best actress to Ingrid Bergman, the Mildred Pierce star pretended she was sick so that she wouldn't have to experience defeat in person. She won, though, which meant she had to slap some makeup on and accept the golden statuette in bed. In 2012, that Oscar sold at auction for over $426,000.
Most stars who decline invitations, however, usually offer a reason similar to Dylan's "other commitments" excuse. In the film industry, this often means working on another film, and we've seen plenty of stars accept awards via video from the set of their next project. No one has pulled this off with more grace than Jack Nicholson, who in 1974 he accepted a BAFTA award for his role in both Chinatown and The Last Detail from the set of the yet-to-be-released One Flew Over the Cuckoo's Nest. (Yes, there is a reason they call the '70s the Golden Era of film.)
The most well-known in absentia acceptor in the entertainment industry, though, is Woody Allen, who simply doesn't attend awards ceremonies. He's been nominated for 24 Oscars and won 4 of them, but he's never been there to pick up the hardware. The only time Allen did attend a ceremony was in 2002, when the Academy called on him to pay tribute to New York City in the wake of 9/11.
No one knows exactly why Allen has taken a stand against attending the Oscars. In 2012, when he won best original screenplay for Midnight in Paris, his sister Letty Aronson said he stayed home because the ceremony was the same night as the NBA All-Star Game. Allen himself has said he can't attend because of conflicting gigs with his jazz band, which plays regularly at Cafe Carlyle in New York City.
In 2012, Allen's biographer Eric Lax told NPR what might be the real reason for Allen's absences. "It's really almost impossible, as he puts it, to judge art, that it's so subjective, you can't really say, well, this performance is better than that or that writing is better than this and that, if you get caught in that trap of relying on other people, however great they are, to tell you whether you're any good, you're either going to consciously or subconsciously start playing to that group," Lax said.
Sometimes, awards are accepting in absentia for legal reasons. Cuban blogger Yoani Sanchez has won awards for her critiques of the Cuban government, but was denied and exit permits to accept them. In 2014, Chinese human rights activists Liu Xiaobo and Xu Zhiyong offered a pretty good excuse for accepting the National Endowment for Democracy's annual Democracy Award in absentia: They were in jail. It's what Edward Snowden was trying to avoid when he won Germany's biannual Whistleblower Prize. Throw in little humility—in a speech read during the ceremony, he wrote that the public deserved "greater reward and recognition"—and you've got a pretty damn good excuse for staying home.
For what is perhaps the most significant in absentia award acceptance, however, we must return to the highest-profile of all awards show, the Oscars. In 1973, Marlon Brando was not in attendance to accept the best actor prize for his role as Vito Corleone in The Godfather, one of the most iconic performances in film history. Instead, he sent Native American Sacheen Littlefeather to reject the award in his stead.
It took a lot of fortitude for Brando to outright reject his craft's most prestigious distinction, especially one recognizing the role that would define his career. Nearly a half century later, Bob Dylan is similarly unconcerned with superficial accolades, but unlike Brando, he's not one to trumpet a cause, despite his reputation as a singer of protest songs. Dylan always rejected the idea that he was an activist, instead taking a matter-of-fact approach his art. "I don't write protest songs," he once said. "I'm just writing it as something to be said, for somebody, by somebody."
No, Dylan has never seen things the way the rest of the world sees them, or cared about the things the rest of the world says we should care about, like a gold medal with a Swedish guy's face on it. It wouldn't come as much of a surprise, then, if the "other commitment" that prevented him from accepting the first Nobel Prize for Literature ever awarded to a musician was nothing more than a particularly hard-to-reschedule dentist appointment.
More from Newsweek.com:
- Revisit our infamous 1963 profile of Bob Dylan
- The best 5 covers of 'Blowin' In The Wind' for Bob Dylan's 75th birthday
- Bob Dylan's surprising Hollywood contributions