Body Discovered at Walmart Sparks Police Investigation
A police investigation has been launched after a dead body was found at a branch of Walmart in Waveland, Mississippi.
Authorities continue to investigate the cause of death at the scene, thought to be in a vehicle parked at the Walmart on Cibolo Valley Drive.
Newsweek has contacted the Cibolo Police Department, which has announced there is no continuing danger to the public, following the discovery in the afternoon of Tuesday, September 7.
Police have (at the time of writing) released no identifying details about the individual.
Pearl River County Coroner Derek Turnage, also contacted by Newsweek, confirmed officials continue to investigate the scene.
Walmart has also been approached for comment, and Newsweek will update you as this story develops.
This grim discovery is not the first time dead bodies have been found at the retail giant, which boasts more than 5,000 stores nationwide.
The dead body of a woman was found in a Walmart parking lot in Albany, Georgia, in April of this year.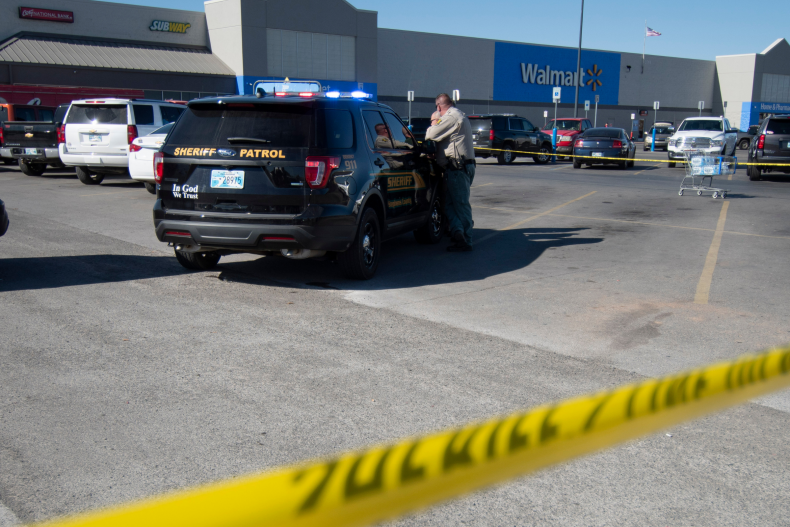 The death, which was at the time considered suspicious by police, reportedly happened the same night the victim was witnessed arguing with a couple in the parking lot.
And the stores, which almost employ 1.6 million people across the U.S., are the occasional settings for shootings.
In an August 2019 mass shooting at a store in El Paso, Texas, a gunman killed 23 people and injured 23 others in a shooting that horrified the nation.
The gunman admitted to police he was targeting Mexicans in an event believed to be the deadliest attack on Latinos in recent history.
A Texas man was in June 2021 charged with a felony after making a "terroristic threat to create public fear and serious bodily injury," at a Walmart store in the state.
However, sometimes the acts of violence perpetrated on Walmart's property are the result of an accident.
A man was rushed to the hospital after accidentally shooting himself while trying on a pair of pants in a Walmart dressing room.
WKRN reported how in March 2021, the unarmed victim's pistol fell from his pocket, hit the floor and discharged, hitting the man in the back of his leg before the bullet lodged itself in his ankle.
A 2017 study published in Health Affairs stated 36.7 percent of all non-fatal gun injuries are unintentional, while 50.2 percent are categorized as assaults.
And a separate 2019 analysis in the Injury Epidemiology medical journal estimated 430 unintentional firearms fatalities occur in the U.S. every year.