Boko Haram: Escaped Chibok Girl 'Misses Her Husband'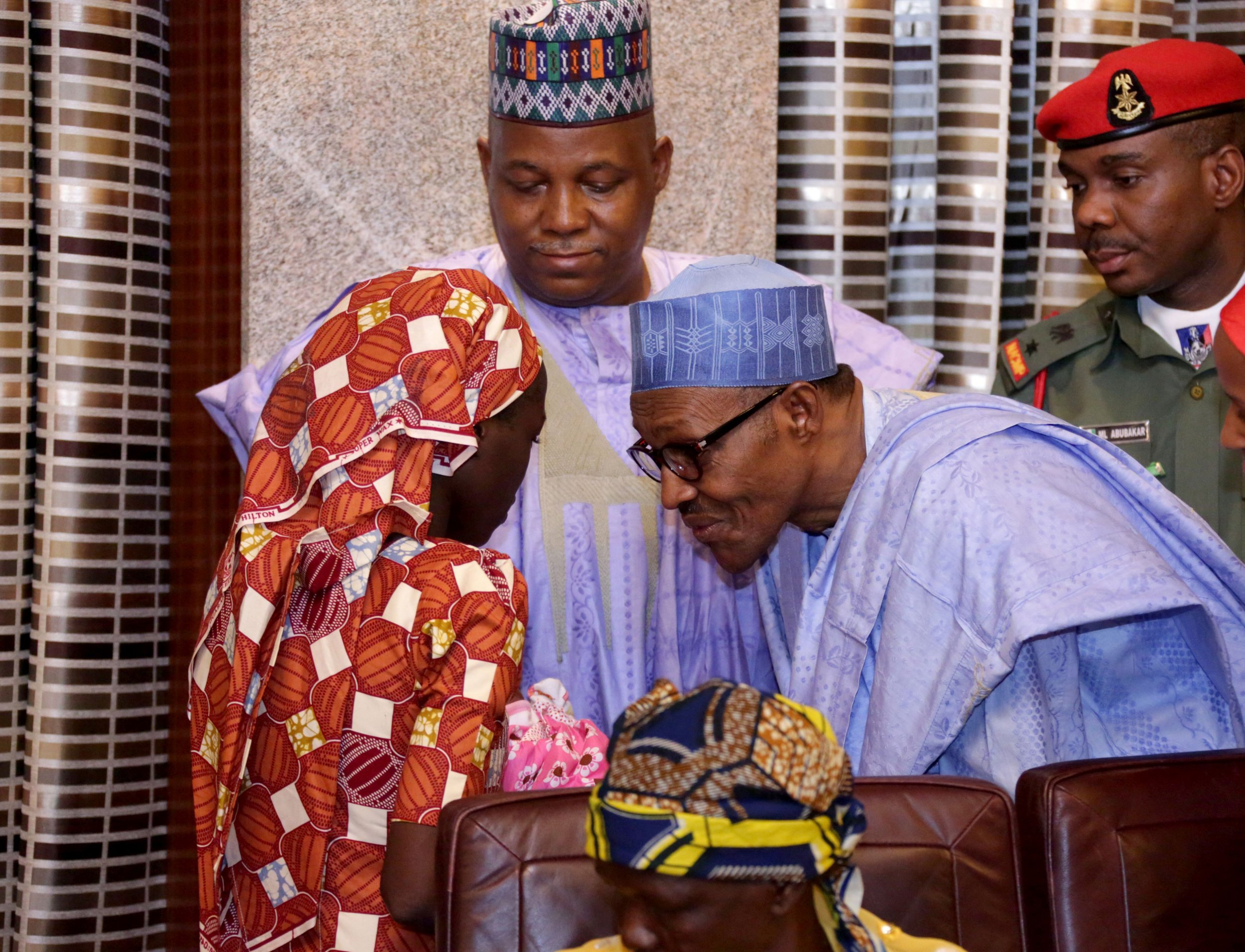 The first of the Chibok girls to escape Boko Haram after two years of captivity has said that she misses her husband, an alleged member of the militant group.
Amina Ali Nkeki, 21, was found with her then four-month-old daughter by a local civilian vigilante in May near Damboa in Nigeria's northeast Borno state. Nkeki was one of 276 girls kidnapped from their high school in Chibok, Borno state, in April 2014 by Boko Haram.
Fifty-seven of the girls immediately escaped but the rest have been held by the militants ever since, despite an international social media campaign under the hashtag #BringBackOurGirls and the avowed efforts of the Nigerian military.
Boko Haram released a video Sunday that purportedly depicted scores of the girls. In the footage, one girl—who named herself as Maida Yakubu—was interviewed by a masked militant and pleaded with the government of Nigerian President Muhammadu Buhari to release imprisoned members of the militant group in exchange for the girls' freedom.
Nkeki has been held in a government safe house in the capital Abuja since her rescue—along with her daughter, who is fathered by Mohammed Hayatu, a suspected member of Boko Haram—and is undergoing rehabilitation. In an interview with the Thomson Reuters Foundation, Nkeki said that she missed the father of her child, who was found with her at the time of her rescue and named as Hayatu.
"I want him to know that I am still thinking about him," Nkeki told the Foundation. "Just because we got separated, that does not mean that I don't think about him."
Nkeki's mother spent two months with her following her escape but has now returned to Chibok. Nkeki said that she has "no idea" when she will be allowed to go home and would only then decide whether to return to school.
In a separate interview, Nkeki's mother, Binta Ali, told the BBC's Hausa service that her daughter had told her that some of the girls had died in childbirth, while others had been killed or deafened by bombs.
Ali said that Nkeki's husband was a mechanic who was forced to join Boko Haram as he had been unable to run away when the militants invaded his hometown of Mubi, in Adamawa state, since he was lying underneath a car. The mother said that her daughter had told President Buhari that she wished to be given a sewing machine, and that she wanted to become a tailor and run her own shop.
Boko Haram has killed tens of thousands and displaced more than 2 million people, mostly in Nigeria's northeast, since its armed insurgency began in 2009. The group pledged allegiance to the Islamic State militant group (ISIS) in 2015, but appears to have split into two factions after a recent ISIS publication named Abu Musab al-Barnawi as the group's leader. Boko Haram's leader since 2009, Abubakar Shekau, released an audio statement and a subsequent video, denouncing al-Barnawi's appointment and maintaining that he was in charge of Boko Haram.