Boko Haram's mysterious leader has been most notable for his absence over the past year.
Best known for his triumphal appearances in propaganda videos released by the Nigerian militant group after paramilitary operations, including the abduction of 276 schoolgirls in Chibok, Abubakar Shekau has been silent since March 2015, when an audio statement emerged in which the militant leader pledged allegiance, on behalf of his fighters, to the self-proclaimed caliph of the Islamic State militant group (ISIS), Abu Bakr al-Baghdadi.
Shekau's silence has been so total that many speculated that he may, finally, have been killed. The Nigerian military has claimed to have eliminated the fugitive—who is currently subject to a $7 million U.S. bounty for information on his whereabouts—on multiple occasions, but never been able to conclusively prove the claims.
There has also been speculation that Shekau, who has led Boko Haram since 2009, may have been deposed. Since Boko Haram's declaration of allegiance to ISIS—which led to it changing its name to the Islamic State West Africa Province (ISWAP)—rumors that Shekau might have been replaced as the group's leader have never gone away.
The recently-appointed head of U.S. military operations in Africa, General Thomas Waldhauser, said in June that Shekau had fallen out with the ISIS leadership over the use of child suicide bombers (Boko Haram under Shekau has widely employed children, especially girls, in this regard) and that the group had divided into two factions, one loyal to Shekau and the other closer to the ISIS leadership.
Such speculation came to a head at the start of August, when an ISIS publication appeared to designate a former Boko Haram spokesman, Abu Musab al-Barnawi, as the group's new leader. In an interview with Al-Naba magazine, al-Barnawi indicated that he did not support the indiscriminate killing of Muslims and would focus attacks on Christians in Nigeria. Under Shekau, Boko Haram has regularly attacked mosques and marketplaces frequented by Muslims.
Elsewhere, al-Barnawi is reported to have explicitly attacked and threatened Shekau—an audio statement, attributed to the ISIS-endorsed leader and obtained by New York-based outlet Sahara Reporters, accused Shekau of living in luxury while Boko Haram fighters starved as they were pushed back by the efforts of a multinational military force in West Africa. The statement also claimed that Shekau's bodyguards were affiliated to al-Barnawi and would "crush" the longtime leader should he rebel against the new appointment.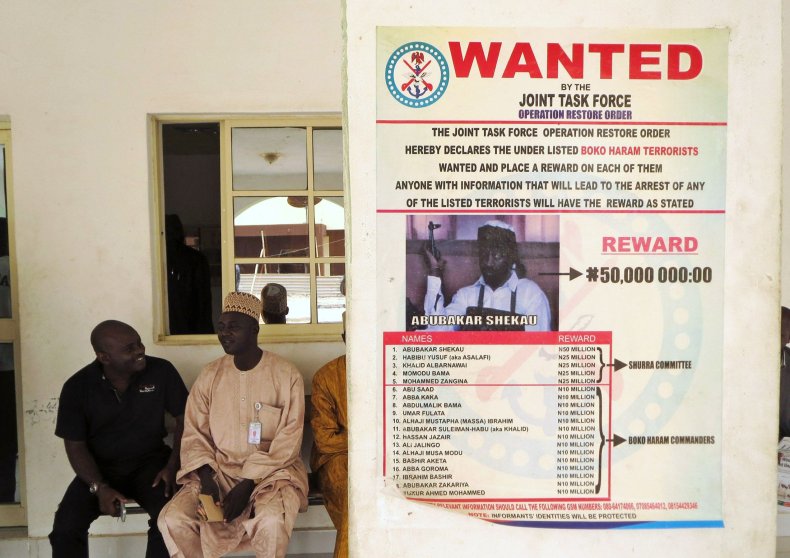 The much-hyped ISIS announcement lit a touchpaper for Shekau, who has since released an audio statement and appeared on film for the first time in a year. In his audio message, Shekau said that he had been "deceived" and accused al-Barnawi of attempting a coup against him, stating that the newly-appointed leader was a preacher of "false creeds."
Shekau followed up with a video message Sunday, referring to himself as the "leader" of the group, according to AFP. He appeared to strike a conciliatory note—Shekau stated that his group had "no desire to fight our Muslim brethren" and continued to refer to al-Baghdadi as "caliph." The video concludes with Shekau, in full camouflage fatigues, firing machine gun rounds into the distance and issuing threats against the international community and Nigerian President Muhammadu Buhari.
The recent events leave Shekau's future shrouded in perhaps even more mystery than when he was silent. Shekau has survived leadership struggles and division in Boko Haram before, according to Ryan Cummings, director of African security consultancy Signal Risk. In 2012, a splinter group emerged from Boko Haram calling itself Ansaru. The group cited Boko Haram's killing of Muslim civilians as the driving factor behind its split, "a very, very similar narrative to what Abu Musab al-Barnawi has brought to the fore," says Cummings.
According to Cummings, it is in Shekau's best interests to collaborate with al-Barnawi: Boko Haram's pledge of allegiance to ISIS made the group "far more cosmopolitan [and] increased their jihadi credentials," making it more attractive to foreign fighters. It would appear to be within Shekau's best interests to remain associated with the ISIS brand, even if that meant deferring to or sharing power with another leader.
But Shekau's latest intervention was also an old-fashioned show of strength, says Cummings. "It was showing that while they [Shekau's faction] are open to conciliation, they're also open to war should it come."
If Shekau does choose to ignore al-Barnawi's appointment, he could be confronting a foe with considerable ideological clout. Several prominent analysts have stated that al-Barnawi is a son of Mohammed Yusuf, the founder of Boko Haram who died in police custody in 2009. Al-Barnawi is also thought to have been one of Shekau's closest associates in the group prior to the recent events, meaning that he would likely have a keen handle on Shekau's movements and activities.
The apparent split between Shekau's faction and those under al-Barnawi is representative of a deeper division—also reflected in the splintering of Ansaru—between so-called "hards" and "softs" within Boko Haram, according to John Campbell, Nigerian security expert at the Council on Foreign Relations and a former U.S. ambassador to Nigeria. Al-Barnawi's "soft" intention to avoid the indiscriminate killing of Muslims—as opposed to Shekau's "hard" stance of slaughtering those who failed to accept the strict dictates of Boko Haram's vision of an Islamic caliphate—could lead to an uptick in Boko Haram attacks on specifically Western, secular and Christian institutions, says Campbell.
Shekau does not identify himself as having overall command of ISIS's operations in West Africa in his latest video, but rather as the continuing leader of Boko Haram, according to Campbell. Such a sign of deference could work in his favor, but should Shekau continue to disregard the appointment of al-Barnawi, it could well lead to his demise. "If al-Barnawi or his associates could kill Shekau they would do so, just as Shekau would kill them if he could do so," says Campbell.