Boko Haram: Nigerian Military Denies Killing Chibok Girls in Airstrikes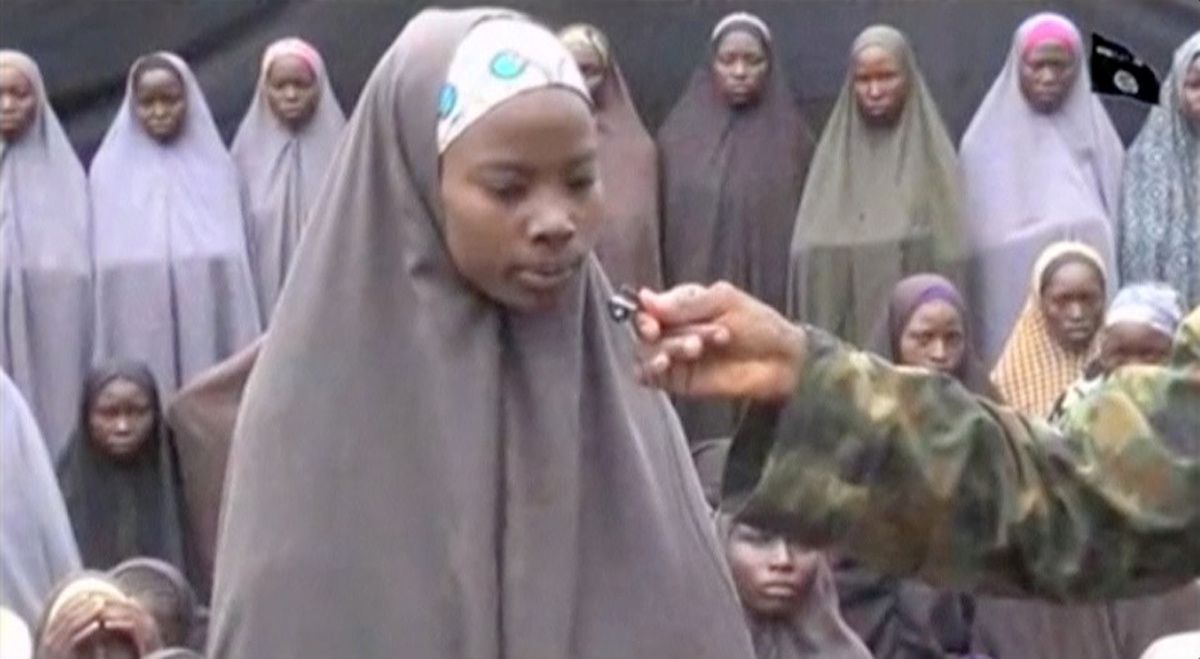 The Nigerian military has denied claims by Boko Haram that it has killed some of the Chibok girls in airstrikes targeting the militants and has also declared three people as wanted persons for alleged links to the group.
Boko Haram issued a new video on Sunday, showing dozens of young girls wearing Islamic robes and claiming that they were the same girls kidnapped from the Government Secondary School in Chibok, in Nigeria's northeast Borno state, in April 2014.
In the video, one of the girls—identified as Maida Yakubu—is questioned by a masked fighter. Yakubu says that she is from Chibok and pleads with the Nigerian federal government to release Boko Haram members in custody, in return for the release of the girls. The girl also says in the video that "military jets have killed some of the girls."
In a statement released on Sunday, Nigeria's defense spokesman General Rabe Abubakar said that the military was studying the video to see if the girls died from causes other than airstrikes. "It is extremely difficult and rare to hit innocent people during airstrike[s] because the operations is done through precision attack on identified and registered targets and locations," said Abubakar in a statement reported by Premium Times.
The Boko Haram video was circulated on social media by various sources, including Nigerian journalist Ahmad Salkida, a well-known expert on Boko Haram who is based outside Nigeria. Nigerian Army spokesman Colonel Sani Usman issued a statement on Sunday declaring Salkida, along with two other persons named as Ahmed Umar Bolori and Aisha Wakil, to be wanted for interrogation in connection with the video.
"There is no doubt that these individuals have links with Boko Haram terrorists and have contacts with them. They must therefore come forward and tell us where the group is keeping the Chibok girls and other abducted persons to enable us [to] rescue them," said Usman.
Salkida said on Monday that he had made three trips to Nigeria on the invitation of the government since May 2015 and had made "personal sacrifices" to try and ensure the release of the Chibok girls. "In the coming days I will seek to get a flight to [the Nigerian capital] Abuja and avail myself to the Army authorities. Indeed, my return will be hastened if the Military sends me a ticket," Salkida said.
Bolori documented his attempts to hand himself in to the Nigerian Army's headquarters in Maiduguri, Borno state, on his Facebook page. Bolori said that he attempted to hand himself in to the military authorities on Sunday but was instructed to go home and return on Monday. His latest update on Monday read: "The Army is now treating me friendly [sic.] and peacefully, as a nice colonel just took me to his office to drink tea. May God help us!"
Wakil also said that she was available to speak to the military and said she received the news of her being a wanted person "with rude shock," since she had previously assisted the military in their efforts to retrieve the girls, in an interview with Premium Times on Monday.
The vast majority of the 276 girls who were kidnapped in Chibok two years ago are still missing. Fifty-seven fled shortly after the abduction, and one girl—named as Amina Ali Nkeki— managed to escape captivity and was found by a local vigilante in May. President Muhammadu Buhari pledged upon his inauguration in May 2015 that he would not declare victory over Boko Haram until all captives held by the group, including the Chibok girls, were liberated. But the Nigerian president said in December 2015 that the militant group had been "technically" defeated after a campaign by the military reclaimed much of the territory once held by Boko Haram.
The militants took up arms against the Nigerian government in 2009 and has killed tens of thousands of people and displaced more than 2 million. It has been led since 2009 by Abubakar Shekau, who pledged allegiance on behalf of Boko Haram to the Islamic State militant group (ISIS) in 2015.
There is growing evidence of a split in the group, however, after an ISIS publication recently designated Abu Musab al-Barnawi —a former Boko Haram spokesman and rumored to be the son of its founder Mohammed Yusuf—as the head of ISIS's West Africa branch. Following the announcement, Shekau put out an audio and video statement, declaring al-Barnawi to be an apostate and saying that he was still the leader of Boko Haram. The purported video of the Chibok girls was released by the branch of Boko Haram affiliated to Shekau.