Book Ban Debate Intensifies as Conservative Group Targets 'Girls Who Code'
Four books from the Girls Who Code series, which follows a group of young girls in a coding club at school, were some of the 1,648 titles on PEN America's nationwide index of books banned in the 2021-22 school year, which sparked a new debate on book bans.
Updated by the organization annually, the list reflected books that were banned in school districts from July 2021-June 2022, including books that were banned for a limited or indefinite period of time. With titles on the list such as Of Mice and Men by John Steinbeck, I Know Why the Caged Bird Sings by Maya Angelou, and many other works that tackle racial, women's, and LGBTQ+ rights issues, it came as a surprise to the founder of Girls Who Code when she read her company's book series among them.
Reshma Saujani told Business Insider on Sunday, "I was just shocked. This is about controlling women and it starts with controlling our girls and what info they have access to."
Team BFF: Race to the Finish! and The Friendship Code by Stacia Deutsch, along with Spotlight on Coding Club! by Michelle Schusterman, and Lights, Music, Code! by Jo Whittemore were the four books in the Girls Who Code series reportedly banned in Pennsylvania's Central York School District.
After discovering the news through a previous Newsweek article, Saujani tweeted, "I woke up this morning to a news alert that our @GirlsWhoCode middle-grade book series was banned by some school districts as part of the Mom for Liberty effort to ban books. To be honest, I am so angry I cannot breathe."
Saujani told Newsweek on Tuesday, "I think the point is that book bans are part of a larger fight over education. Banning books and other diverse educational material is just a way of restricting our children. And groups across the country like Moms for Liberty are leading the efforts to ban books that are representing diverse perspectives."
Moms for Liberty—a conservative parental rights advocacy group—denied taking part in the removal of Girls Who Code.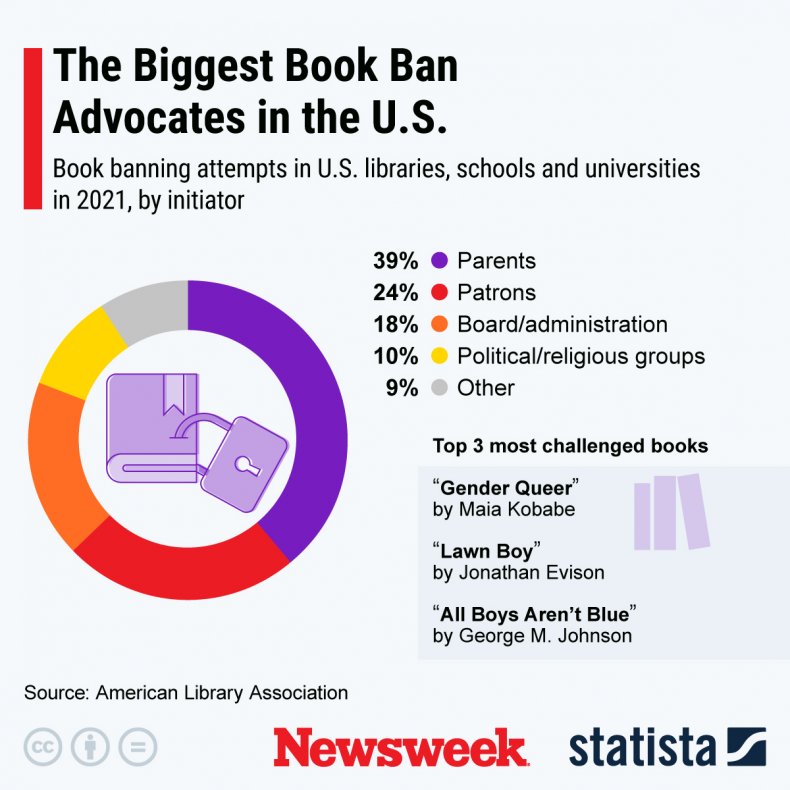 This chart, provided by Statista, shows book banning attempts in U.S. libraries, schools, and universities in 2021, by initiator.
"The allegations that Moms for Liberty has worked to ban Girls Who Code are completely false," said co-founders Tina Descovich and Tiffany Justice in a press release, which was shared with Newsweek. "Furthermore, the Central York school district has confirmed the book is currently sitting on library shelves. Where are we in this country when the media can publish an article without even fact-checking with the district and quote an author who lies and villainizes concerned parents to sell more copies of her books?"
On Monday, the Central York School District issued a statement denying that they banned the books listed on the index. A representative from the Central York School District told Newsweek, "The Girls Who Code series was included in a Diversity Resource List, along with approximately 200 other resources, that was removed from the Central York School District in November of 2020."
They said that the Diversity Resource List was reinstated by the board of directors in September 2021.
"This book series has not been banned within our district, and they remain available in our libraries," the district said.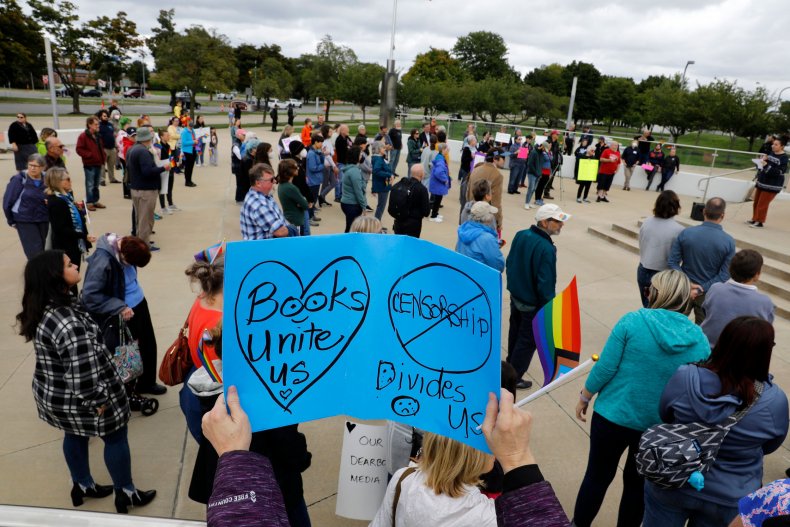 Despite the dispute, PEN America stands by the index it created.
In a statement to Newsweek, PEN America said of the list, "It is a record of all of the bans that were enacted over the course of the school year, many of which did cover books that are surprising targets, like the Girls Who Code series. It's not clear if the board in Central York even realized how extensive the ban they enacted was when they did it, apparently in response to a call to halt the circulation of all resources in support of diversity and inclusion."
"Every book ban enacted, even if temporary, is a violation of students' freedom to read," PEN added. "'Temporary' bans often become permanent, and the status of a book's availability to students, particularly in the absence of a neutral, established review process, is frequently opaque."
"Every ban limits students' access to those books and can have a broader chilling effect. Tracking all bans is essential to understand the scope of restrictions being enacted on books across the country," the statement read.
While the books from Girls Who Code are reportedly still available to students at Central York School District, Saujani said that the temporary removal of them has only shown her that it could happen elsewhere.
"It's made us vigilant about the fact that we have to pay attention to this and get engaged," Saujani said. "This has shown us that this is probably happening in communities across the country, and we don't know about it. And the vast majority of moms are not Moms for Liberty. We need to organize, not only for our own economic freedom, but for the economic freedom of our girls. And so what's happening now in the country, by book bans, it's not good for girls, women or the economy, and it's not about freedom and liberty."