'Handmaid's Tale,' 'Girls Who Code' and Other Books Just Banned in the U.S.
Some of the biggest titles in classic and modern literature have been removed from schools and libraries around the United States, including The Handmaid's Tale, Girls Who Code, and more.
PEN America, an organization that advocates for free expression in literature, recently updated the nationwide index that lists every book banned in the 2021-22 school year.
The index came out on Monday, the start of Banned Books Week, and listed 1,648 titles that were banned around the U.S. this year, not including titles that were repeated in multiple states. The index also acknowledged that books may have been banned that were not recorded. According to the report, books were banned in 5,049 schools with a combined enrollment of nearly 4 million students in 32 states.
Around 41 percent of the banned books on the index address LGBTQ+ themes or have characters who are LGBTQ+. Roughly 40 percent of the books feature characters of color, and 21 percent of the banned books address issues of race and racism.
According to PEN America, Texas and Florida ranked first and second among states with the most bans; Texas with 801 books in 22 districts and Florida with 566 in 21 districts.
In Texas, some of the biggest titles banned in school districts included:
Of Mice and Men, John Steinbeck
The Handmaid's Tale, Margaret Atwood
The Bluest Eye, Toni Morrison
The Kite Runner, Khaled Hosseini
Gender Queer: A Memoir, Maia Kobabe
Me and Earl and the Dying Girl, Jesse Andrews
What Girls Are Made Of, Elana K. Arnold
Looking For Alaska, John Green
The Glass Castle, Jeannette Walls
Some of the biggest titles currently banned in Florida:
Slaughterhouse-Five, Kurt Vonnegut
The Perks of Being a Wallflower, Stephen Chbosky
All Boys Aren't Blue, George M. Johnson
The Life of Rosa Parks, Kathleen Connors
My Name is María Isabel, Alma Flor Ada
Brave New World, Aldous Huxley
The Absolutely True Diary of a Part-Time Indian, Sherman Alexie
The Hate U Give, Angie Thomas
Other states, like Oklahoma, banned these books, among others:
I Know Why the Caged Bird Sings, Maya Angelou
Narrative of the Life of Frederick Douglass, Frederick Douglass
A Raisin in the Sun, Lorraine Hansberry
Their Eyes Were Watching God, Zora Neale Hurston
Lord of the Flies, William Golding
The Outsiders, S.E. Hinton
To Kill a Mockingbird, Harper Lee
Other books banned in some school districts included Lights, Music, Code! (Girls Who Code series) by Jo Whittemore, Extremely Loud and Incredibly Close by Safran Jonathan Foer, Normal People by Sally Rooney, They Called Themselves The K.K.K.: The Birth of an American Terrorist Group by Susan Campbell Bartoletti, and Peter Pan by James Matthew Barrie.
A representative from the Central York School District in Pennsylvania told Newsweek that while the Girls Who Code series was in a Diversity Resource List for teachers to use in the classroom that was removed in November 2020, it was not banned from libraries and remained available to students.
"The Girls Who Code series was included in a Diversity Resource List, along with approximately 200 other resources, that was removed from the Central York School District in November of 2020," the representative said.
"The Girls Who Code series remained in circulation from November 2020 to September 2021 when the Diversity Resource List was reinstated by the Central York School District Board of Directors. This book series has not been banned within our district, and they remain available in our libraries."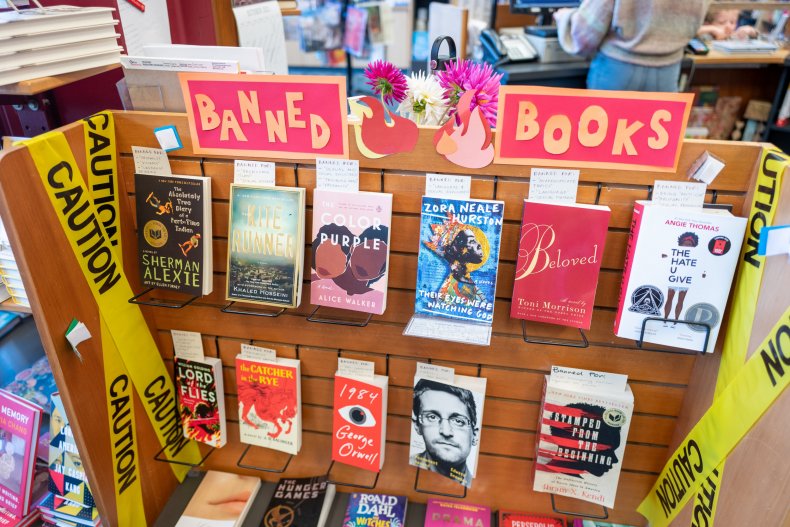 Chief executive officer of PEN America, Suzanne Nossel, said in a recent press release, "While we think of book bans as the work of individual concerned citizens, our report demonstrates that today's wave of bans represents a coordinated campaign to banish books being waged by sophisticated, ideological and well-resourced advocacy organizations."
Nossel said in a news conference on Monday, "We all can agree that parents deserve to and are entitled to a say over their kids' education. That's absolutely essential. But fundamentally, that is not what this is about when parents are mobilized in an orchestrated campaign to intimidate teachers and librarians to dictate that certain books be pulled off shelves even before they've been read or reviewed."
Some students and educators are fighting against book bans, however. A group of students in Texas began a book club centered around novels that have been banned in their libraries or classrooms, and some librarians have refused to remove displays with banned books from their libraries.
Nossel referred Newsweek to some tips that PEN America offers for students interested in fighting book bans, and said, "We want students to recognize they have a stake in fighting for their rights under the Constitution and the freedom to read."
Newsweek reached out to National Coalition Against Censorship for comment.
Updated 9/26/2022, 3:16 p.m. ET: This story has been updated with comments from a representative of the Central York School District and additional information.
Updated 9/30/2022, 1:10 p.m. ET: This article was updated with additional clarification.