Is 'Borat 2' a Feminist Movie? These Fans Are Shocked That Their Answer Is Yes
Borat Subsequent Moviefilm having a feminist feel to it is one of the last things we'd expect out of 2020.
On Friday, the highly anticipated sequel to Sacha Baron Cohan's 2006 satire Borat came out. Borat Subsequent Moviefilm follows the titular Borat character and his daughter, Tutar (Maria Balakova), who travel to America to offer Tutar as a bride for Vice President Mike Pence. The mockumentary pokes fun at America and pranks celebrities, much like its predecessor. This time around, though, Borat has a feminist streak to it—you read that right, folks.
Borat undermines Tutar throughout the majority of the film, from insisting she isn't beautiful unless she gets plastic surgery, to asking a dress shop clerk for a dress from the "no means yes" section. At one point, he even purchases a cage for her to stay in.
However, by the film's conclusion, Borat has a change of heart. He recognizes that his daughter (whom he refers to as his non-male son at the start of the film) is a person who can make her own decisions independently. He even tells her that he loves her more than his sons, and forbids her to return to Kazakhstan just to live in a cage.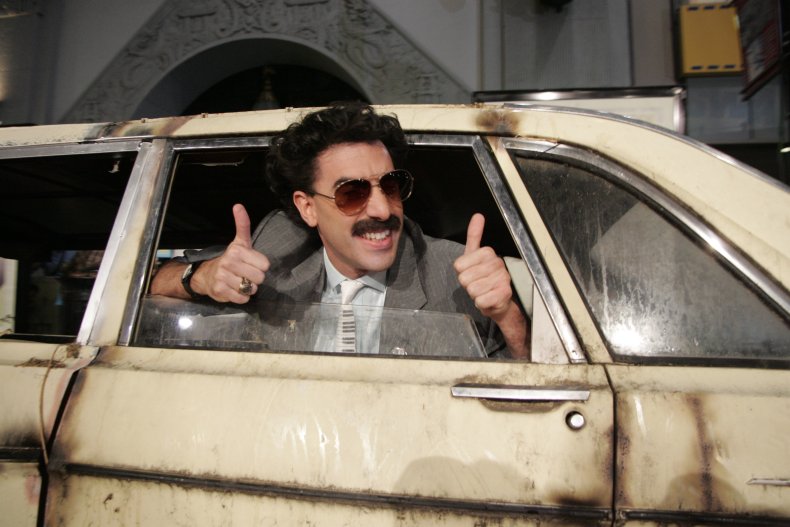 But even when it's not focused on Borat's clueless misogyny, the film addresses sexism—and the sequel even features a few genuinely touching and empowering moments.
The Tutar character's shocked, for example, when Jeanise Jones, a woman hired by Borat to watch her, explains that women can drive and read, and even own businesses. (It's worth noting that Borat drops Tutar off for the day with a ball and chain, dog bowl and instruction manual). Jones also tells Tutar hours before she is set to get plastic surgery that she is beautiful and smart as she is, and encourages her to escape her toxic relationship from her father.
Many fans were pleasantly surprised to find that the Borat sequel is sincerely concerned with feminism.
"Borat 2 might be the most clever feminist movie in recent memory," one user wrote. "I love that people who are watching it are clearly enjoying it and then going: 'Wait... is this... is this feminist?'"
"I reckon I'm gonna get absolutely roasted for saying this...... but was 'Borat 2' a [sic] *surpringly good* feminist movie, or am I losing it?" another person tweeted.
"No spoilers, but the new Borat movie might have been the sweetest little vulgar feminist movie I've seen in a bit. And a delightful piece of satire," a third chimed in.
One user pointed out that the "[Rudy] Giuliani hubbub," in which the former New York City mayor appears to be making sexual advances on Tutar, distracts from the feminist and actually radical moments of the film.
Upon returning home, Borat convinces Kazakhstan Premier Nursultan Nazarbayev to reverse the country's misogynistic laws. The final scene even features the father-daughter duo coanchoring a news segment together. Very nice!
Borat Subsequent Moviefilm: Delivery of Prodigious Bribe to American Regime for Make Benefit Once Glorious Nation of Kazakhstan is now available to stream on Amazon Prime Video.