Boy Orders $100 Starbucks Delivery, Sparking Debate: 'Can't Afford Kids'
A man says his 4-year-old nephew ordered $100 in Starbucks items for delivery, which prompted debate over the situation online.
The viral TikTok featuring the claim—with the caption "Eight orders of egg bites, four iced venti caramel macchiatos, four grande iced, three grande hot, cake pops, and oh yeah the Dunkin' as well #starbucks"—has been viewed 894,900 times and liked 83,900 times since being posted on April 6.
In the short eight-second clip shared by TikToker @marcfranks7, the narrator says: "My four-year-old nephew decided to order Uber Eats. Ordered $100 worth of Starbucks."
The video highlighted a large food order, which fills up a long dining room table. On the table are iced and hot drinks as well as little Starbucks snack bags of food. Most of the drinks are still in carriers. A man stands at the end of the table looking at the order before the video ended.
In a comment, @marcfranks7 said his nephew wasn't in any trouble over the order. He said: "Just as a heads up, we just thought it was funny. He was not punished, just asked to not do it again."
@marcfranks7 also revealed they didn't have any idea the boy ordered the food. They came back from work to find "three bags on the porch." And in another comment to a viewer, @marcfranks7 revealed the boy tipped the driver "$32 for a five-minute drive."
According to a survey by US Foods, the average person uses two food delivery apps three times per month. The most popular food app is Uber Eats, and the average that most respondents would pay for a delivery, the service fee, and the tip amounted to $8.50.
Statista reported the average revenue per user (ARPU) for online food delivery is expected to equate to $398.08 in 2022.
In response to the TikTok clip, more than 600 comments poured in over the viral delivery order, with opinions varying over the situation. "I definitely can't afford kids," a TikToker said.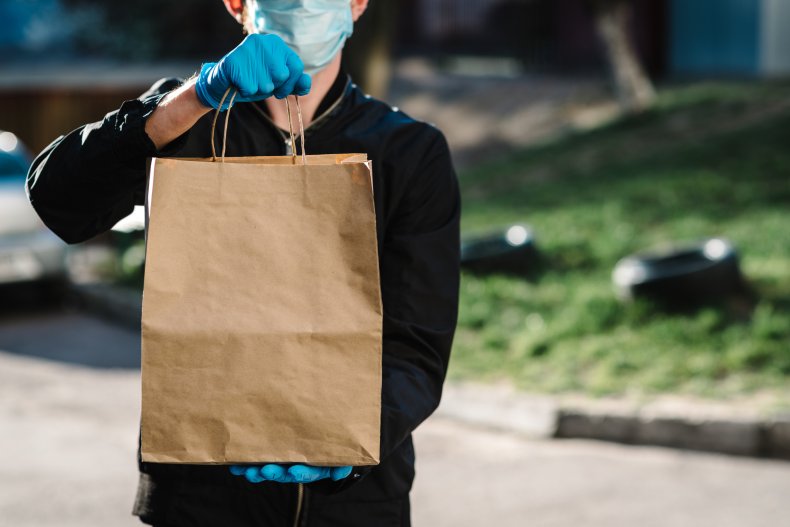 But one viewer said if their kid did that, they wouldn't be upset. "My husband would be, but I get Starbucks for days," they joked.
Others saw the bright side in the mishap. "I would call that a happy accident and salvage what I couldn't drink or share by freezing and refrigerating," another TikToker said.
Many viewers saw the humor in the large order. "I'm sorry, but I laughed so hard," said a TikToker.
@marcfranks7 replied back to reveal: "I can't tell you how hard it was to explain to him why he shouldn't do that. Meanwhile, he was stuffing his face with a blue cake pop."
Others were fixated on whether the 4-year-old had the decency to provide a gratuity. "I hope he at least tipped well," a viewer wrote.
Theories abounded about what the baristas or the driver might have thought. "They probably thought someone's boss was treating their staff," a viewer figured.
One TikToker had valuable advice: "For everyone out there, never save your card info on your phone or your tablets!"
So what did @marcfranks7 do with that large order? "Initially brought a lot of it to [a] job site we were at," he said in a comment. "Saved a couple coffees for the day and next day. Oh yeah, he ate the cake pops immediately."
Newsweek reached out to @marcfranks7 and Uber Eats for comment.
This isn't the only viral delivery post in recent months. A man recently alleged a DoorDash driver ate half his food and then emptied their ashtray onto the remaining items after he didn't tip.
Meanwhile, a delivery driver acted supposedly "rude" to a customer who ordered food from a place less than a mile away. And in an additional clip, a delivery driver allegedly said to a customer that they wouldn't deliver their food without a tip.