Brad Pitt Karate Kicks Photographers at the 'Bullet Train' Paris Premiere
Brad Pitt joked with photographers by playfully karate kicking in their direction at the Paris premiere of Bullet Train on Monday.
The actor, 58, looked casual in a baggy gray suit with red trim, white sneakers and sunglasses. He beamed while standing alongside director David Leitch and co-stars Joey King, Aaron Taylor-Johnson, Brian Tyree Henry and producer Kelly McCormick at Le Grand Rex in the French capital.
Sandra Bullock and Bad Bunny also appear in the highly anticipated movie, though they seemingly did not attend the screening.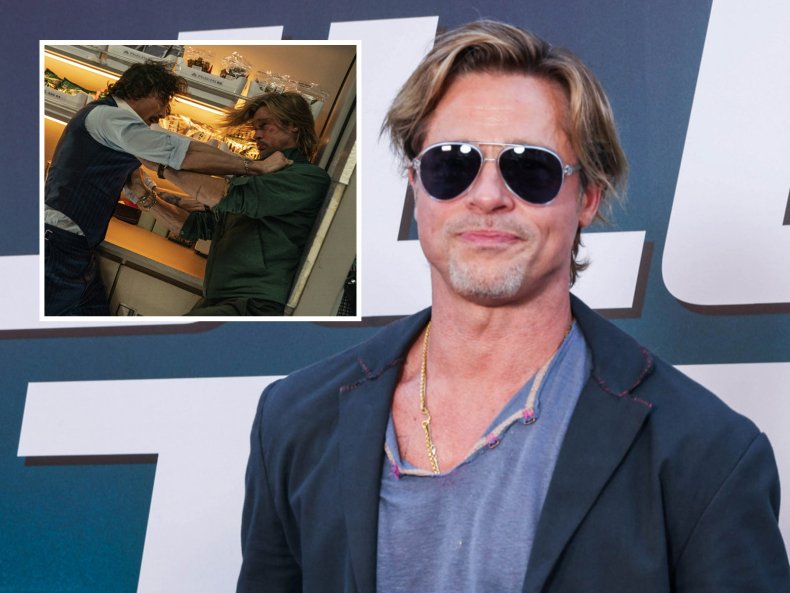 Pitt stars as Ladybug in the action thriller about a man who wants to give up his life as an assassin but is pulled back in when he's ordered to pick up a briefcase on a fast-moving train heading from Tokyo to Kyoto. While on board, he realizes he's with other assassins, and they quickly discover their objectives are connected.
"You know, you do a month of therapy, you have one epiphany, and you think you've got it all figured out, and you're never going to be forlorn ever again," GQ's August cover star told the magazine, referring to his character. "That was that. 'I got this, I'm good to go!'"
In the rare interview, the father of six—who shares kids Maddox, Pax, Zahara, Shiloh and twins Vivienne and Knox with ex Angelina Jolie—revealed he's been pickier about the films he chooses these days.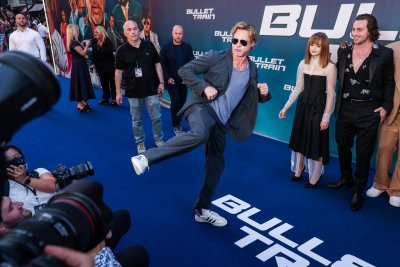 "I consider myself on my last leg, this last semester or trimester," he said to the publication about his acting career. "What is this section gonna be? And how do I wanna design that?"
In the same interview, Bullet Train's director David Leitch spoke highly of the Once Upon a Time in... Hollywood actor.
"In the conversations I had with Brad, the number one goal was to make a movie that's entertaining and escapist and fresh and original, that will make people want to come back to the theater," he said.
He added that filming with the Academy Award winner was a great experience. "What I remember mostly is the laughter. Brad's laugh is really infectious. He brings this kind of ease to set where there's nothing overworked. You're sitting across from a master class of cool," he said.
On Saturday, July 16, Pitt's co-star Joey King shared an Instagram selfie that included the A-lister as well as their colleagues Brian Tyree Henry and Aaron Taylor-Johnson. "Bullet Train crew takes Paris," she captioned their epic photo in front of the Eiffel Tower.
Fellow Hollywood celebrities commented on the snap, with Jenna Dewan writing "Joey…..!!!!" along with several fire emojis. Cazzie David added, "Ummmmm," while Bullet Train's official Instagram account posted a winking emoji.
Bullet Train hits theaters in the United States on August 5.