Brad Pitt Slammed Over $385 Price Tag on New Skincare: 'Be Serious'
Brad Pitt is facing criticism across social media for the hefty price tags on his newly-launched genderless grooming line, Le Domaine Skincare.
In announcing the line, the actor, 58, told British Vogue that the products use grape-based antioxidants from Château Miraval, the estate in Correns, South of France, that he bought a controlling stake in with then-wife Angelina Jolie back in 2008.
Pitt's unexpected foray into the realm of skincare has raised eyebrows, with the high prices of his brand's products becoming a talking point among social media users.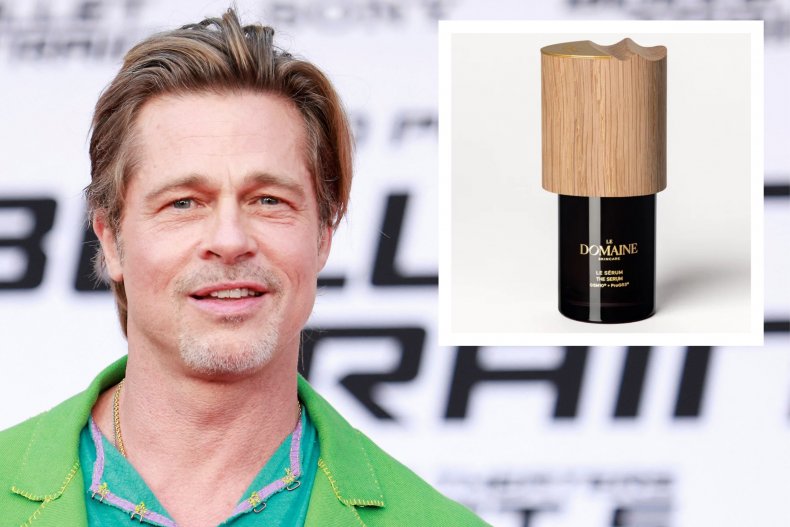 Per the brand's website, Le Domaine's 1 fl. oz Serum costs $385 (with $350 charged for refills), the 1.7 fl. oz Cream $320, and the 3.38 fl. oz Cleansing Emulsion $80. The brand's 1.7 fl. oz Fluid Cream, which will be available in January, will set customers back a cool $310. Refills on the product will cost $260.
People platforms editor Carly Breit posted a screenshot from the brand's website on Twitter, adding in the caption that Pitt's "skincare line serum is THREE HUNDRED AND EIGHTY DOLLARS FOR ONE OUNCE. be serious bradley."
The sentiment was echoed by a number of other Twitter users, with many expressing disbelief at the steep price point.
"Judging by recent product launches, 'genderless' seems to mean 'over ten times the price of similar products,'" one user wrote.
Over on TikTok, the comments were no more forgiving, with popular TikToker J.C. Dombrowski—who has more than 2.8 million followers on the platform—sharing his own analysis in a video post.
After discussing the "interesting" ingredients included in the products, Dombrowski quipped: "I'd probably use both if they were given to me. However, what I also realized is they're basically also way more expensive Caudalie products and I love Caudalie and think they're absolutely amazing. So just buy these."
Lisa Guerrera, co-founder and CEO of beauty brand Experiment questioned Pitt's skincare prowess in a video shared on her TikTok account, as she also took the screen star to task over a particular line in his British Vogue interview.
During his interview with the fashion publication, Pitt praised former fiancée Gwyneth Paltrow, which has achieved increased financial success through the launch of her lifestyle brand Goop.
"I love what Gwyneth's done [with Goop]," he said. "She is still a really dear friend, and she has built this empire. She has always had that in her as a curator, and it's been a lovely creative outlet for her. In fact, come to think about it, she was probably the first one who got me to even wash my face twice a day...maybe."
"I love that he's like, 'I love what Gwyneth has done with Goop,'" Guerrera said. "And by 'done with Goop' it means that she got really f**king rich off of having a successful business. Here's how he plans to get really f**king rich. Look at these prices!"
Marissa Spagnoli, who discusses beauty and fashion on TikTok, mocked Pitt for saying in his interview that he had been constantly trying products, but found them to be all the same.
"Except for his $380 cream," Spagnoli said. "It's different, don't you get it?"
Turning her attention to the brand's website, she said: "It's literally paragraphs on paragraphs, I feel like justifying why these products are priced the way they are."
While time will tell on the success of Pitt's products, things got off to something of a bumpy start on Wednesday, when visitors to the website noticed an unfortunate typo.
In listing the "very strict blacklist" in the product's ingredients, it was stated on the site that they contain "no conservatives," instead of "no preservatives." While the issue has since been corrected, it lives on in countless screenshots.
Photographer and makeup artist Matt Bernstein tweeted a screenshot of the typo in question, writing: "brad pitt releasing a 'genderless' skincare line is already questionable but putting 'no conservatives' when they meant 'no preservatives' is taking me out."
In his British Vogue interview, Pitt explained his unlikely foray into the skincare and wine businesses, telling the publication: "Landing here—at Château Miraval—opened up a lot of ideas that I wouldn't have normally considered.
"And a big part of it is sustainability, this idea of zero waste is something that is really important to this area and important to me. But listen, when we first got here, I mean, I never thought about having a winery either!
"I just wanted a beautiful base in this area and it happened to have a winery. And it happened to be hemorrhaging tons of money. So we had to go to work. And then we went out on a search and found Marc [Perrin] and his family."
Newsweek reached out to a representative of Le Domaine Skincare for comment.