Brazil Judge Orders President Bolsonaro to Wear a Mask or Pay a Fine
A federal judge in Brazil ordered President Jair Bolsonaro to wear a mask whenever he is out in public after the far-right leader was repeatedly seen ignoring social distancing guidelines without wearing any kind of facial covering.
The judge's order came just a few days after Brazil reported more than 1 million of its citizens had been diagnosed with the coronavirus since the pandemic began spreading across the globe. So far, the only other country to report more cases than Brazil is the U.S., where more than 2.3 million cases were reported Tuesday.
The decision was handed down by federal judge Renato Borelli and made public on Tuesday, Reuters reported. If Bolsonaro does not comply with Borelli's decision, he could face a fine of 2,000 reais—about $387—every day he violates the order, according to Reuters.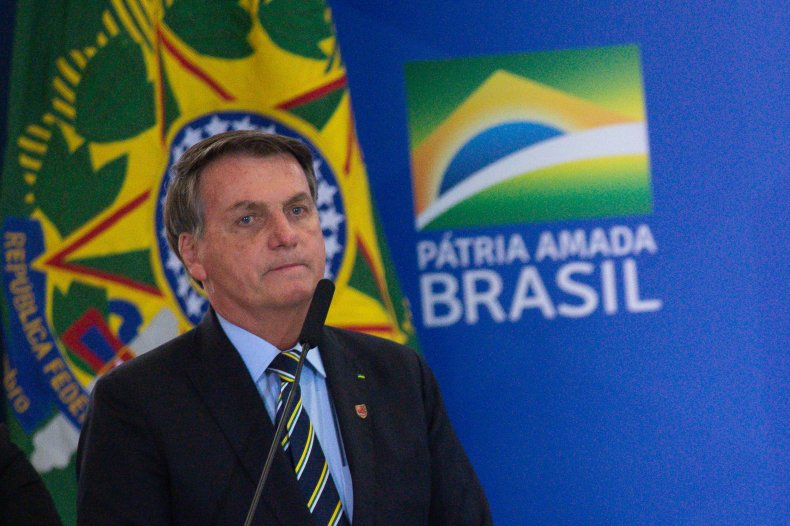 Though the pandemic situation in Brazil has grown increasingly dire over the past months, Bolsonaro resisted some of the virus precautions put in place around the country as its case count and death toll climbed. As Brazil crept closer to the 1 million case mark, Bolsonaro denied the pandemic was a real threat to Brazilians and was seen on video ignoring social distancing guidelines while attending a barbecue party in early May.
Even as the country began reporting an average of 20,000 new cases or more each day, the president was seen at political rallies without a facial covering to protect those around him, a decision that factored into Borelli's order, according to Reuters.
While downplaying the virus threat in public, Bolsonaro's government attempted to erase the data shared on its Ministry of Health's website. Those efforts to hide real-time case numbers were thwarted by Brazil's Supreme Court, which ruled earlier this month that health officials must make the figures publicly available.
Bolsonaro has also encouraged the use of hydroxychloroquine, a drug that was believed to benefit those suffering from COVID-19 in the early days of the pandemic. Though the drug initially gained emergency use approval from the U.S. Food and Drug Administration as well as vocal support from the World Health Organization, further research indicated that the risks it posed to patients' long-term health outweighed the drug's potential short-term benefits. After the WHO issued safety precautions for hydroxychloroquine and the FDA halted its emergency use authorization in recent weeks, Brazil's health officials continued to advise citizens to use the drug as a virus treatment.
Despite Bolsonaro's disputed handling of the pandemic, he's not the only world leader who has made controversial decisions. Like Brazil, India continued to endorse the use of hydroxychloroquine after the WHO's safety warning, and Russian President Vladimir Putin recently said his country has successfully protected its citizens from the virus, despite having the world's third-greatest case count.
In the U.S., President Donald Trump has been a controversial figure as well for refusing to wear a mask most of the time and promoting the use of hydroxychloroquine, which he said last month he was taking daily.
With Brazil's virus count continuing to climb and a new facial covering order in place for Bolsonaro, it is not known whether the president's perspective on the virus or advice for his citizens might change in response to recent developments.
Newsweek reached out to the U.S. Embassy in Brasília, Brazil, for comment but did not hear back before publication.