Brendon Urie Trends as Fandoms Block Singer for Pretty Odd Reasons
Social media users across a wide range of fandoms come together to block Panic! At the Disco's Brendon Urie on Twitter.
As the sole member of the alternative-rock band, Urie has become the butt of a joke going around on the social media platform where people block him from seeing the user's tweets, while giving their absurd reasoning.
Twitter accounts from various fandoms have taken part in the blocking of Brendon Urie, blaming them for things that the singer has no control over, or has nothing to do with them.
"[My Chemical Romance] hasn't dropped the album yet so i blocked brendon urie," one user wrote, screenshotting that Urie was blocked from viewing their tweets.
"I'm not dating eddie munson so I blocked brendon urie," tweeted another, referring to Joseph Quinn's fan-favorite character in Season 4 of Netflix's Stranger Things.
"Twenty one pilots never gave us a music video for bandito so I'm blocking brendon urie," one fan said, talking about Twenty One Pilots, an alternative hip-hop band made up of Tyler Joseph and Josh Dun.
"paramore haven't released an album in 5 years so i blocked brendon urie," one exclaimed, discussing the alternative band featuring Hayley Williams.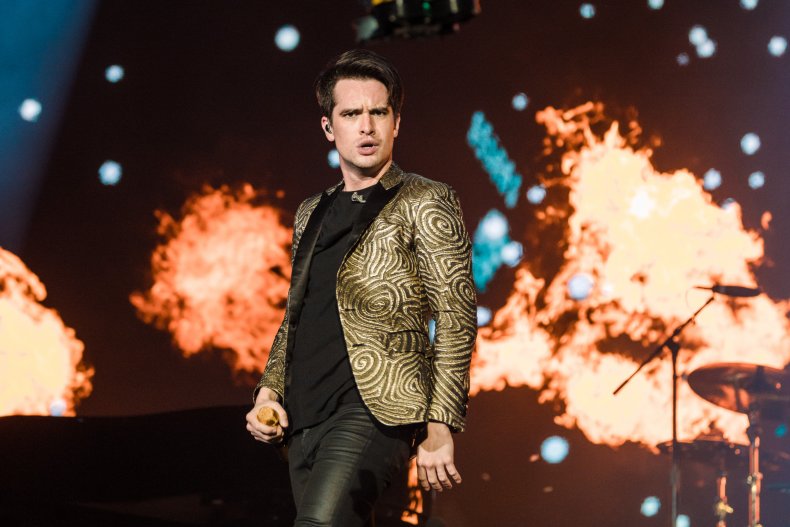 "Taylor Swift hasn't released a tour or 1989 (Taylor's Version) / Speak Now (Taylor's Version) so I blocked Brendon Urie," another fan stated.
"clara died and twelve had to forget her so i blocked brendon urie," a fan tweeted, referring to Jenna Coleman's character Clara Oswald and Peter Capaldi's Twelfth Doctor in the Doctor Who series.
"rihanna hasn't released an album in 6 years so i blocked brendon urie," wrote another.
"doja cat and noah schnapp were arguing so i blocked brendon urie," a Twitter user said, discussing the conflict between the Planet Her singer and the Stranger Things actor after Schnapp shared Instagram messages between the two.
Urie is a controversial figure of late, after a resurfaced video of the alternative-rock singer performing in front of fans, saying that if they stayed after the show, he would have sex with them, whether they wanted to or not.
Urie said in the video, seen over 2 million times, "If I see you after the show I'm gonna f**k you, and I don't care if you want it. I more care if you don't want it, cause then I really want it, dude. I really want it, bro."
People have also called him out for using a transphobic slur on a radio station, though he later apologized saying they were quoting someone who said this to them. Another Twitter account shared a video of Urie allegedly mouthing the n-word in an old video from 2013.
Urie's security guard, Zack Hall, was also accused of sexual harassment and misogynistic behavior by Breezy Weekes, wife of former Panic! At the Disco guitarist, Dallon Weekes, as well as fans. Urie spoke up saying that Hall does not work with the band anymore and apologized to people who were hurt.
Correction 7/12/2022, 6:15 p.m.: The original version of this article misspelled Dallon Weekes' name. Newsweek regrets the error.