Brett Kavanaugh: Trump's Supreme Court Pick Thinks Presidents Should Be Immune From Criminal Investigation
President Donald Trump's nominee for the Supreme Court once wrote that sitting presidents should be immune from criminal investigation because their job is too important and prosecution would be a burdensome distraction.
Trump picked Brett Kavanaugh, 53, a judge on the D.C. Circuit of the U.S. Court of Appeals, to replace the retiring Associate Justice Anthony Kennedy on the Supreme Court. Kavanaugh worked with Special Prosecutor Ken Starr on the Monica Lewinsky investigation during the 1990s, during which President Bill Clinton was almost impeached.
The Trump 2016 campaign is under criminal investigation by Special Counsel Robert Mueller on suspicion of collusion with the Russian government to influence the result of the presidential election. Mueller has indicted several people, including Trump's former campaign manager, Paul Manafort. Mueller wants to question Trump, and negotiations are ongoing.
Writing for the Minnesota Law Review in 2012, in an article titled "Separation of Powers During the Forty-Fourth Presidency and Beyond," Kavanaugh said his experience working for the Bush White House made him realize being president is "far more difficult than any other civilian position in government."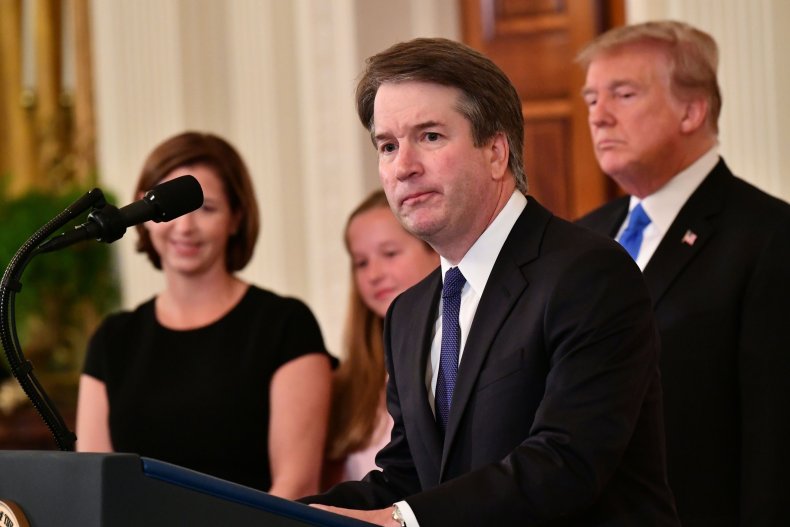 "It frankly makes being a member of Congress or the judiciary look rather easy by comparison," Kavanaugh wrote. "The decisions a President must make are hard and often life-or-death, the pressure is relentless, the problems arise from all directions, the criticism is unremitting and personal, and at the end of the day only one person is responsible."
On this basis, Kavanaugh believes presidents should be able to focus on their "never-ending tasks with as few distractions as possible."
Kavanaugh acknowledges this is not the view he held in the 1990s when he was working towards President Clinton's impeachment over the affair with Lewinsky, a White House intern.
But he now believes, after working for over five years in the Bush White House, that Congress should pass a law giving presidents immunity from civil suits and criminal investigations and prosecutions until they leave office.
"Looking back to the late 1990s, for example, the nation certainly would have been better off if President Clinton could have focused on Osama bin Laden without being distracted by the Paula Jones sexual harassment case and its criminal investigation offshoots," Kavanaugh wrote.
He argued that criminal investigations are "inevitably politicized by both their supporters and critics," and that a president's indictment and trial "would cripple the federal government, rendering it unable to function with credibility in either the international or domestic arenas."
"Even the lesser burdens of a criminal investigation—including preparing for questioning by criminal investigators—are time-consuming and distracting," Kavanaugh wrote.
"Like civil suits, criminal investigations take the President's focus away from his or her responsibilities to the people. And a President who is concerned about an ongoing criminal investigation is almost inevitably going to do a worse job as President."
Responding to two potential criticisms of his argument—first, that nobody should be above the law, and second, that there must be a check against the bad or illegal behavior of presidents—Kavanaugh said he is only arguing for deferment of any action and that impeachment would remain an option.
Kavanaugh did not respond to a request for comment.
The 53-year-old has served as a Court of Appeals judge since 2006. Prior to that he spent five years working for the Bush administration. He has also taught at Yale Law School—from which he graduated—as well as Harvard and Georgetown.
"What matters is not a judge's political views, but whether they can set aside those views to do what the law and constitution require," Trump said in a speech unveiling Kavanaugh as his nominee. "I am pleased to say that I have found, without doubt, such a person."
The Senate will now vote on Kavanaugh's nomination. There is a 51-49 split in favor of Republicans, suggesting Kavanaugh will likely be confirmed as Kennedy's replacement, though it is not a done deal.
Trump has called Mueller's Russia investigation a political "witch hunt." He is also reluctant to cooperate with Mueller, despite the special counsel's desire to ask him questions. So far, Mueller has indicted 20 people and three companies on more than 100 charges.