Nigel Farage's Last Stand: 'We're All UKIP Now'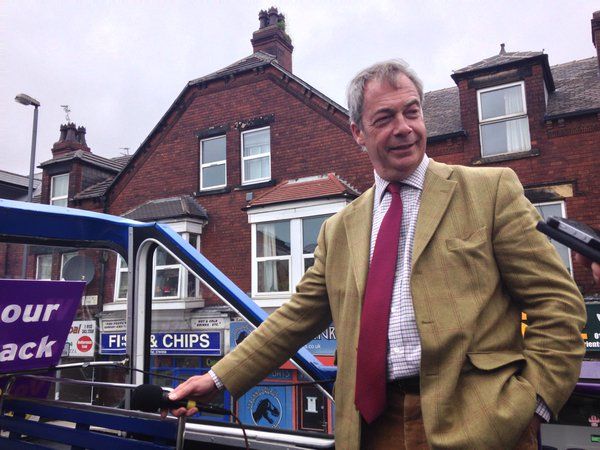 About once a year, the cricket teams from Yorkshire and Lancashire, two British counties, re-fight an ancient war. When the pair play each other, it's known as a "roses match:" a nod to the white rose of Yorkshire and the red of Lancashire. The rivalry stretches back centuries to the Wars of the Roses, 15th century conflicts for the throne of England fought between two houses bearing the counties' names.
On a Wednesday morning at Yorkshire County Cricket Club in Leeds, Nigel Farage is watching the final day of the latest rematch before heading out onto the "Brexit" campaign trail. A cynic might say, I suggest to the UKIP leader when I meet him in the club's bar, that an obscure re-run of an old battle most people thought was settled is a good metaphor for the EU membership referendum. "They might," he says, "but the battle in the referendum is different. The historical battles here were between two great houses… the battle we've got in the referendum is between the ruling classes and everybody else." More of a peasants' revolt then? "Well, there are shades of it."
Whatever you call it, Britain's referendum on EU membership marks the culmination of a crusade Farage has been fighting for much of his life. A vote to leave the EU on June 23—that Farage now says he thinks is the likely outcome, to the point where he placed a £1,000 ($1,442) bet on it on Thursday with 11/4 odds—would be thanks in no small part to his party, whose surprising electoral successes between 2010 and 2014 helped push Prime Minister David Cameron into promising the referendum in the first place. "I didn't get into politics for the sake of politics, I got into politics to fight this battle," he says. So if he fights it and he wins, will he get into a different game?
"I have absolutely no clue what I'm going to do," he says, with a broad grin. Could he imagine any other career, after all this time? "I'm not some nerd. There are loads of things in life that interest me. This [leaving the EU] has been my great cause." But he doesn't rule out staying in politics: "It may well be, if we win... I will, of course, then be leading the... British U.K. delegation in the European parliament through what are going to be some crucial battles." It's a suitably ambiguous response from a man who introduced the "unresignation" into British politics, initially stepping down as UKIP leader after 2015's general election before later saying the party's ruling committee had rejected the move.
But even if it was Farage that secured the referendum, there are some ostensibly on his side that are worried he'll lose it. When we head out into Leeds on UKIP's lurid purple battlebus, bouncing about on the open top deck, blasting the theme from The Great Escape into freezing, near-deserted streets, it's striking how polarized reactions to him are. Some people lean out of their cars to scream "Fuck off!" as the bus passes ("Go on my son," Farage bellows back at one through the bus's PA). When we stop for a pub lunch, a fellow customer cries: "I'm a gay immigrant, I hate that man!" But many other drivers spontaneously honk, yell, cheer their approval. Sometimes, Farage peers at a cluster of noises or gestures, deciphering the spread of positive and negative for the other passengers. It's usually around 50/50.
This divisiveness is what many Leave campaigners fear. Before campaigning began in 2015, Dominic Cummings, chair of the Vote Leave group that subsequently secured the official Leave campaign designation, told me in an email: "If the No campaign [as it was then called] does its job well, UKIP probably won't matter, if it does not then UKIP could lose [the] campaign."
By this yardstick, Cummings has failed. Farage has not quite enjoyed top Euroskeptic billing in the national media thanks to former London Mayor Boris Johnson outing himself as a Brexiter in February. But his influence has been felt on a deeper level. Farage was always insistent that the Leave campaign should focus on immigration, while Cummings and others disagreed. But on the morning of our meeting, the front pages are dominated by a promise from the once-liberal Tories and Vote Leave campaigners Boris Johnson and Michael Gove to introduce an "Australian-style points system" to govern immigration after Brexit.
It's a policy lifted, soundbite and all, from UKIP's manifesto. Can Farage see right-wing Tories and Ukippers working more closely together after the referendum? His smile is as broad as the English Channel: "We're all UKIP now—in terms of attitude." But if Boris Johnson was in Number 10 reading from the Farage playbook, what would be the point of him? "Ask me that on June 24. You're looking at it through the prism of politics. I'm not."
Does he feel he's been robbed of his policy? "Do you know, it's a very funny thing," he says. "When Cameron gave the Bloomberg speech [in 2013, when he promised an EU referendum], everyone said: 'That's it. The UKIP fox has been shot. You'll never hear from Farage again.' Do you know what he'd done? He'd legitimized me. And what happened in the [2014] European elections? They voted for the real deal."
"In some ways this is similar," he says. "The fact that the two people who are most likely to be our next prime minister have gone for this, I thought at breakfast this morning, 'This is a moment. This is a moment that has changed British politics for the next decade.'" Why? "Because they can't backtrack. It's done now. They want an Australian-style points system, they want migrants to speak English, they even think, amazingly, that British people might get some priority over housing. I mean this is incredible, this is everything I've been saying.
"I've felt for a long time that this [immigration] was the issue, and that if we could establish in the minds of the British public the link between open-door migration, European passports, and the fact that we can't do a damn thing about it as EU members, I've always believed if we made that link, the other side can't answer it." We won't know if he's right until after the referendum; although some remain campaigners will privately admit they're behind on the issue, many pollsters say their weakness on the economy could limit the issue's potency.
For a man who has won the political argument, though, Farage looks a little lonely. His team on the bus on the day I join him is made up not of other senior Ukippers but of backroom staff, including two hyper-keen millennials, former rising stars of UKIP's youth wing. That does bring benefits . Farage is keen to demonstrate their success in boosting his Facebook presence, where videos of visits and speeches produced swiftly on the fly and precision targeted at receptive audiences regularly garner hundreds of thousands of views, with recent efforts mostly outperforming those on Vote Leave's page.
But it's hard not to think of the more senior figures within UKIP Farage has sidelined. Suzanne Evans, a polished media performer who wrote 2015's well-received general election manifesto, and Neil Hamilton, the former Tory MP, were both sacked as the party's deputy leaders earlier this year. Evans, who has been critical of Farage's immigration focus, now works in Westminster with the party's only MP, Douglas Carswell, who Farage holds in open contempt. Hamilton, freshly elected to the Welsh assembly, repeatedly refused to back Farage's leadership in a recent BBC interview.
Facing these two alternative power bases within UKIP, does he fear a leadership challenge? "I'd walk it," he insists. "Non issue… I think if people wanted that, they'd perhaps make themselves look a bit silly, to be honest." He doesn't, though, deny that one could take place. "UKIP is currently distracted by the referendum but there remain unresolved questions such as: how will the party remedy infighting?" says Matthew Goodwin, professor of politics at University of Kent and an expert on the party. "UKIP itself needs to decide where it wants to go in the event of a Remain vote. Does the party carry on as usual or does it instead try to mobilize something more significant, perhaps through a rebrand and, potentially, a new leader?"
Farage, meanwhile, says he's happy out on the road. "Whilst the national 'air war' is important," he says, "there is something called the 'ground war,' and that's what I'm fully engaged with." Out and about in Leeds's covered market, he's even happy to talk with people who disagree with him. When butcher Jim Minsholl, who works at the first business Farage visits, says he'll be voting to remain, joking that "I'm going on holiday June 26 and I don't want the exchange rate to go up," it raises a hearty chuckle from Farage and the activists around him, where some politicians would have been hunting for an organizer to sack. Still, the walkabout isn't as busy as he might have hoped: the team haven't been able to publicize it widely in advance after a previous event on the tour had to be called off when protestors turned up to block it.
But Farage is probably most at home on stage, mixing pantomime badinage with soaring patriotic rhetoric in the town hall speeches that have become his signature. They turbo-charged his breakaway European elections campaign in 2014, and he hopes they will help him, with some aid from Facebook, reach Brexit voters across the land now. Leeds is no exception. "We are not only in the mainstream of British politics, we're actually driving the mainstream of British politics," Farage cries onstage at Elland Road football stadium to an audience of supporters, filling the room with applause.
At the cricket ground, I ask Farage where he learned to speak. "Pubs," he cackles, "arguments in pubs." He and his press officer laugh uproariously, before he stops. "You've no idea whether to take that seriously or not have you?" he asks. I haven't. Leavers and Remainers alike don't know whether to take him seriously either. Nobody will, until, perhaps, the morning of June 24.