Brian Laundrie Search Resurrects Dog the Bounty Hunter's Career
Dog the Bounty Hunter has become an unlikely figure in the Gabby Petito case, as the reality television star leads a high-profile manhunt for the fugitive Brian Laundrie that has revived his career.
Duane Chapman has been the front and center of a media storm over the past two weeks as he and his team have tirelessly searched for the 23-year-old who was reported missing after returning from a trip without his girlfriend, who was later found dead.
Laundrie has been named a person of interest in Petito's disappearance but he has vanished, having last been seen in Florida.
Newsweek first reached out to Chapman on September 22 to ask if he had any insight into how to trace and find Laundrie.
Chapman gave his expert opinion and since then, began leading a high-profile search, with the aid of former law enforcement, Navy seals, marines and a K-9 unit.
"To look at the case, so far, I haven't got any inside info yet," he said at the time.
Well, things have changed drastically since then, with Chapman in hot pursuit of Laundrie. He has even turned evidence he found over to the police for DNA processing and is continuing to search the islands near Florida's Fort De Soto Park.
Chapman's involvement in the search for Laundrie has given him a career boost, propelling him into the center of a story that has captivated the nation and indeed the world.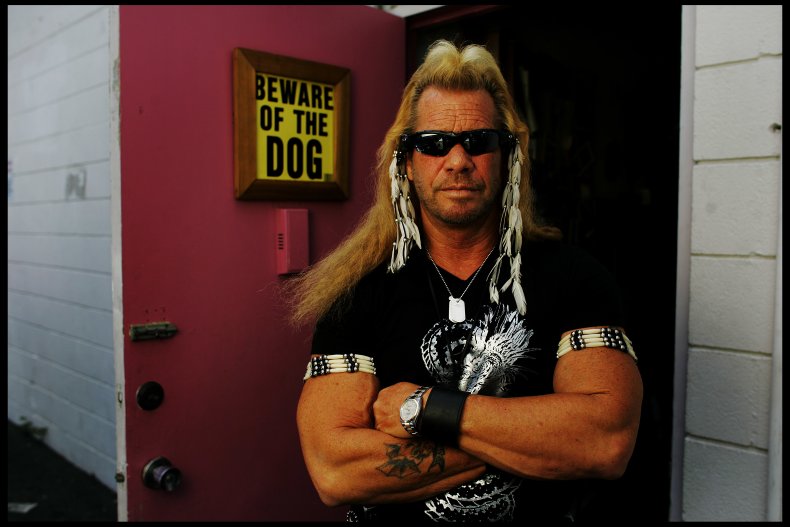 Best known for his reality television series, A&E's Dog the Bounty Hunter the 68-year-old rose to prominence on the show that ran for eight seasons from 2004 to 2012, where he and his sons Duane Lee II and Leland hunted fugitives.
The show inspired the spin-off Dog and Beth: On the Hunt (2013–2015), alongside his late wife Beth Chapman. Beth's experience with being diagnosed with cancer was aired in the 2017 special, Dog and Beth: Fight of Their Lives.
A second spin-off, Dog's Most Wanted, aired on WGN America from September 4 to November 6, 2019.
However, the popularity of Chapman's brand started to wane when another series, Dog's Unleashed, was scrapped before it could air.
Now reports are circulating that Chapman could be getting another new show.
Variety reports that he's plotting his return to TV with a new reality series that will follow his day-to-day life and his exploits, with Thinkfactory Media, who have produced other series like Marriage Boot Camp and Mama June: From Not to Hot.
Newsweek has contacted Chapman's representatives for comment.
As Chapman enjoys newfound popularity on the search for Laundrie, his social media followers have surged dramatically.
According to figures from Social Blade, Chapman has gained 131,947 followers on Twitter and 129,300 followers on Instagram over the past month.
Chapman previously told Newsweek that he wants to "help bring justice for [Gabby Petito's] death."
However, some have suggested that Chapman's involvement may hinder the investigation.