Bride Backed for Not Inviting Stepsisters to Wedding: 'Aren't Family'
The internet has backed a bride-to-be who has refused to invite her stepsisters to her wedding.
Planning a wedding is said to be one of life's most stressful experiences. In fact, a Zola survey of more than 500 engaged or newlywed couples found that 72 percent would use the terms "very" and "extremely" to describe wedding planning stress.
When it comes to deciding how many people you should invite to your big day, wedding planners highlight the importance of consulting your budget and the capacity of your venue.
On Reddit's popular /AmITheA**hole forum, one bride turned to strangers online to ask if she was making the right decision about her guest list.
In the post that gained thousands of upvotes but has since been deleted, the user u/Entire_Cauliflower56 explained: "We're planning our wedding to be in one year. My parents have both been remarried [for] about 20 years. I am extremely close to my half-sister—my dad and stepmother's daughter—and she is my maid of honor. My brother is an usher. I also have two stepsisters, my step-father's daughters, who are not in the wedding party."
When the woman's mom asked about her wedding party, she explained who will be in the wedding, but when her mom asked about the dresses so she could tell the stepsisters, the bride had to make it clear again that they were not in the wedding party and not invited either.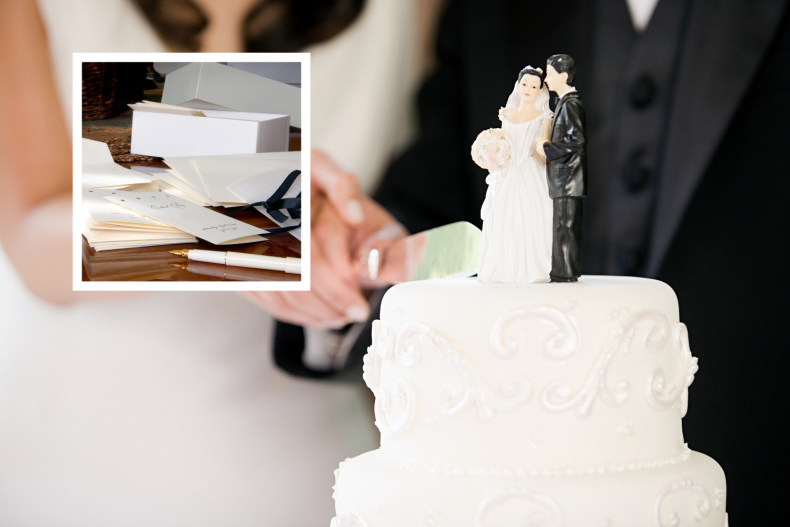 "My mom asked why and I told her I'm not close to them," wrote the bride-to-be. "My stepfather found out and has decided he's not going to the wedding—fine with me. Then my mom said if her husband isn't going she also won't be attending and I should just invite my step sisters."
With two stepsisters, one a year older than her and one younger, the bride explained that although she grew up in the same house as them and has known them for years, she does not like them—though she said there was no reason why.
"My mom also said if she's paying for part of the wedding then she should be able to say they're invited," wrote the poster. "I told her they're not invited and if they attend against my wishes there won't be a wedding that day. She called me a bridezilla and said I'm always favoring my father's family. I said because my stepsisters aren't family and my mom argued they are."
In a later update, she also clarified that they were not taking the financial help from her mother, and were inviting 200 guests—the same number that their venue allowed.
"I'm not willing to not invite a friend or a different family to include them since I don't like them," she explained.
In response to the woman's concern over her wedding guest list, more than 2,000 comments flooded in as Reddit users shared their opinions.
"It is your day and you and your significant other get to choose who attends," said one commenter. "[I am a] firm believer family is whom you choose as family, marriage/blood be damned. That being said, you need to have the conversation with the steps, not make your mother/stepfather explain your decision."
The poster quickly replied to say that she would have no problem being the one to tell her stepsisters they were not invited.
But other commenters felt that the bride-to-be was being unfair. One Redditor said: "I was leaning toward NTA [Not the a***ole] until you said 'my step sisters aren't my family' and 'there's no actual reason why' for disliking them. It honestly sounds like your mother is right, that you're favoring father's family, and seemingly for no reason."
The majority of replies agreed that whatever the reasons, the woman should not be obligated to invite anyone.
"Your wedding, your choice of guests whatever the reason," said one Redditor. While another wrote: "If you don't want them there you shouldn't have to invite them because it will make someone else happy."
Another reply said: "It is your day and it's your decision. you shouldn't need a reason."
Newsweek reached out to u/Entire_Cauliflower56 for comment. We were unable to verify the details of this case.
Has a wedding come between your relationship with a loved one? Let us know via life@newsweek.com. We can ask experts for advice, and your story could be featured on Newsweek.