Bride and Groom Set Themselves on Fire in Spectacular Wedding Exit Stunt
A newly married bride and groom found a unique way to turn heads at their wedding by deliberately setting themselves on fire.
Wedding exits are an increasingly important part of any couple's big day, offering the newlyweds a chance to finish the festivities with a flourish.
"A wedding exit is just a fun and exciting way to end the evening and keep the energy up rather than just having your band or DJ end on the last song," wedding photographer Kate Dye told Newsweek. "It caps off what has already been a magical day and is one last chance to get gorgeous images to remember it all by."
While this usually involves serenading the happy couple with bubbles or sparklers, Gabe Jessop and Ambyr Bambyr decided to do something a little more unique for their wedding.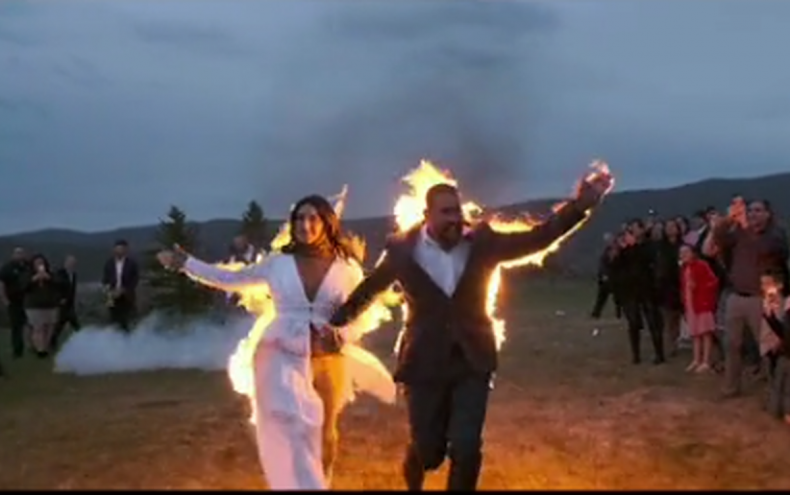 Gabe and Ambyr met while working as stunt doubles in the film industry so something explosive was always potentially going to be on the cards when they tied the knot. Even so, the resulting stunt choreographed to conclude their wedding was spectacular to say the least and definitely should not be attempted by untrained professionals.
Footage of their fiery exploits first surfaced on social media after Russ Powell, a wedding and events organizer, shared a clip to TikTok of the happy couple being set alight.
Captioned "when stunt people marry" the video featured Gabe and Ambyr, walking hand in hand, as flames gradually engulfed their fire-resistant stunt clothing.
What starts with a flaming bouquet of flowers spreads over the back of the bride and groom, who continue walking on, waving to the guests in attendance who can be heard cheering.
Remaining calm and collected throughout, Gabe and Ambyr eventually reach a point where they both kneel to the ground, allowing two men with fire extinguishers to put the flames out.
Sparks flew then, so it was somewhat fitting that they would conclude their nuptials with the two stunt workers holding hands, engulfed in fire from head to foot.
A spectacular clip soundtracked with the score from the Pirates of the Caribbean movie, the video has already been watched over 13 million times, garnering thousands of comments from viewers in the process.
Commenting on his own video, Powell stressed: "These are trained professionals, don't try this at home." Some users like ..blueowlbtq253 were worried for the bride. "Please tell me the hair was protected," she wrote. Powell responded: "They both had anti-burn gel in their hair and face, then she had a wig on top."
Eohm, meanwhile, quipped: "the only time the 'actions are performed by professionals tag' has actually been true" with Simon Eubanks commenting: "Ahh so these are the people responsible for making our entertainment so amazing."
Bakehouse Caligo was left feeling strangely emotional by the video. "Why am I crying?? this is so cute," she wrote. Haley__white was one of many to note that the stunt had real "Hunger Games vibes" to it.
Sofia_dance, meanwhile, concluded. "Well that is one unique wedding talk about made for each other." Both Gabe and Ambyr have since taken to TikTok to share similar pictures and videos of their fiery wedding exit. They can be viewed here and here.
Powell, who served as MC and DJ at the wedding, said the happy couple's fiery exit was several months in the making.
"They had to get their stunt team on board and get permission from the venue and local fire department. It took about 30 minutes during their reception to get ready," he said.
Despite appearances on the clip, Powell also insists the couple stayed cool throughout the stunt. "The only thing that worried them was working out which direction they needed to run because of the wind."
As someone who has seen their fair share of weddings, he also ranks this among the most memorable. "I've seen some crazy things, but this is one of the most awe-inspiring."
Newsweek has contacted Gabe and Ambyr for comment.
UPDATED 05:51 ET 05/16/22 with pictures, video and comment from Powell.