Make-Up Artist Branded 'Scammer' for Charging Woman Extra As She's a Bride
A make-up artist who asked for more than three times the agreed price for a make-up service after discovering the customer was a bride has received a storm of criticism on Reddit.
Several users accused the artist of being "a scammer" that sees weddings as "a cash cow," describing the price hike as "beyond insane."
According to a post shared by the make-up artist (under the username Affectionate_Lie0) on Reddit's Am I The A**hole (AITA) forum, the artist was booked to do regular "party make-up," for which the user charges $150, which was the price agreed with the customer.
However, while at the event, "at some point it slips from a woman about the wedding and I realise the woman I'm doing the make-up on is the bride," the artist said.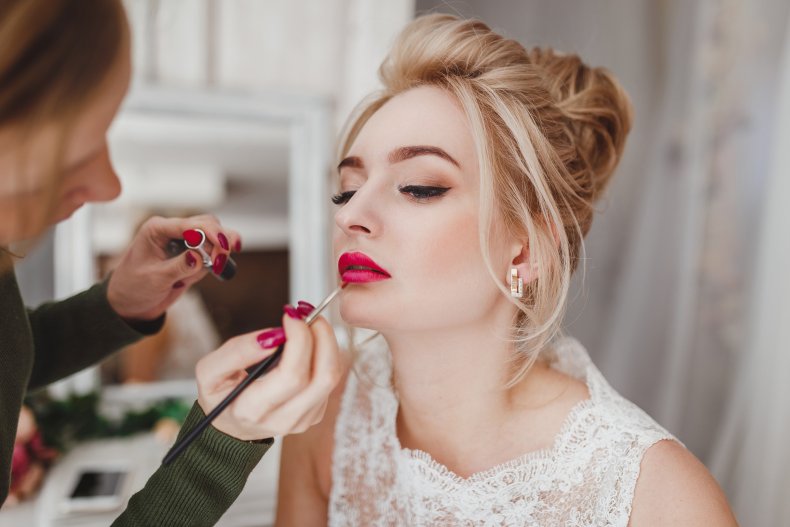 The user said, "I was completely pissed how she lied about the occasion but I kept doing my job." After the make-up artist was done, when the customer paid $150, she was told she was "$350 short," because that's what the user charges for bridal make-up.
The customer allegedly claimed the artist was "basically ripping her off," arguing that "the title of the event shouldn't matter."
The artist said: "I told her she doesn't get to dictate how I form my prices," and the bride allegedly refused to pay the artist any money at all. The artist said the bride "called me a scammer and told me to get out. Before I left, her mom threw $200 on my face and told me to get lost."
According to a survey of 15,000 couples in the U.S. compiled by The Knot, a wedding planning website, the average cost of wedding make-up in 2021 was $115.
Many Redditors have sided with the bride, pointing out that the artist's $500 price tag in this case was not justified because it didn't include other services such as trial runs of the bridal make-up.
In a comment that got 40,500 upvotes, user mrsorzhova728 said: "She did not ask for bridal treatment and didn't do a make-up test run…if you used different products or it took way longer then sure I could see the upcharge. But you didn't and it didn't so yes YTA [you're the a**hole]."
"I'm still trying to do the mental gymnastics in my head to how OP [original poster] justifies $500 for 'bridal,'" user FrankelGalileo said. "OP is a standard con artist that sees weddings as a cash cow."
User ArchyDWolf said: "You tell someone something is for a wedding and they automatically increase the price just to milk you."
Syrasha_ said "it doesn't make sense," that the customer has to pay more, explaining that the "bride got a simple party make-up, with no tests, no mention of extra products or time…OP YTA and a scammer.
"She didn't ask for 'bridal' make-up, she asked for party make-up, meaning she did not put extra responsibility/pressure on you," she said in a comment that got 8,000 upvotes.
MissAcedia, who said they work in the spa industry, explained there are justified reasons for higher pricing for bridal make-up/hair "but in this case absolutely not. This is exactly why people assume we are all scam artists," adding that "$500 is beyond insane," in a comment that got 1,600 upvotes.
User skeletoorr agreed, stating: "With a $500 price tag I would expect at least 2 trial runs. Mink eyelashes and all high end products. I would also expect the artist to stick around until the start of the reception for a touch up."
User ScandIdun said: "Agreed! The whole idea with charging more than a simple party make-up is that you do trial runs and the make-up artist stays to do touch ups between photoshoot and and the wedding reception. Why on earth would she pay $500 when she didn't ask for any of that? Big time YTA."
Newsweek has contacted the original poster for comment.