'Bridgerton' Season 2: Has Netflix Secretly Renewed the Show?
UPDATE (January 21, 2021): Netflix has now announced Bridgerton Season 2 has officially been ordered, with filming officially set or spring 2021.
ORIGINAL ARTICLE: Bridgerton Season 2 could be on its way this year if recent reports are to be believed. According to a leading production publication, shooting on the second set of episodes of the Netflix series was due to start in the summer of 2020, but has now been postponed to March 2021 as a response to the coronavirus pandemic, which shut down production on most shows for the majority of last year.
Per ProductionWeekly, an industry paper that lists shows currently filming around the world, Bridgerton's plan to film in London in June 2020 have been delayed until March 2021, when the crew is set to start filming Season 2 in the suburb of Uxbridge.
It seems likely that this filming date will be pushed forward again due to the U.K. being under a fairly strict lockdown until at least mid-February. However, the fact that the show is planning to film at all seems to strongly suggest that the show has been given a second season, despite the show not having been officially renewed by Netflix yet.
Netflix secretly renewing shows and starting filming on them before publicly confirming they have been given the green light is becoming increasingly common practice for the streaming service. The first notable example of the streamer doing this was Elite, which filmed and completed its third season before Season 3 was officially confirmed.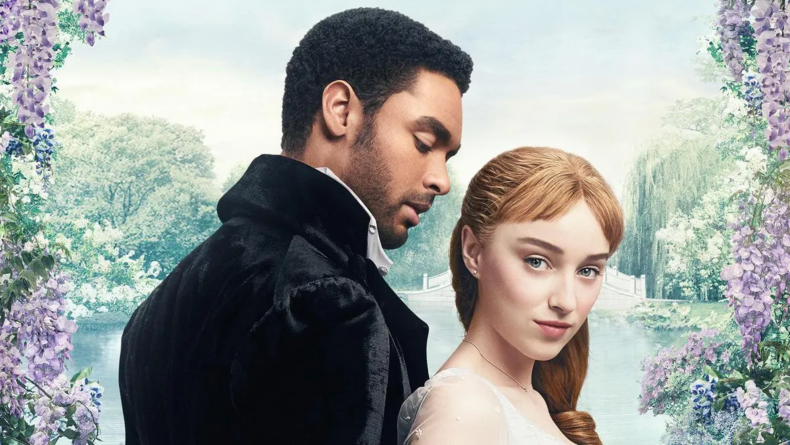 Since then, multiple shows have reportedly started filming additional seasons before they were officially announced. Among the most recent were The Umbrella Academy and Virgin River, the latter of which is believed to have starting shooting in August after the cast recorded a video from the set—four months before the show was officially announced to be getting a third season.
While this has become a trend for Netflix is unclear, but the move has clear benefits for Netflix. In a world where fan photos from sets cause massive spoilers to emerge months or even years before films and TV shows come out (see the cast reveals from the set of Spider-Man 3 as a recent example), filming in relative secrecy helps to keep things under wraps.
Starting filming earlier also allows Netflix to get new seasons out quicker, something that is important as more and more streaming services are vying for customers' attention. While the streamer previously kept the year gap between seasons that is traditional in TV, some shows have experimented with shorter gaps between seasons. By filming its second and third seasons together, for example, Elite was able to release the two seasons within six months of each other.
Netflix's plan seems to have been to film Bridgerton Season 2 before the first one was released so they would be ready to follow on the success of Season 1 with more episodes. However, with production delayed by nine months, this will not be possible, with the show unlikely to get any more episodes out before the end on 2021, one year after the first set of episodes aired.
Bridgerton is streaming now on Netflix.