'Bridgerton': Netflix Show Reveals New Main Character for Season 2
Bridgerton has just announced a new cast member who will be integral for Season 2, as the Netflix show introduces a new love interest for Anthony Bridgerton (played by Jonathan Bailey.)
Season 2 will follow the books and see Anthony becoming the main character, with Daphne Bridgerton (played by Phoebe Dynevor) and Simon Basset (Regé-Jean Page) stepping back to become supporting roles.
The second book in the Bridgerton series, The Viscount Who Loved Me, sees Anthony have romantic sparks with a woman called Kate Sheffield, who does her utmost to stop Anthony marrying her sister only for her to start to fall in love with him.
Netflix has now revealed who will be playing the character in Bridgerton Season 2, while also revealing that they have made a change to Kate to reflect the more diverse casting of the show.
The character has been renamed Kate Sharma and will be played by Simone Ashley. The Netflix character bio for Sharma reads: "Newly arrived in London, Kate is a smart, headstrong young woman who suffers no fools—Anthony very much included."
Bridgerton is not Ashley's first show for Netflix. The British actor has starred in two seasons of Sex Education as Olivia, the character who in Season 2 had a storyline where she would cover her boyfriend's face with a pillow every time she had an orgasm.
Ashley's other credits include Detective Pikachu, the original U.K. Broadchurch and 2020 British drama The Sister.
There is still at least one major character expected to be announced for Bridgerton Season 2. Kate's younger sister Edwina, the woman who Anthony is initially set to marry, has not had her casting announced yet. Bridgerton showrunner Chris Van Dusen also announced on Today that Season 2 would see "a bunch of new characters" join the mega-hit Netflix show.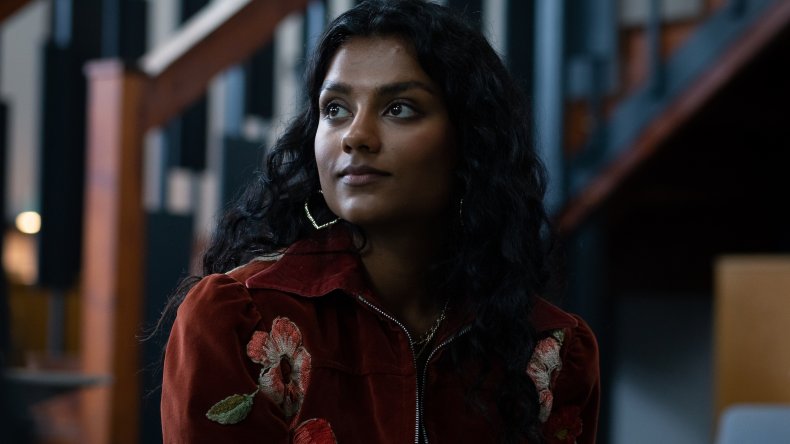 The book synopsis for The Viscount and I gives viewers an idea of the role that the Sharma will play in Bridgerton Season 2: "Anthony Bridgerton hasn't just decided to marry—he's even chosen a wife! The only obstacle is his intended's older sister, Kate Sheffield—the most meddlesome woman ever to grace a London ballroom. The spirited schemer is driving Anthony mad with her determination to stop the betrothal, but when he closes his eyes at night, Kate is the woman haunting his increasingly erotic dreams..."
Previously, Bailey said to Collider: "I'm excited for Anthony. I really care for him. If I get to fall in love vicariously through him, with an amazing actress who's playing Kate, then that's going to be amazing."
Van Dusen said of Season 2 to Today, meanwhile: "We left him [Anthony] at the end of the first season at a bit of a crossroads, so I'm looking forward to jumping in and discovering how he fares on the marriage market."
Bridgerton Season 2 is coming soon to Netflix.