Bridget Marquardt 'Wasn't Ready' to Sleep With Hugh Hefner, Felt 'Pressure'
Bridget Marquardt has revealed the "pressure" she felt from other housemates to sleep with Hugh Hefner when she first moved into the Playboy mansion.
The former Playboy Playmate opened up about her experience working with the late Hefner in a candid interview on Heather McDonald's Juicy Scoop podcast this week.
Speaking about sleeping with Hefner for the first time, Marquardt admitted she was "not ready at that moment" despite her not ruling out it happening in the future.
"I was thinking I could get out of this a little while. The first night I was like, 'I'm not ready yet, I'm not going to do anything I don't want to do,'" she recalled on the podcast. "It's not like I never would have done that with him, but I wasn't ready in the moment."
Marquardt, 48, was one of Hefner's original girlfriends on The Girls Next Door reality series for six years alongside Holly Madison and Kendra Wilkinson. She dated the Playboy founder from 2001-2008.
However, Marquardt said there were reportedly three other playmates who "put pressure on you."
She said she was told that she would "never be invited back," if she didn't join the others in Hefner's bedroom.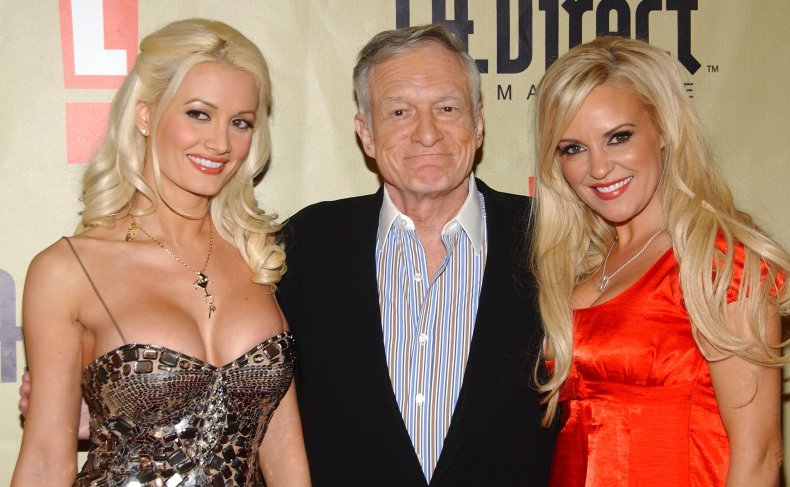 "I was still just gonna watch and then [one of the women] was like, 'Aren't you gonna go?' It's like, 'You need to go.' And I was like, 'I would rather not.' And she's like, 'Well, then you probably won't be invited back,'" she said.
"So then I was like, 'Okay.' And I'd seen what everybody else was doing, so I knew that this was like a 10-second thing. I mean, definitely no more than a minute."
Marquardt, now 48, lived in the mansion from the early 2000s until she and Hefner parted ways in 2008. Hefner died of sepsis in 2017 at the age of 91.
Marquardt went on to say that she would try to be the first to have sex with Hefner on these occasions "because there was no way I wanted [to be] going after other people."
"If there are new girls coming up, which there often were, like, I just wanted to be first and be done. And I felt like that was the cleanest way to be in and out of it," she added.
Madison, who joined Marquardt on the podcast, added that all the Playmates were "trying to get it done as quickly as possible."
Marquardt revealed in a documentary earlier this year, that Hefner could often be "abrasive" to Madison.