Black Lives Matter Protester Statue Removed Within a Day of Being Erected
The statue of Black Lives Matter activist Jen Reid that replaced the statue of Bristol slave trader Edward Colston in Bristol, England, has been removed this morning.
The Bristol City Council pulled down the statue early on Thursday morning after it was erected by artist Marc Quinn on Wednesday.
The Mayor of Bristol, Marvin Rees, said in a statement: "The future of the plinth and what is installed on it must be decided by the people of Bristol.
"This will be critical to building a city that is home to those who are elated at the statue being pulled down, those who sympathize with its removal but are dismayed at how it happened and those who feel that in its removal, they've lost a piece of the Bristol they know and therefore themselves."
In a tweet, the Bristol City Council said: "This morning we removed the sculpture. It will be held at our museum for the artist to collect or donate to our collection."
The statue of Reid was created to capture the moment she stood on the plinth at the Black Lives Matter protest in the wake of George Floyd's death in police custody, after the statue of Colston was removed and thrown in the river by fellow protesters.
Reid said in a joint statement with Quinn: "When I was stood there on the plinth, and raised my arm in a Black Power salute, it was totally spontaneous, I didn't even think about it. It was like an electrical charge of power was running through me.
"My immediate thoughts were for the enslaved people who died at the hands of Colston and to give them power. I wanted to give George Floyd power, I wanted to give power to Black people like me who have suffered injustices and inequality. A surge of power out to them all."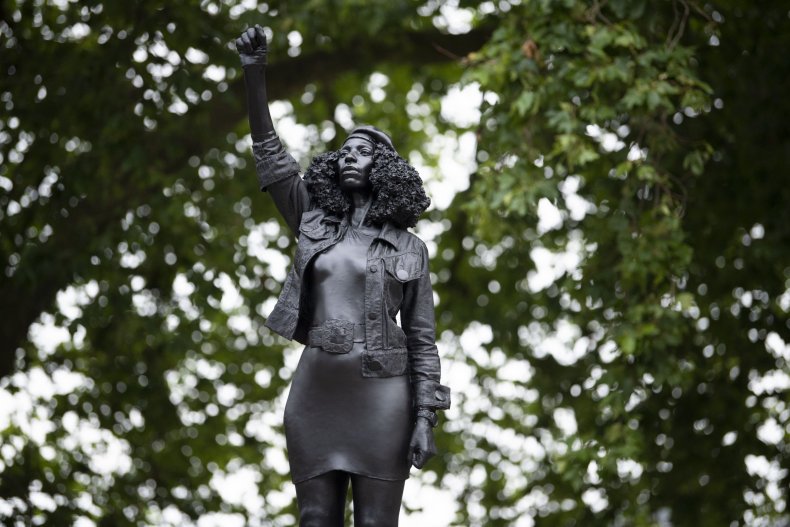 Protesters removed the statue of Colston as he was involved in the slave trade and as part of a wider movement that has seen statues of Confederate leaders, slave owners, and others, taken down and vandalized in the U.S.
In June, President Donald Trump promised to protect Confederate statues and said that vandals would face long prison terms.
But the movement has sparked a conversation of what should be done with these statues and monuments, and if they are taken down, what should be put in their place.
While the statue of Reid was taken down within a day of being put up, Quinn's goal was not for the statue to be permanent, but to contribute to the conversation.
Quinn, in his statement published yesterday, said: "Jen and I are not putting this sculpture on the plinth as a permanent solution to what should be there—it's a spark which we hope will help to bring continued attention to this vital and pressing issue.
"We want to keep highlighting the unacceptable problem of institutionalized and systemic racism that everyone has a duty to face up to. This sculpture had to happen in the public realm now: this is not a new issue, but it feels like there's been a global tipping point. It's time for direct action now."
Quinn also said that the statue was not-for-profit and if it was sold, the proceeds would go to two charities chosen by Reid, both of which promote the teaching of Black history in the U.K.
Newsweek has contacted Marc Quinn for comment.