Britney Spears' Aunt Says Star's Pregnancy News Is Her 'Happy Ending'
Britney Spears' aunt has publicly congratulated the singer, after she appeared to reveal in an Instagram post that she is pregnant with her third child.
Taking to her account on Monday, Spears, 40, wrote about her fiancé Sam Asghari, 28, saying that her recent purported weight gain was due to her being "food pregnant." She then added: "So I got a pregnancy test ... and uhhhhh well ... I am having a baby."
Spears' representatives have yet to confirm if the singer is actually pregnant. Last year, Spears testified that her conservators weren't allowing her to remove an intrauterine birth control device (IUD) so that she could have more children.
The pop icon's aunt, Leigh Ann Spears Wrather, embraced the prospect of a Spears pregnancy as she spoke with U.K. TV show Good Morning Britain (GMB) on Tuesday.
"Congratulations, Britney!" Wrather said from her home in Nashville, Tennessee. "So excited. She's been wanting this for so, so long... She is empowering herself. She is letting her voice be heard, as it should be, and fulfilling her dreams."
Wrather, who is the sister of Spears' estranged father, Jamie Spears, went on to note the trajectory of the singer's life, with the pregnancy announcement coming five months after she was freed from an almost 14-year conservatorship.
"It is a happy ending," Wrather said. "To go through the darkest days and feel so alone and so manipulated by your family.
"And then all of a sudden, here living the dream that you paid for all along. Great fiancé, great supporter that he is, new baby on the way. Cannot wait. So excited."
The "Toxic" singer's former stylist, Claudette Lalí Anaya, also spoke to GMB amid speculation of her pregnancy, saying it's the culmination of her newfound freedom.
"Wow. What a difference a year makes," said Anaya. "A year ago this was all nearly impossible to imagine. And just how hard she's worked to get to where she is today, what she can say: 'I have a fiancé, I am pregnant, I am eating whatever I want to eat, I am vacationing where I want to vacation.'
"And she's making the biggest dream come true, which is to have another baby, her third child, and hopefully it'll be a girl."
Hours after Britney Spears' announcement, Asghari, who proposed to the star in September after almost six years together, shared an Instagram post in which he spoke about looking forward to fatherhood.
"Marriage and kids are a natural part of a strong relationship filled with love and respect," he captioned a picture of a family of lions. "Fatherhood is something i have always looked forward to and i don't take lightly. It is the most important job i will ever do."
Newsweek has contacted representatives of Britney Spears for comment.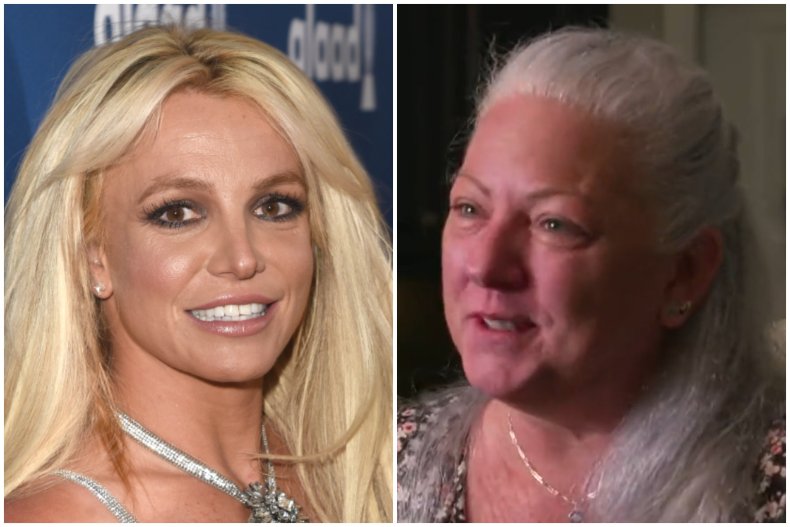 Wrather last year spoke out against her brother, who oversaw Britney Spears' personal and financial decisions for much of her conservatorship, implemented in 2008 amid mental health concerns.
"He's barbaric," she said during an October appearance on GMB. "Who gets to do that to someone? She was just manipulated and used. And he wants to say he protected her? He caged her.
"He swooped in at the perfect moment, when she was at her most vulnerable, to take control. I don't know if he could be prosecuted for anything, but he needs to be held accountable."
Wrather added: "She wants out. She wants away from Jamie. She wants to be free. She wants to get married—she wants to have kids."
In November, a judge brought an end to the conservatorship following a high profile court battle and unwavering support from fans and fellow celebrities alike. However, Wrather told GMB on Tuesday that the battle isn't over.
"She's still fighting," Wrather said of her niece. "She is not gonna be shut down. She's gonna make sure that her voice is loud, like most survivors do that survive something like that. She is empowering women and men alike who have been put in situations that they could not control."
Should Britney Spears' pregnancy news be confirmed, the child will be Asghari's first and her third. The "Gimme More" singer shares sons Sean Preston, 16, and Jayden James, 15, with her ex-husband Kevin Federline. They divorced in 2007.