Britney Spears Calls Out Mom, Sister, Justin Timberlake for Using Her
Britney Spears isn't pulling her punches, calling out her mother, sister and her ex-boyfriend Justin Timberlake while showing off a new dress.
In a video posted Monday evening, Spears shares a story of Jesus Christ reaching out to her, pointing out that people have been using her fame to try to cash in.
"I had a calling last night from Jesus and you know what he said ??? 'Dear child ... your mom had a serving with her book at the exact time when you needed her most ...all for WHAT ??? FAME and ATTENTION !!!! Your ex did the same thing ... he served with his first album using your name claiming you did him dirty !!!! Then your blood, one of the hardest times in your life guess what your sister does ... a book too [book emoji] ... all for what ????'" she wrote.
"'Knowing doing a book is the last thing you would ever do ... well because you ran away from drama and created a dream world for yourself ... that's why artists play characters to escape !!!! So since I know you don't want to tell your story as Jesus your Lord and Savior ... I'm gonna give you 5 bottles of jack and a life supply of McDonald's french fries 🍟 ... now go play dear child !!!!'" she concluded.
In the video, she poses in a long skirt that goes down past her knees. It's all set to Dusty Springfield's classic song, "Son of a Preacher Man."
Though Spears doesn't name names, the reference to her "ex" clearly does not refer to ex-husband Kevin Federline, who released his debut album Playing With Fire while they were still married. Timberlake is her only other ex-boyfriend who released music—in 2002, Limp Bizkit frontman Fred Durst said he dated Spears, but she denied his claims.
Timberlake's debut album was 2002's Justified. Timberlake said in the past that songs on the album, including the album's second single, "Cry Me a River," were about the breakup.
The song, written by Timberlake along with producers Scott Storch and Timbaland, tells the story of a man getting over his previous relationship that had broken up due to the other party cheating. The music video for the song also featured a Spears lookalike, and depicted the end of their relationship.
Though at the time, Timberlake denied the song was about Spears, in 2011, he admitted that it was. In the E! True Hollywood Story about him, Timbaland confirms that the song was about Spears, and Timberlake elaborates.
"He went to a concert and saw Britney, and Britney talked about him in the show and he was p***ed," Timbaland said.
"I was on a phone call that was not the most enjoyable phone call. I walked into the studio and he could tell I was visibly angry," TImberlake said.
"I was like, 'Man, don't worry about it' and he was like, 'I can't believe she did that to me' and he was like, 'You were my sun, you were my earth...'" Timbaland continues, quoting the song.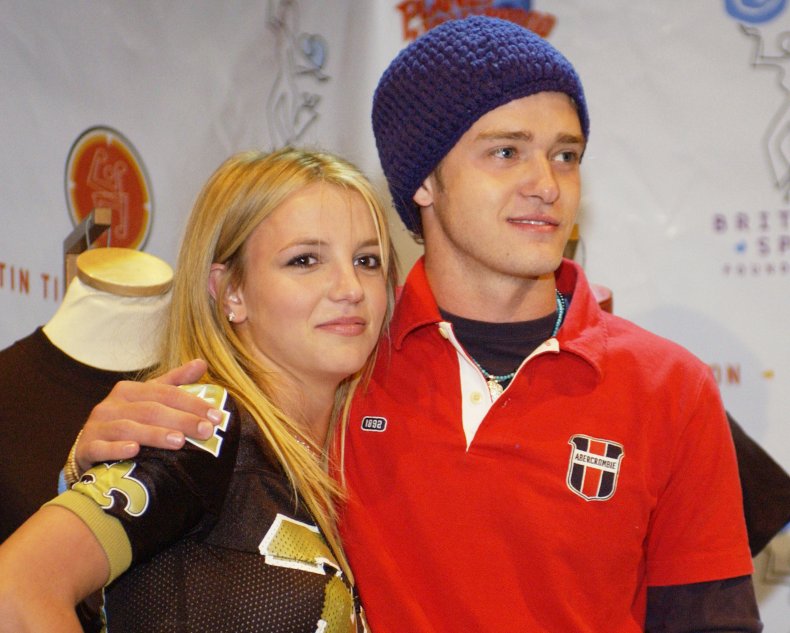 In 2013, while announcing the song during a concert, he said "Sometimes in life, you think you found The One. But then one day you find out that she is just some bitch," according to Us magazine. He later tweeted that he wasn't referring to Spears.
The song and album were recorded in Summer 2002 while Timberlake's band, N*Sync, was on hiatus. He had broken up with Spears that same year. While promoting Justified, he spoke about their relationship, saying during a radio interview the couple had had sex during their relationship despite Spears previously saying she planned to remain a virgin until marriage.
During a 20/20 interview in 2002 with Barbara Walters, he dodged when asked about rumors swirling that Spears had cheated on him.
"We're not perfect. I don't judge anybody. It's just young love. It's just young love. It was a very intense relationship, that's for sure," he said. Later in the interview, he sang a song, "Horrible Woman," about a woman who "had a chance to be my lover / I guess you needed something more undercover."
In 2021, Timberlake apologized on Instagram for how he had treated Spears.
"I specifically want to apologize to Britney Spears and Janet Jackson both individually, because I care for and respect these women and I know I failed I also feel compelled to respond, in part, because everyone involved deserves better and most importantly, because this is a larger conversation that I wholeheartedly want to be part of and grow from," he wrote.
In addition to Timberlake, Spears also mentioned books written by her mother, Lynn Spears, and her sister, Jamie Lynn. In 2008, Lynn Spears released Through the Storm, a memoir about her daughters that came out shortly after Britney Spears was placed under her controversial conservatorship. She was only released from the conservatorship this year.
At about the same time as the conservatorship ended, Jamie Lynn Spears released her own book, Things I Should Have Said. Though Jamie Lynn says her book is not about her sister—despite mentioning her 315 times in 210 pages—Britney has repeatedly slammed it, calling her "scum," which she later apologized for.
"I'm sorry I called you scum but why did you lie about when I went home ???" Britney wrote on Instagram. "It's like you're going out of your way to lie about me and make me look bad !!! And if I wasn't your sister I would believe everything you're saying in your interviews ... you're actually believable !!! It's scary !!!"
Newsweek reached out to Justin Timberlake's representatives for comment.