Britney Spears Thanks Lawyer Mathew Rosengart for Changing Her Life
Britney Spears has said she "adores" her lawyer Mathew Rosengart after the pop star shared a sweet photo of their lunch meeting.
The attorney was a key figure in Spears' new legal team who worked to successfully terminate her 13-year conservatorship in 2021.
"This man has turned my life around," the 40-year-old singer said in her Instagram caption on Wednesday, hinting that she will continue to be working with Rosengart going forward.
"So many exciting projects ahead!!!!" she said and joked that they "accidentally matched for lunch!!!!" as they were both dressed in pink for the photograph.
"Thank you for being so kind and respectful to me always!!!!!!" she added. "Pssss Mathew Rosengart ... I simply adore you !!!!"
Rosengart being appointed as Spears' lawyer represented a huge breakthrough in her bid to end her court-appointed conservatorship last year.
"What's next for Britney is up to one person—and this is the first time we can say this in a decade. It's up to Britney," Rosengart said outside court when the conservatorship ended. "Britney, as of today, is a free woman."
The star remains locked in a legal battle with her father over his conduct during her conservatorship, with Rosengart stating that Jamie Spears is facing "serious ramifications."
Jamie Spears was suspended by a judge from his daughter's conservatorship in September 2021 in a court case that drew global attention. It was officially dissolved in November.
Britney Spears has alleged that she was forced to live under oppressive rules, also stating that she had been forced to perform, take medication and wear a contraceptive device against her will while her father was helming the conservatorship.
He has consistently maintained that he acted in his daughter's best interests following her public breakdown in 2007.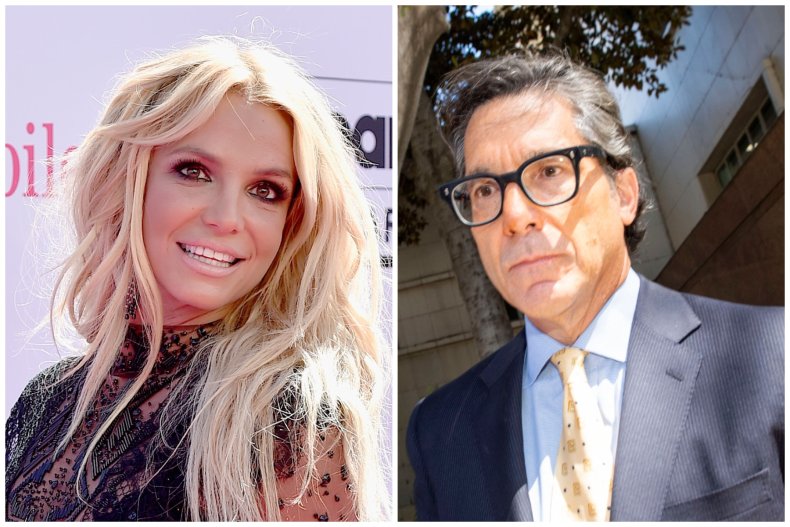 Now her father is seeking that his daughter's estate cover his legal expenses, in a request that was labeled "an abomination" by Rosengart.
"Mr. Spears reaped many millions of dollars from Britney as a conservator, while paying his lawyers millions more, all from Britney's work and hard-earned money," he said in a statement in December 2021.
"The conservatorship has been terminated and Mr. Spears was suspended ignominiously.
"Under the circumstances, his petition is not only legally meritless, it is an abomination."
Rosengart added: "Britney poignantly testified about the pain her father caused her and this only adds to it. This is not what a father who loves his daughter does."