Britney Spears appears to have responded to her sister Jamie Lynn's upcoming appearance on Good Morning America via a social media post.
Jamie Lynn Spears' interview with Juju Chang, to promote her memoir Things I Should Have Said, will air on Wednesday morning.
On Tuesday night, ABC released a promo of the interview in which a tearful Jamie Lynn Spears says she loves her sister.
"But things have gotten complicated?" Chang asks.
"I guess so," the 30-year-old responds through tears.
Now the "Toxic" singer, who has been vocal about her fraught relationship with her family during and after the court battle to end her conservatorship, has posted a message on Instagram that seems to be a dig at her sister's book and the interview.
Britney Spears shared a photo of a typewriter with the caption: "Shall I start from THE BEGINNING???"
Her family's involvement in the 13-year conservatorship has been called into question numerous times. When the pop star delivered her explosive court testimony in June 2021, she told the judge she believed members of her family should be incarcerated for the "conservatorship abuse" she says she endured.
Last July, Britney Spears directly called out her sister on social media for performing her songs at an award show.
"Take me as I am or eat s*** and step on Lego," Britney Spears wrote on Instagram at the time, adding: "I don't like that my sister showed up at an awards show and performed MY SONGS to remixes !!!!! My so-called support system hurt me deeply !!!! This conservatorship killed my dreams."
Jamie Lynn Spears has been at the receiving end of much public criticism for her apparent silence about the strict guardianship.
After her sister's testimony, she posted a video on Instagram in late June, commenting on the situation.
"I don't care if she wants to run away to a rainforest and have a zillion babies in the middle of nowhere, or if she wants to come back and dominate the world like she has so many times before. Because I have nothing to gain or lose either way," said the Zoey 101 actress.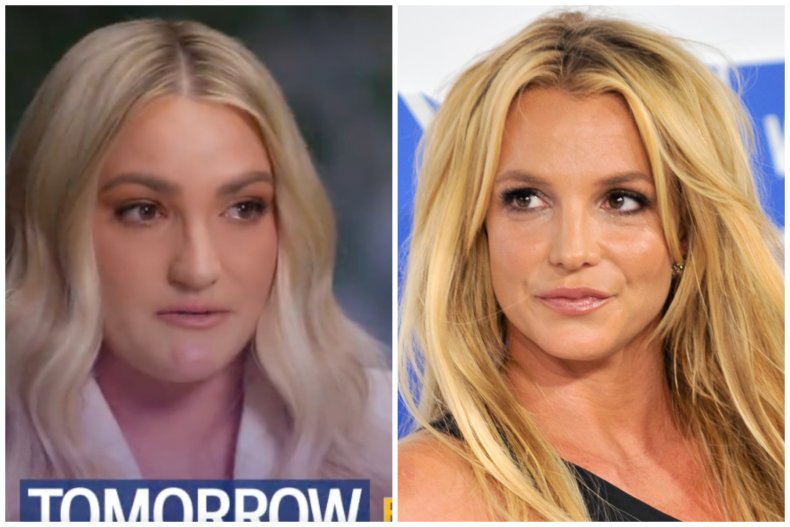 "This situation does not affect me either way because I'm only her sister who's only concerned about her happiness. I've made a very conscious choice in my life to only participate in her life as her sister and an aunt to her boys."
Jamie Lynn Spears also addressed the criticism she had received for remaining silent, adding: "Maybe I didn't support her the way the public would like me to with a hashtag on a public platform, but I can assure you that I've supported my sister long before there was a hashtag, and I'll support her long after."
Britney Spears has previously taken a swipe at her sister's book. In October, she wrote on Instagram: "Psssssss also great news ... I'm thinking of releasing a book next year but I'm having issues coming up with a title so maybe my fans could help !!!!
"Option #1 ... "S***, I really don't know" Option #2 ... "I really care what people think" !!!!" What do you guys think ????"