Britney Spears' former fiancé, Jason Trawick, has shot down rumors he was secretly married to the pop star during their relationship.
Speculation was sparked this week, when Toxic: The Britney Spears Story podcast co-hosts Tess Barker and Babs Gray said they found a receipt that appeared to indicate a divorce.
During the podcast, which was released on Tuesday, the hosts stated they had unearthed a $9,150 payment from October 2012, which had allegedly been listed for "consultation [on] dissolution of marriage."
The alleged payment, said the hosts, was discovered in an accounting report connected to Spears' conservatorship and was listed under "conservatee's legal fees"—with the payment purportedly being sent to a Beverly Hills lawyer.
Estate specialist Austin Bertrand, who has not worked with Spears, then shared his take on the co-hosts' conclusion during his appearance on the podcast.
"My assumption would be that those were legal services that were rendered directly for [Spears'] benefit and nobody else's," he said, before adding: "'Dissolution of marriage' only means one thing, which is divorce."
However, Trawick—who embarked on a romance with Spears in 2009 before proposing in 2011—has shot down the claims.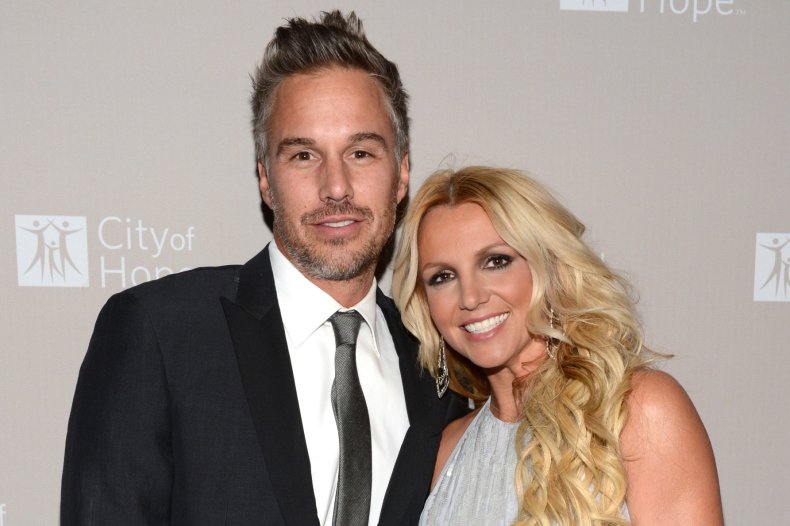 When Extra host Billy Bush contacted him via text message over the speculation, Trawick responded: "I believe you would have known if I was married... But you would have made a perfect usher."
Trawick was Spears' agent at the time the pair first started dating. He subsequently resigned just over one year later, to avoid a conflict of interest, according to Page Six.
Several months after their December 2011 engagement, Trawick became Spears' co-conservator alongside her father, Jamie Spears, per Page Six, who reports that Trawick stepped down after their split was announced in January 2013.
Spears' first trip down the aisle was with childhood friend Jason Alexander in January 2004, with their union lasting just 55 hours before it was annulled.
She then tied the knot with backup dancer Kevin Federline in October 2004. Spears and Federline, who share two sons, split in 2006 and their divorce was finalized the following year.
The Louisiana-raised singer has been in a relationship with personal trainer and actor Sam Asghari since 2016.
Spears—who has been under a conservatorship since 2008—last week scored a court victory when her father agreed to step down as her conservator.
During her emotional court testimony on June 23, the star spoke about her experiences under the conservatorship, telling the judge that she was made to wear an intrauterine contraceptive device—preventing her from fulfilling her desire to have another baby.
Jodi Montgomery remains the legal conservator of Spears' personal decisions, with the next Los Angeles Superior Court hearing on the matter scheduled for September 29.