Britney Spears is in continued celebratory mode, after her controversial conservatorship was terminated almost 14 years after it was implemented.
On Friday, Los Angeles County Superior Court Judge Brenda Penny ruled for an end to the arrangement, which had seen the pop star's personal and financial decisions taken out of her hands since 2008.
And Spears, 39, enjoyed a dinner outing with her fiancé, Sam Asghari, on Sunday night, as she reveled in her newfound freedom from the conservatorship, which was initially put in place amid mental health concerns for the singer.
Model and actor Asghari, who proposed to Spears in September, took to his Instagram Story to share footage of himself driving his newly acquired vintage Ford Mustang as he took his wife-to-be on a culinary excursion.
In one dimly-lit clip, Asghari was seen playfully dancing to Technotronic's 1989 dance hit "Pump Up the Jam," before the camera was turned to a barely visible Spears as she sung along to Salt-N-Pepa's seminal classic "Push It."
He later uploaded a clip of the couple's pet dog, Porsha, relaxing inside the car and shared his new blue vehicle in all its gleaming glory, as he wrote: "Finally got myself a 65 Mustang."
Spears' weekend started off in momentous fashion on Friday when her conservatorship was officially dissolved, following a high profile court battle that saw the star gain a groundswell of support from celebrities and fans alike.
Her father, Jamie Spears, had overseen the arrangement in its entirety from its 2008 inception until 2019, when he stepped down from the personal branch, citing ill health. He was suspended from his role overseeing the financial branch in September.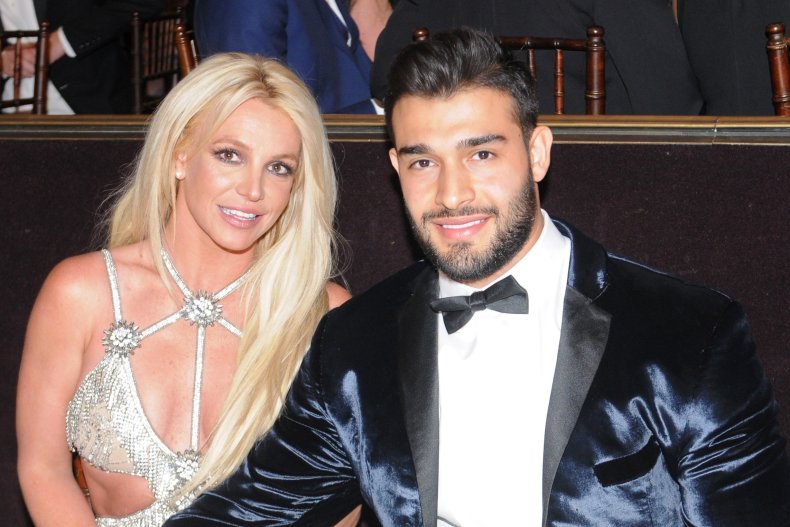 While the conservatorship has now been terminated, the "Toxic" singer's lawyer, Mathew Rosengart, accepted that a temporary conservator will have some limited administrative powers following the ruling.
Certified public accountant John Zabel, who was appointed temporary conservator after Jamie Spears's suspension, retains some powers, such as the ability to transfer assets to the star's estate and execute "supplemental" decisions on its behalf.
Following Friday's ruling, Britney Spears took to Instagram to post footage of her fans—a number of whom waved "#FreeBritney" banners—celebrating outside the courthouse.
Captioning the video, she wrote: "Good God I love my fans so much it's crazy!!! I think I'm gonna cry the rest of the day !!!! Best day ever ... praise the Lord ... can I get an Amen ???? #FreedBritney."
In a June court testimony, the star said that she had been forced to perform, take medication and wear a contraceptive device against her will, among other claims.
"I'm not happy. I can't sleep. I'm so angry. It's insane and I'm depressed. I cry every day," Spears told Judge Brenda Penny in June. "And the reason I'm telling you this is because I don't think how the state of California can have all this written in the court documents from the time I showed up and do absolutely nothing."
The pop icon also alleged that her team was not allowing her to get married or have more children, both of which she expressed a desire to do.
"I shouldn't be in a conservatorship if I can work and provide money and work for myself and pay other people," she said in her testimony. "It makes no sense."