Britney Spears Teases New Music, Sending Fans Into A Frenzy
The Britney Spears renaissance may be coming after the pop star shared what she called a "tease of what's to come" with fans.
The 40-year-old "Toxic" singer sent fans into a frenzy this week when she suggested that she is planning on releasing new music.
In an Instagram post, the star shared a video of her dancing in a studio to her song "Get Naked" from her 2007 album, Blackout.
"This is 13 seconds of me in heels 👠 before I dyed my hair purple 💜 ...." she began in her caption.
"This is a tease 😈 of what's to come !!!! My song 'Get Naked' 🎧 !!!"
She added to her more than 39 million followers: "Hope you guys are having a great day !!!!! Pss No hair and make up 💄 !!! Just PLAYING around folks !!!!"
The post has unsurprisingly caused a stir among fans and friends, with the star receiving high praise from supporters in the comments.
"So hot!!!" Paris Hilton commented, while Drag Race star Jan added: "Please re release this song baby!!!!! It's my fav!!!!"
Another comment reads: "a taste of what's to come!?! W H A T omg tell us queen ahhhhhh."
Another added: "Wow!!! It's giving Britney Y2K!!!! We love you queen."
The pop star, newly free of her conservatorship, has been enjoying downtime on the Hawaiian island Maui with her fiance Sam Asghari recently.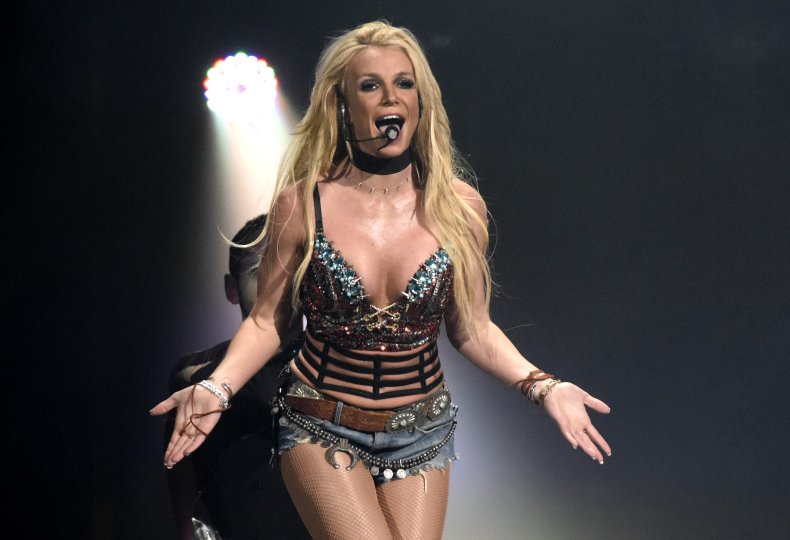 Her controversial court-appointed arrangement was officially dissolved in November with her father Jamie Spears no longer in control of her personal and financial affairs.
The mother of two met with her lawyer Mathew Rosengart recently, where she thanked him for changing her life.
The attorney was a key figure in Spears' new legal team who worked to successfully terminate the conservatorship last year.
"This man has turned my life around," the singer said in her Instagram caption earlier this month, hinting that she will continue to work with Rosengart going forward.
"So many exciting projects ahead!!!!" she said and joked that they "accidentally matched for lunch!!!!" as they were both dressed in pink for the photograph.
"Thank you for being so kind and respectful to me always!!!!!!" she added. "Pssss Mathew Rosengart ... I simply adore you !!!!"
Spears remains locked in a legal battle with her father over his conduct during her conservatorship, with Rosengart stating that her father is facing "serious ramifications."
Jamie Spears has consistently maintained that he acted in his daughter's best interests following her public breakdown in 2007.
Spears' new music tease comes just weeks after her public war of words with her younger sister, Jamie Lynn Spears, whom she has accused of lying in recent interviews where she promoted her new memoir, Things I Should Have Said.