Brittany Aldean Instagram Followers Skyrocket Amid Transphobia Controversy
Despite being criticized by some for her "transphobic" views, Brittany Aldean has received a massive boost in followers on Instagram since she made her comments.
The wife of country music star Jason Aldean made headlines last week for perceived offensive comments, which led to an outcry from some quarters, while others have voiced their support for Brittany.
On August 23, the former American Idol contestant shared a video of herself putting on makeup. The caption that upset many read: "I'd really like to thank my parents for not changing my gender when I went through my tomboy phase. I love this girly life."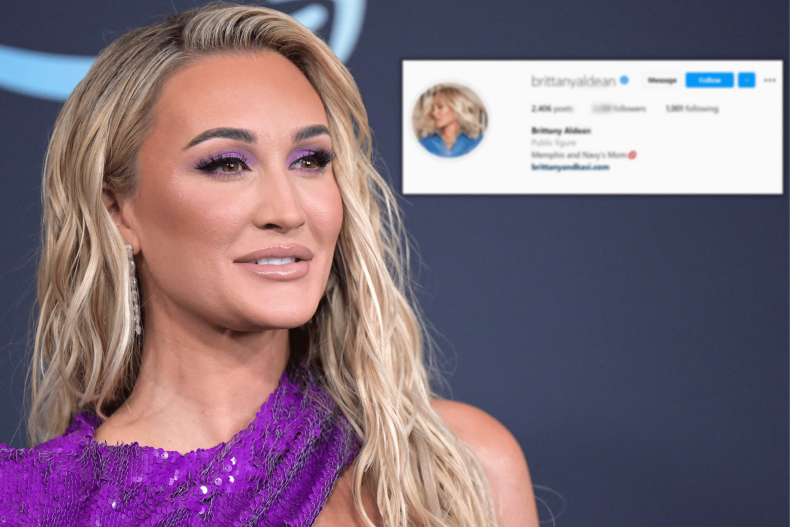 While she received condemnation from some across social media, Brittany Aldean also received a new set of fans according to statistics sourced from SocialBlade.com.
In the following days after Aldean made her statement, she lost 553 followers, but after this, the numbers skyrocketed.
From August 26 to August 30, Aldean's Instagram followers increased by 83,458. While her Instagram follower count was already above a sizable 2 million, the social media analytic tool Social Blade suggests her average increase in followers was up by 2,563.8 percent over the last 30 days.
Queer Eye's Jonathan Van Ness called for people to "stop the transphobic nonsense" after Aldean's statement was shared online. Maren Morris, Brandi Carlile, Cassadee Pope and writer Glennon Doyle also spoke out against Aldean.
While some prominent people voiced their disapproval, others were fully behind Aldean.
"It's easier to not castrate your children. But I guess whatever helps sell bad records," conservative broadcaster and commentator Candace Owens wrote in response to criticism from Morris.
The original post by Aldean also had celebrity pals commenting positive sentiments.
Reality star Madison LeCroy, Donald Trump's daughter-in-law Lara Lea Trump, country music artist RaeLynn and many more verified users weighed in with kind messages, while in the following days hundreds of other users commented on the caption.
"The best caption," "That caption," "Love this caption" and "caption for the win" are just some of ways people showed support for Aldean and the contentious caption.
Her husband also saw the light side of the allegedly "transphobic" comment. "Lmao!! I'm glad they didn't too, cause you and I wouldn't have worked out," Jason Aldean joked.
Days after Aldean had received such a backlash, she shared a quote to her Instagram stories that asked for "compassion."
Aldean isn't the only celebrity to be accused of transphobia. Dave Chappelle, J.K. Rowling, Bette Midler and Macy Gray have all been accused of making transphobic statements in the past year alone.
Newsweek has reached out to the Aldeans for further comment.