Brittany Aldean Tells Tucker Carlson Kids Are 'Too Young' for Gender Change
Brittany Aldean, the wife of country music star Jason Aldean, appeared Thursday on Fox News' Tucker Carlson Tonight to discuss comments she has made that some see as transphobic.
Aldean found herself encountering criticism after posting an Instagram video on August 23 that showed her performing a before-and-after makeup transformation. She captioned the post, "I'd really like to thank my parents for not changing my gender when I went through my tomboy phase. I love this girly life."
Her husband responded in the comments: "Lmao!! Im [sic] glad they didn't too, cause you and I wouldn't have worked out."
Singers Maren Morris and Cassadee Pope publicly condemned Aldean for making a statement seemingly aimed at parents of children who may be considering a gender transition.
"You'd think celebs with beauty brands would see the positives in including LGBTQ+ people in their messaging," Pope tweeted on August 26. "But instead here we are, hearing someone compare their 'tomboy phase' to someone wanting to transition. Real nice."
Morris wrote in her response, "It's so easy to, like, not be a scumbag human? Sell your clip-ins and zip it, Insurrection Barbie."
Aldean later said her words were "taken out of context." On Thursday, she further defended her stance on the Carlson show.
"I think when you're older, if you choose to make those decisions, by all means [do so]. But children are too young, not mature enough to make those decisions, and they're life-changing," Aldean said.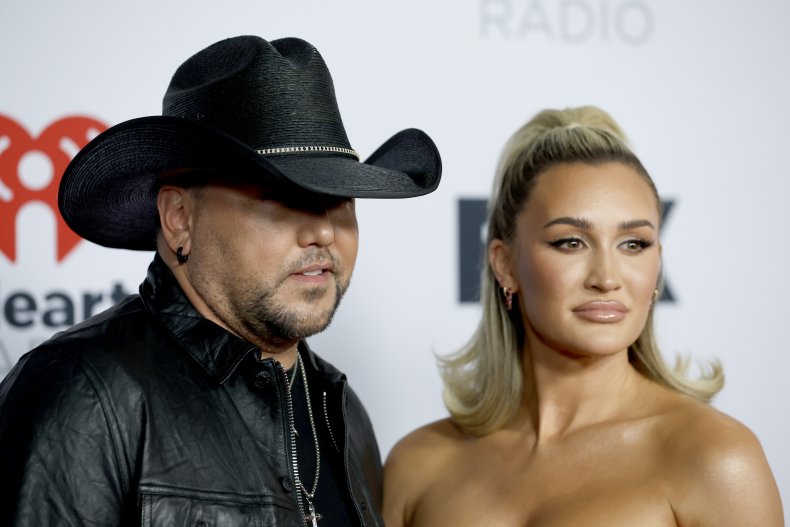 At another point during her appearance on the show, Aldean told Carlson, "I'm advocating for children. I think that children should not be allowed to make these life-changing decisions at such a young age. They are not mature enough. They should have parents who love them and advocate for them regardless."
She continued, "We have ages on everything. We have it for cigarettes, we have it for driving, military, voting.... Yet, for some reason, people think that we can let a child choose their gender so young? It's very baffling to me."
Aldean's appearance on Carlson's show came on the same day that the publicity firm representing Jason Aldean confirmed to Billboard that it will no longer be working with him.
The GreenRoom, which is based in Nashville, dropped the "Got What I Got" singer after 17 years, although the company did not cite his wife's comments as the reason.
"Music has always been and remains the GreenRoom's core focus, so we had to make the difficult decision after 17 years to step away from representing Jason," GreenRoom co-owner Tyne Parrish told Billboard.
Newsweek reached out to a representative for Brittany Aldean for comment.