Jason Aldean's PR Firm Quits Amid Brittany Aldean's Transphobic Comments
The publicity firm representing Jason Aldean has confirmed it will no longer be working with the country star after his wife made headlines for her comments some people interpreted as transphobic.
Nashville-based PR firm The GreenRoom has dropped the "Got What I Got" hitmaker as a client after 17 years because it feels the business is not best suited to represent him going forward.
"Music has always been and remains The GreenRoom's core focus, so we had to make the difficult decision after 17 years to step away from representing Jason," GreenRoom co-owner Tyne Parrish told Billboard.
"We aren't the best people for the gig anymore, but will always be big fans of his music—he is one of the greatest live entertainers in country music."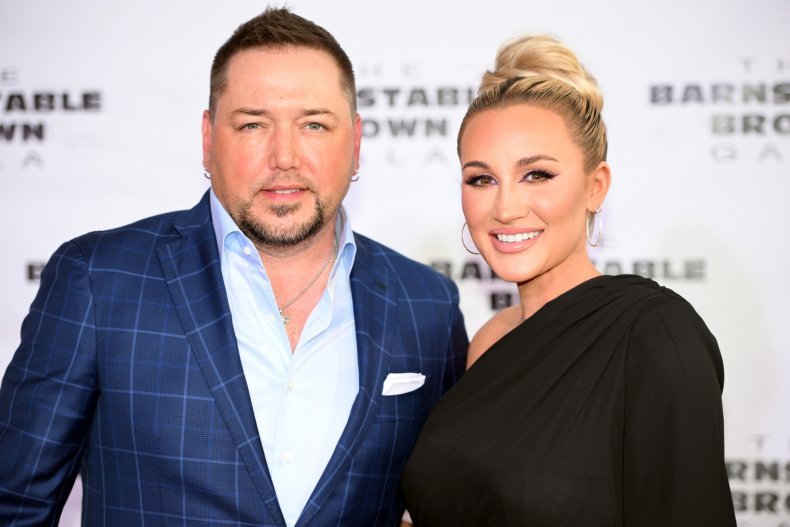 Newsweek has contacted GreenRoom for further comment.
The company didn't give a reason for its decision, but the news comes after a tumultuous week for the artist's wife, Brittany Aldean, who received severe backlash after she made a comment that was deemed by some people to be transphobic.
The controversy began last week when Aldean posted a before-and-after makeup video of herself on Instagram along with the caption: "I'd really like to thank my parents for not changing my gender when I went through my tomboy phase. I love this girly life."
Aldean's post seemed to mock the parents of children who are trans or gender-questioning and it came at a time when a number of states have sought to enact legislation that could criminally charge any parents who help their trans child get essential medical care.
The mother-of-two was criticized for the comment, with singers Maren Morris and Cassadee Pope both publicly calling her out.
"You'd think celebs with beauty brands would see the positives in including LGBTQ+ people in their messaging," Pope tweeted in response on August 26. "But instead here we are, hearing someone compare their 'tomboy phase' to someone wanting to transition. Real nice."
"It's so easy to, like, not be a scumbag human?" Morris wrote in response.
Since then, the former American Idol contestant has said her words were taken out of context and she called for compassion, but the mother-of-two also used the opportunity to release a clothing line that contains a right-wing slogan.
Despite the negative press, and her husband being dropped by his publicist, Brittany Aldean's Instagram followers have skyrocketed over the past week.
From August 26 to August 30, Aldean's Instagram followers increased by 83,458, and her Instagram follower count was already above 2 million.
She has also received support from conservative pundit Candace Owens, who tweeted in response to criticism from Morris: "It's easier to not castrate your children. But I guess whatever helps sell bad records."
Newsweek has contacted Brittany Aldean's representative for further comment.