Brittany Aldean Says Her Words 'Taken Out of Context' Amid Controversy
Brittany Aldean has said her words have been "taken out of context" as she thanked fans for their support amid the ongoing controversy over remarks she made that have been widely considered to be transphobic.
"Per usual, my words have been taken out of context over the last week," the wife of country superstar Jason Aldean said in her latest Instagram post, along with the eye roll emoji.
The controversy started when Aldean posted a before-and-after makeup video of herself on Instagram along with the caption: "I'd really like to thank my parents for not changing my gender when I went through my tomboy phase. I love this girly life."
She received immediate backlash, with other country music stars such as Maren Morris and Cassadee Pope calling her out.
"It's so easy to, like, not be a scumbag human? Sell your clip-ins and zip it, Insurrection Barbie," Pope tweeted.
Aldean has now taken on the label of "insurrection Barbie" and has used the controversy to release a "Barbie inspired line" that features elements of the Gadsden flag.
"Instead of getting twisted about the twisting of my words, I've chosen to bring some good out of it," she continued in the Instagram message, posted in collaboration with her sister-in-law, Kasi Rosa Wicks.
"Introducing our NEW Barbie inspired line LIVE NOW. Through this launch we will be giving back to and supporting @operationlightshine in effort to help fight child exploitation and human trafficking."
The two previously released a conservative clothing line back in 2021.
In an earlier post, Aldean addressed her followers and said: "Thank you guys so much for the love and support this week. Tomorrow morning we launch our Barbie-inspired line!! We can't wait to see what y'all think!"
Aldean's followers have skyrocketed on Instagram since the controversy exploded.
The merch inspired by the controversy features shirts with the pink Barbie font and the phrase: "Don't tread on our kids."
The phrase is derived from "don't tread on me," which appears on the Gadsden Flag.
The flag was designed by Christopher Gadsden during the American Revolution and was originally associated with colonists fighting for independence from Britain.
An image of a coiled rattlesnake is famously featured on the flag which in modern times has become an anti-establishment symbol and has been co-opted by the hardline Republican Tea Party movement and other libertarian groups.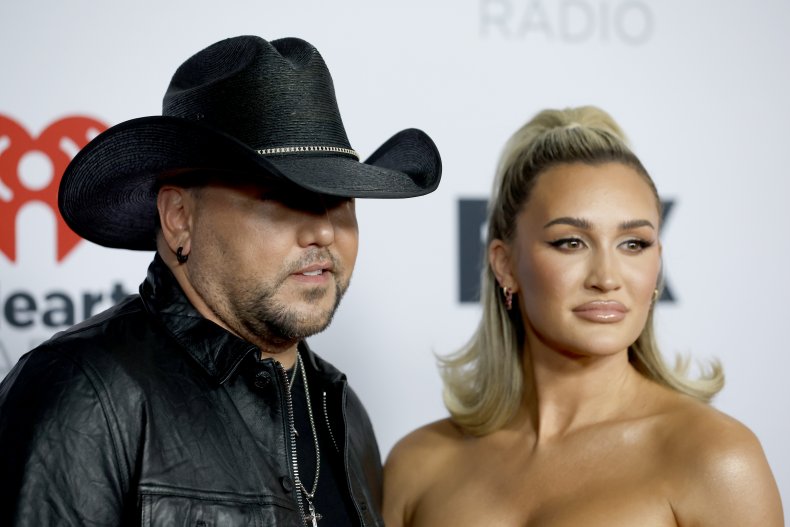 In recent years, the Gadsden flag has also been used by far-right and anti-government militia groups. It appeared at anti-coronavirus lockdown protests and the January 6 "stop the steal" demonstrations in Washington, D.C. which preceded the Capitol riot.
Much like the Confederate flag, the Gadsden flag is accused of harboring racial connotations, seeing as its designer owned and traded Black slaves.
Newsweek has contacted Aldean's representative for comment.