Brittany Aldean's 'Tomboy' Comments Challenged by Sex-and-Gender Experts
Brittany Aldean's seemingly transphobic Instagram-video caption from August 23 is continuing to amass critics and fans, but one thing that's gotten lost in the conversation is an interrogation of the statement itself.
Aldean captioned the video in question, which showed a before-and-after makeup transformation, "I'd really like to thank my parents for not changing my gender when I went through my tomboy phase. I love this girly life." Her husband, country star Jason Aldean, responded in the comments, "Lmao!! Im [sic] glad they didn't too, cause you and I wouldn't have worked out."
Aldean's post seemed to tacitly mock the parents of children who are trans or gender-questioning. Yesterday, she said her words were "taken out of context."
Multiple states have recently sought to enact legislation that could criminally charge any parents who help their trans child get essential medical care. In Texas, for example, Governor Greg Abbott has asked the Texas Department of Family and Protective Services to investigate the parents of trans children for abuse.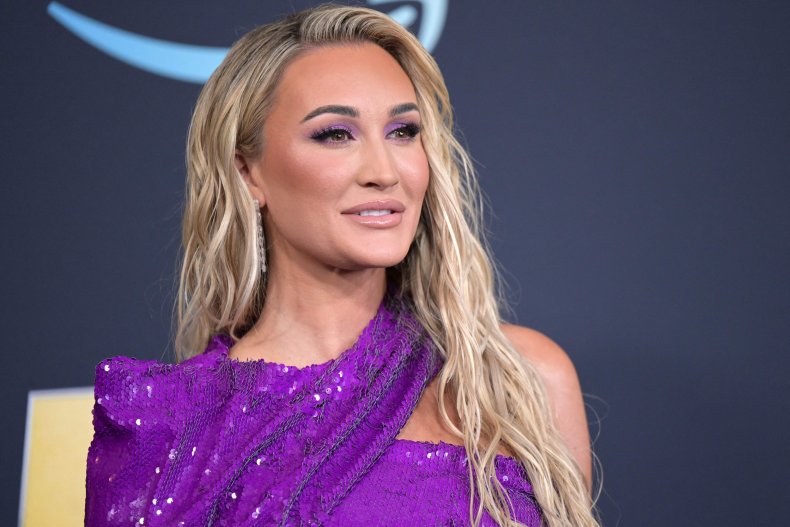 "I have been following this closely, and am appalled, yet not surprised, by both the tone and inaccuracies of Brittany Aldean's initial comment and responses," Dr. Suzanne Chod, professor of Political Science and coordinator of Gender and Sexuality Studies at North Central College tells Newsweek. "It's another example of conflating sex and gender, and it perpetuates the narrative that parents control their children's identities."
According to Dr. Chod, "Gender is a social construct. It sets rules and expectations for what it means to be masculine or feminine, and creates punishments for deviating from those expectations. We have made progress breaking down these confining binary boundaries, and allowing people to express their gender identity as they wish, though not without violent and oppressive pushback. This is actually what Brittany Aldean was doing when she went through her 'tomboy phase.' She was expressing how she saw herself, how she felt, who she was."
Dr. Aaron Grotas, a board-certified urologist and clinical professor at the Icahn School of Medicine at Mt. Sinai, has received special training in transgender medicine and estimates that he performs around 100 orchiectomies, or testicular removals, per year.
He points to the World Professional Association of Transgender Health (WPATH) as the gatekeeper for medical ethics around gender dysphoria, and the rigorous steps a patient must take to initiate a surgical transition. The principle of WPATH, he says, "is that patients will have undergone counseling by a mental health provider and medical doctor before they start transitioning. The minimum is a year."
And even though surgery can be involved in someone's transition, it's not always.
Dr. Chod says Aldean's comment conflates "gender expression with gender-affirming surgery. The all-or-nothing language is factually inaccurate and dangerous. It puts supporting a child's decision to dress how they choose or wear their hair how they choose in the same category as supporting a child's decision to take hormone or hormone suppressors or have gender-affirming surgery. There is a continuum of gender identity and expression. Brittany Aldean's comments show both a lack of understanding of and disdain for children who have the confidence to be who they are and the parents who support them."
Grotas added that "it's the medical doctor and psychologist's duty to be an advocate for the patient and do what's right for the patient, not just default to the influence of a child who knows nothing about what's going on or a parent who's misinformed or wants to be trendy."
"In my personal experience," Grotas said, "gender dysphoria means people are very uncomfortable in their body, and it has a lot of comorbidity with depression and anxiety for these patients. And a lot of them, if they can't transition and they can't be happy in their own body, really contemplate suicide or commit suicide. So getting the medical help prevents a lot of self-harm for these patients as well."
Aldean's post currently has more than 192,000 likes and has stirred a debate.
Newsweek previously reported that since her initial post, Aldean has launched a clothing line featuring sweatshirts that say "Don't Tread on Our Kids," about which she said, "Through this launch we will be giving back to and supporting @operationlightshine in effort to help fight child exploitation and human trafficking."
Newsweek has reached out to Brittany Aldean for comment.