Bronx Teen Murder: Trinitarios Gang Accused in Machete Killing Get Special Protection in Jail
The alleged gang members arrested over the brutal killing of a Bronx teenager are getting special protection in jail because of the constant death threats they're received, according to police.
Law enforcement sources told the New York Post that all eight of the suspected Trinitarios, who were charged with the murder of Lesandro "Junior" Guzman-Feliz, 15, were removed from the general population at their respective jails after authorities determined their lives were in danger.
The eight suspects have all pleaded not guilty to the killing. Manuel Rivera, 18, Jose Muniz, 21, Jose Taverez, 21, Joniki Martinez, 24, Santiago Rodriguez, 24, Danel Fernandez, 21, and Kevin Alvarez, 19, were arrested on suspicion of homicide. Elvin Garcia, 23, was arrested and charged with murder, manslaughter and criminal possession of a weapon.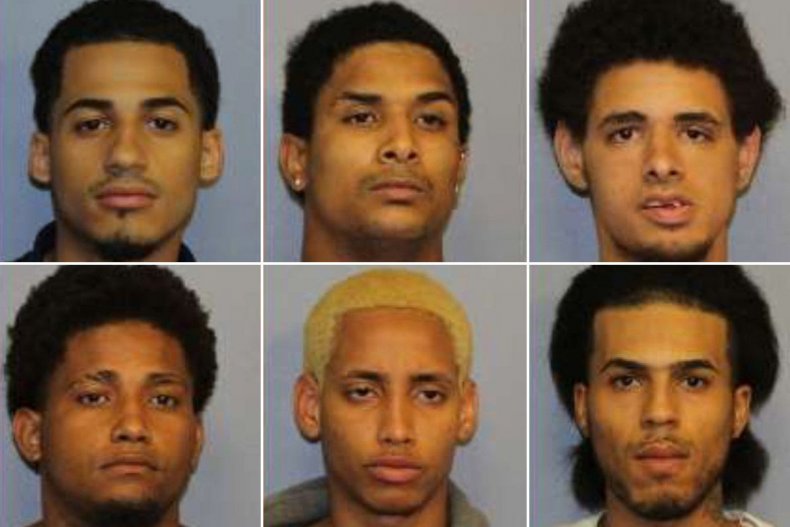 When one of the them is moved from their prison cells, the entire block is placed on lockdown, the source said. Then multiple corrections officers guard the transfer while the captain captures the footage on film. It is unclear exactly where each member is being held.
On June 20, Guzman-Feliz was repeatedly attacked by a group of men wielding machetes outside a bodega in the Bronx, in what appears to be a case of mistaken identity. Investigators said it was likely that the Trinitarios thought Guzman-Feliz was a person who filmed a sex tape with one of the members' female relatives.
Last week, Alvarez, who handed himself into authorities following the incident, admitted he was the suspect captured in surveillance footage. In the video, released by the New York Police Department, Alvarez can be seen dragging the teenager out of a bodega before a group of suspected members of the Trinitarios street gang violently attacked and hacked at him with a machete.
Alvarez told the New York Daily News that he did not know at the time that the other gang members planned on attacking Guzman-Feliz. "I thought it was just going to be a fight when I came out the store and I turned around and saw the machetes," he said. "I backed up and put my arms up. I yelled at them to stop."
In a statement last week, police said they were continuing their investigation into Guzman-Feliz's murder. "This investigation is not over," said Chief of Detectives Dermot Shea. "[Guzman-Feliz] was never going to give up on his dream of being an NYPD detective and we'll never give up on him.
"We will leave no stone unturned. We have ample resources to deal with anyone who wishes to engage in gang activity. You are going to swiftly learn it is a no-win situation. If you flee to Paterson, if you flee to Wyoming, we are going to get you."
Guzman-Feliz dreamed he would one day become a police officer. Prior to his death, he was enrolled in the NYPD Explorers, a program that provides those aged 14 to 20 from diverse communities with an introduction into a law enforcement career.