Brussels Bombers Identified As Brothers Khalid and Ibrahim El-Bakraoui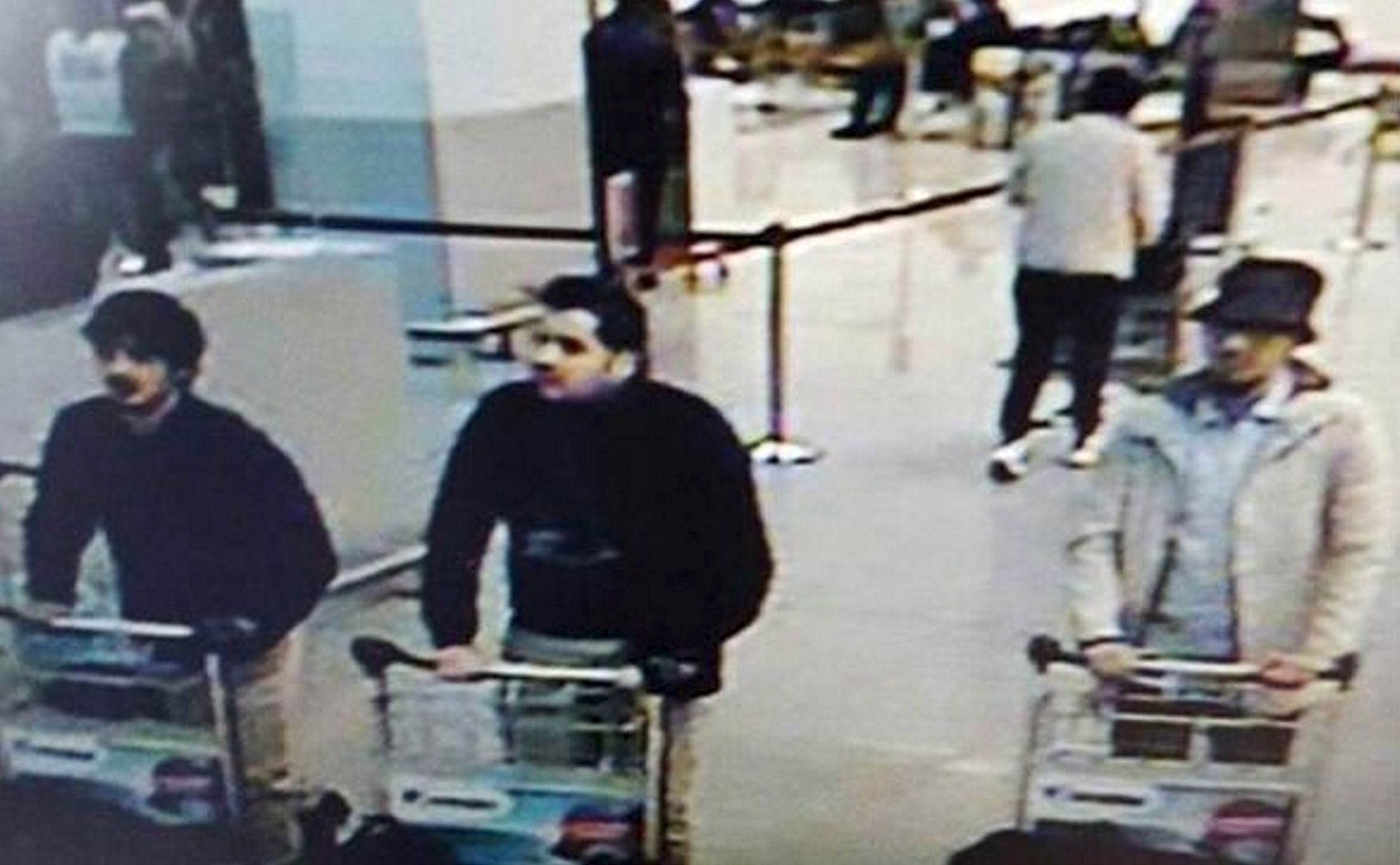 The Belgian Federal Prosecutor on Wednesday identified two suspects in the Brussells bombing attacks as brothers Khalid and Brahim El-Bakraoui.
Brahim, pictured in the middle of the CCTV image released by police on Tuesday, detonated a suicide bomb at Brussels' international airport, while Khalid was one of the bombers at the Maelbeek metro station, Frédéric Van Leeuw said at a press conference on Wednesday. RTBF, Belgium's state broadcaster, said the pair were previously known to police services and both had criminal records, but no previous known connection to extremist groups.
Khalid had previously used a false identity to rent an apartment in the Forest district of Brussels, where a police sniper killed Mohammed Belkaid, an accomplice of Paris attacks fugitive Salah Abdeslam, in a shootout last week. Abdeslam was arrested. Two other fugitive accomplices of Abdeslam, Mohammed Abrini and Najim Laachraoui, remain at large.
A third man, seen on the right in the CCTV image, is being sought in connection with the Brussells attacks. Belgian media outlets have identified him as Laachraoui, though police have not confirmed that ID.
The attacks, two at the airport and one at the metro station, left at least 31 people dead and 250 wounded. The Islamic State militant group (ISIS) claimed responsibility for both attacks, which they said were carried out against "crusaders."
After the attacks, Belgian authorities cancelled all flights, closed all metro stations and announced three days of national mourning. Airports around the European Union also tightened security, including Britain's Gatwick and Heathrow, France's Paris Charles De Gaulle and Germany's Frankfurt airport. The Netherlands and France deployed extra security forces to their respective borders with Belgium.
Abdeslam was captured on Friday after a series of area raids, which also uncovered an extensive jihadi network at the heart of the European Union that has been planning further attacks in the Belgian capital. Experts say that Belgian security services are overwhelmed and outnumbered by the sheer number of radical Islamists in the country.
Correction: An earlier version of this article cited Belgian media reports that said both Bakraoui brothers detonated their suicide bombs at Brussels Airport. The Belgian Federal Prosecutor later clarified that one detonated at the airport and the other at the Maelbeek metro station.