BTS Fans Frenzied Over Group's White House Appearance
K-Pop band BTS made an appearance at the White House on Tuesday afternoon, leaving their fans in a frenzy on social media.
The band's seven members—V, Jungkook, RM, Suga, Jimin, J-Hope and Jin—took turns quickly addressing members of the press during the White House briefing. The South Korean boy band was invited to the White House to speak with President Joe Biden to discuss Asian hate crimes, and what can be done to prevent them.
RM opened the briefing in English before the rest of the band took turns speaking in Korean. He said: "It is a great honor to be invited to the White House today to discuss the important issues of anti-Asian hate crimes, Asian inclusion and diversity."
Their talk with Biden falls on the last day of AANHPI Heritage Month, otherwise known as Asian American and Native Hawaiian/Pacific Islander month.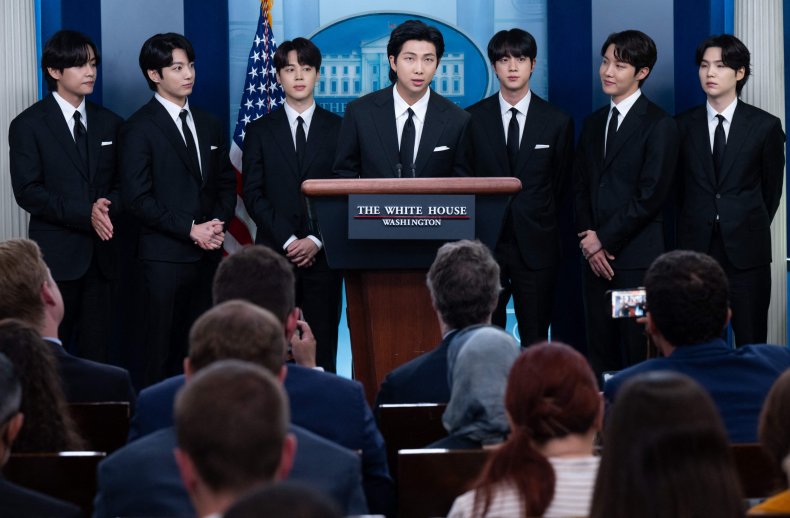 Fans of the group, who call themselves the ARMY, raved on social media about the impact that BTS made during their visit.
One social media user with the username @Army_Connect wrote: "Imagine the courage & confidence to be at the White House & deliver a speech in their own native language. BTS is telling the world that they fully accept their nationality, who they are & where they are coming from. And they are there to represent & be the voice for all of us."
Many fans showed their gratitude for the pop sensations, one writing that using their native language was a statement in and of itself.
"You know, in school, we used to be told 'you need to be good in English so people will listen to you' but BTS speaks in Korean and the world still listens to what they have to say," one Twitter user wrote. "Thank you for breaking that wall, among so many others that you've already broken."
Another wrote: "I'm not Korean but to hear @BTS_twt speak Korean from the WH is so emotional! As an Asian American, I can't even describe how proud I am of them!"
And one user tweeted: "Other artists have visited the White House before but this is certainly a whole different type of vibe than I have ever seen before. BTS is special and they do get people to pay attention and speak on things. This is an exciting and brand new time to be alive."
Their message in discussing anti-Asian hate crimes was not without recognizing the significance of their music's impact. Jungkook said on Tuesday via an interpreter: "We still feel surprised that music created by South Korean artists reaches so many people around the world, transcending languages and cultural barriers. We believe music is always an amazing and wonderful unifier of all things."
"Everyone has their own history," V added. "We hope today is one step forward to respecting and understanding each and every one as a valuable person."
White House Press Secretary Karine Jean-Pierre told the media after BTS spoke: "Right after they were here, they did go to meet with the president. Clearly I don't know what conversation was had....You heard from them directly, about how important it was for them to use their platform to be here to talk about issues that matter to them."
Jean-Pierre added that after meeting with Biden, "This was an important moment for them....They were thrilled to come out."
Update 5/31/22, 4:15 p.m. ET: This story has been updated with additional information.