Burger King Launches Three New Plant-Based Burgers Following Impossible Whopper Success
Burger King is introducing three new plant-based burgers made from Impossible Foods patties following the success of the Impossible Whopper.
Burger King announced on Monday that it will trial the three new burgers before potentially launching them nationwide, as reported by Thrillist.
The three new plant-based burgers include the Impossible Whopper Jr., a smaller variant of the Impossible Whopper that comes with tomatoes, lettuce, mayo, ketchup, pickles and raw onions. The Impossible Burger is similar to Burger King's hamburger and comes with ketchup, mustard, and pickles on a sesame seed bun. Finally, the Impossible Cheeseburger is the same as the Impossible Burger but with a slice of cheese.
According to Business Insider, the Impossible Whopper Jr. will be the first plant-based burger on the kids' menu of a national fast-food chain.
Burger King will test the plant-based burgers at 180 restaurants in Milwaukee, Cedar Rapids, Augusta, Cincinnati and Buffalo. Burger King tested the Impossible Whopper locally before launching nationwide, so there is a chance the new plant-based burgers could be available everywhere if they prove popular enough in the trial period.
Additionally, Burger King will be launching a plant-based burger called the Rebel Whopper in 2,400 restaurants across Europe. The Rebel Whopper is made with a patty by the Vegetarian Butcher.
Burger King's Impossible Whopper was released in 9,000 restaurants across the U.S. in August, and according to Business Insider, increased Burger King's sales by 5 percent in the last quarter.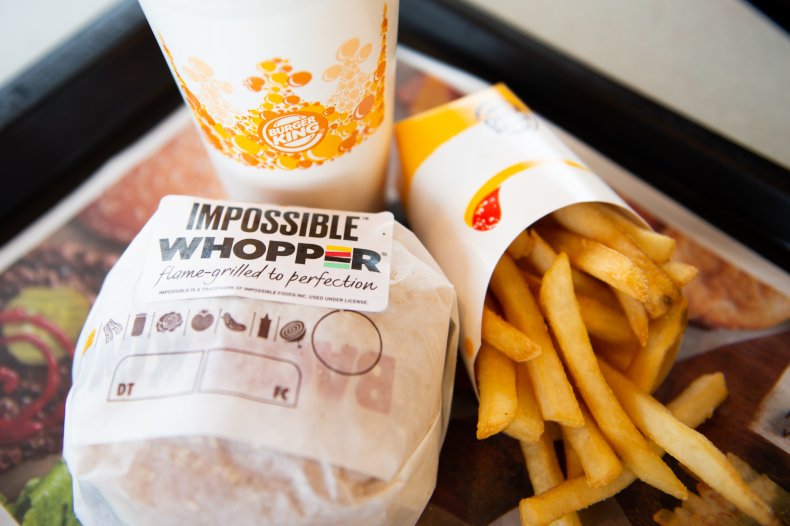 Plant-based burgers at fast-food chains
Burger King is not the only fast-food chain to introduce plant-based options to its menu. Recently, Carl's Jr. launched two burgers made with Beyond Meat's plant-based patties: The Beyond Famous Star Burger and the Beyond BBQ Cheeseburger. While the burgers are not vegan-friendly, they are healthier alternatives to meat.
In October, Denny's released the Beyond Burger made with a plant-based patty in its Los Angeles locations. Following this test, Denny's intends to launch the burger nationwide in 2020.
Dunkin' has also launched a new product using plant-based protein by Beyond Meat. The vegetarian-friendly Beyond Sausage Sandwich became available nationwide on November 6, following a successful trial in Manhattan. Dunkin' intended to launch the sandwich nationwide in 2020 but the release date was brought forward following the sandwich's popularity.
According to a recent report by the Plant-Based Food Association, over the last year in the U.S., retail sales of plant-based foods have increased by 11 percent. The plant-based food industry is now worth $4.5 billion and the plant-based meat category is worth more than $800 million.
Julie Emmett, PBFA's senior director of retail partnerships, said in a statement: "Plant-based foods are a growth engine, significantly outpacing overall grocery sales. We are now at the tipping point with the rapid expansion of plant-based foods across the entire store, so it is critical for retailers to continue to respond to this demand by offering more variety and maximizing shelf space to further grow total store sales."