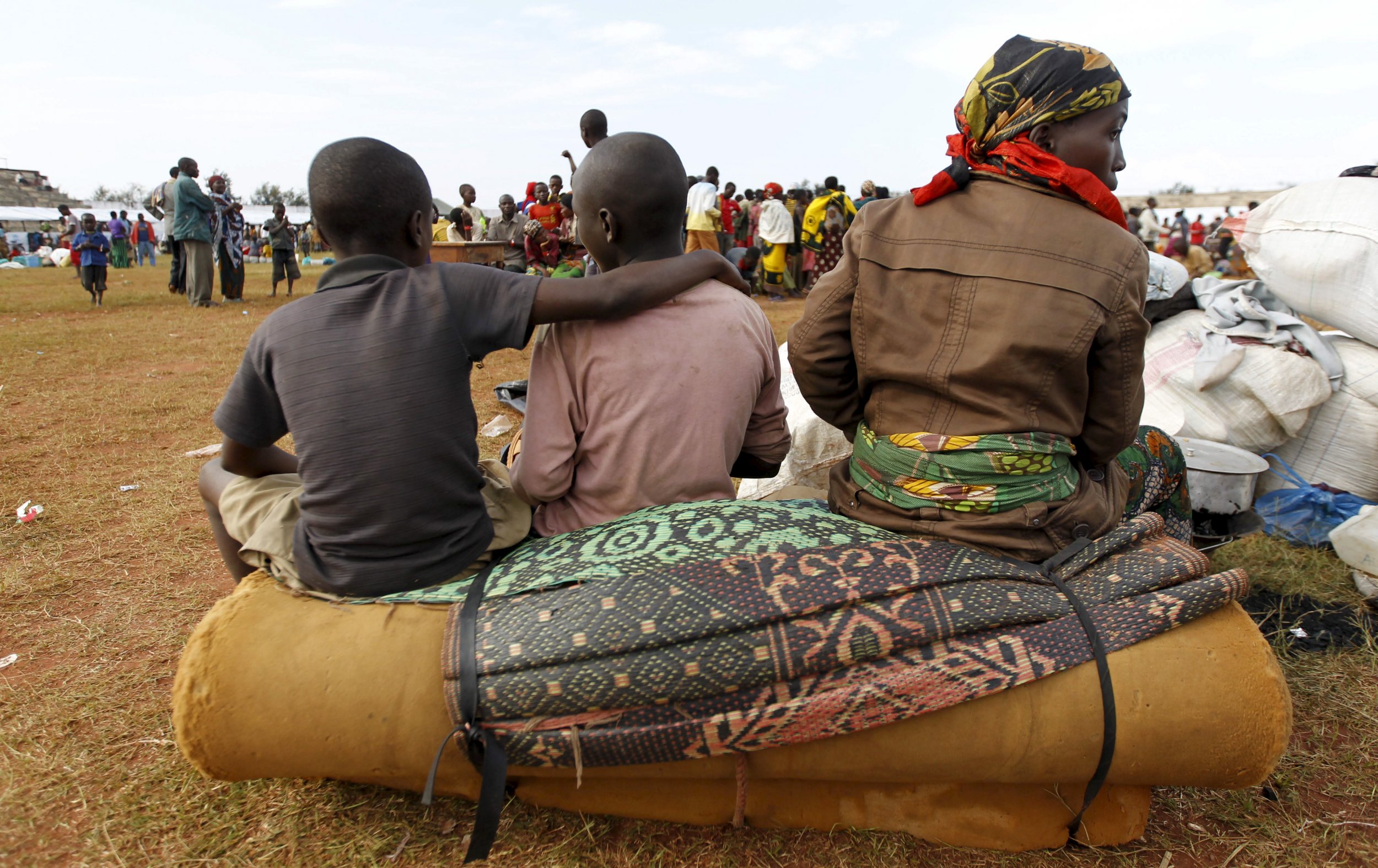 Rwandan President, Paul Kagame, has rejected accusations that Burundian refugees are being recruited into non-state armed groups on Rwandan soil, Reuters reported.
Burundi has seen sporadic outbreaks of violence since President Pierre Nkurunziza announced his decision to run for a third term in office in April. The ongoing conflict in the East African country has created more than 220,000 refugees with 70,000 flowing into neighboring Rwanda, according to the United Nations (U.N.) refugee agency. The biggest refugee camp in Rwanda, the Mahama camp, had a population of more than 44,000 as of October, with most of the refugees coming from Burundi, according to the Rwandan government.
U.S.-based advocacy group Refugees International (RI) released a report earlier in December on the potential recruitment of Burundian refugees by armed Rwandan groups not affiliated to Kagame's government. Citing accounts from Burundian refugees in Mahama and from international and humanitarian officials working with them, the RI report found at least 80 alleged cases of recruitment, with some refugees claiming that the rebels were looking to establish an army of around 5,000.
Recruitment was said to be for an armed group referred to as the Imbogoraburundi, which translates as "those who will bring Burundi upright/back." Burundian refugees also claimed they were told they would be fighting on behalf of opposition parties in their country, including the Movement for Solidarity and Democracy (MSD) and the National Forces of Liberation (FNL), though these claims were not verified by the parties.
Speaking at a press conference on Tuesday, Kagame—who has been president of Rwanda since 2000—rejected such allegations as "childish" and also refuted accusations by Burundian government officials that Rwanda was seeking to destabilize its neighbor. "They talk about Rwanda giving them guns to go and fight in Burundi. I haven't seen any evidence, not the tiniest evidence to prove that," said Kagame, without referencing the RI report directly.
Francisca Vigaud-Walsh, senior advocate at RI and the report's co-author, says that the recent histories of violence in both Burundi and Rwanda means that "a new rebel group is a very dangerous possibility, and the possibility of Rwanda being involved would clearly lead to regional conflagration."
Burundi suffered a 12-year civil war between 1993 and 2005, which was fought along ethnic lines between the Tutsi army and Hutu rebels. Around 300,000 people died in the war, which ended with Nkurunziza becoming president under a peace agreement.
In Rwanda, which has a similar ethnic makeup to Burundi, a three-month genocide in 1994 resulted in the deaths of some 800,000 Tutsis and moderate Hutus at the hands of Hutu extremists. The RI report's findings are "disconcerting given the history in the region and the history of proxy support by different governments for rebel groups," says Vigaud-Walsh.
Mahama is run by the Rwandan government in coordination with the U.N., and Vigaud-Walsh says that the report allegation that Rwandan officials are "at a minimum, turning a blind eye to recruitment and may even be facilitating it" was very concerning. The report called on the government in Kigali to maintain the humanitarian nature of asylum in Rwanda and called for the U.N. refugee agency to immediately deploy additional staff to Rwanda to monitor the situation.
Frederic Ntawukuriryayo, a spokesman for the Rwandan Ministry of Disaster Management and Refugee Affairs, told Newsweek that the ministry rejected the findings of the RI report. "These are baseless rumours," says Ntawukuriryayo.
A spokesman for President Nkurunziza, Willy Nyamitwe, told Newsweek that the Burundian government had evidence for the recruitment of Burundian refugees in Rwanda and the transfer of arms into Burundi from its neighbor. "We need, first of all, for them [the Rwandan government] to recognize [and] acknowledge their defeat in all attempts to destabilize the peace in Burundi," says Nyamitwe, adding that Rwandan authorities should "focus on their own problems."
Outbreaks of violence in Burundi are ongoing. Nearly 90 people died on December 11 after gunmen attacked three military sites in the capital Bujumbura, and the U.S. has told its citizens in Burundi to get out of the country. U.N. officials said in November that the violence in Burundi was at risk of escalating and taking on an ethnic nature, raising fears that the country could be on the brink of a genocide similar to that which occurred in Rwanda.