'Buzzkill' Maid of Honor Backed for Not Going to Bride's Bachelorette Party
The internet has backed a maid of honor after a bride called her a "buzzkill" for not attending her bachelorette party.
Published to Reddit's r/AmITheA**hole forum, a woman under the anonymous username u/Final_Cream6177 shared her story to receive the opinions of the "AITA" community. The popular post has over 6,000 upvotes and 2,000 comments.
The original poster began her post by explaining that her best friend and maid of honor, "Kathy," is a professional wedding planner and is helping the OP plan her wedding for free. The Redditor confirmed that she is "showering" Kathy with gifts as a thank-you for her help.
The OP informed readers that her bachelorette weekend is in two weeks and that Kathy didn't want to attend, which shocked her. Her fellow bridesmaids knew the "valid reason," but wanted the OP to hear it from Kathy.
"I asked her and she replied 'Look, you've made some requests for your bachelorette party and I respect everything you want to do but there are some things there that are off limits for me and some of the stuff such as the strippers I've booked for you and some other activities are crossing boundaries regarding me and my own fiancé's relationship. So I made sure to arrange everything perfectly just how you and the girls wanted it to be but sadly it's not something I want to be involved in. I hope you have the greatest fun,'" she wrote.
The OP was "heartbroken" that her maid of honor didn't want to participate in the activities but tried to not let it bother her. She did her best to try to change Kathy's mind, but she wouldn't budge. As a warning, Kathy told the OP that she wouldn't be drinking at her wedding either, out of fear of getting sick due to lightheadedness.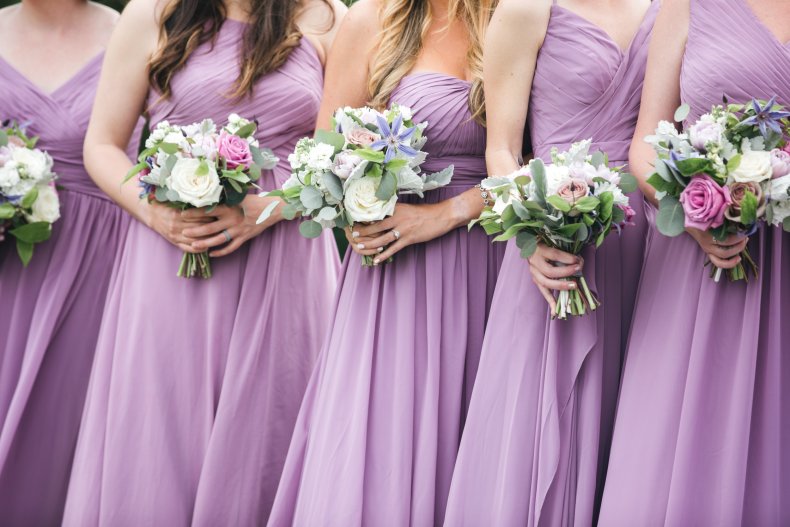 "I got very disappointed and at that moment I straight up told her I don't want her as a [maid of honor] if all she's going to do is be a [buzzkill] about everything regarding my wedding and how she can attend as a simple guest. She got very upset and thought it was unfair of me excluding her for these reasons. The rest of my bridesmaids now also believe that I took it too far and how her skipping the trip for personal [reasons] or not [drinking] alcohol is not something that would ruin my wedding and I'm just overreacting," she concluded.
Newsweek has reached out to u/Final_Cream6177 for comment.
What are the typical duties of a maid of honor?
When a person—typically a best friend, sister or another relative—accepts the bride's offer to be their maid of honor, they are in charge of the bachelorette party, bridal shower and other parts of the wedding process, via brides.com.
The maid of honor has many duties before and after the wedding ceremony. According to weddingwire.com, here are some of those responsibilities:
Before the wedding
Attend wedding dress shopping and fittings
Help out the bride with various activities including choosing cake flavors, picking out invitations and finding wedding colors
Answer typical guest questions
Host the bridal shower
Plan the bachelorette party
Day of the wedding: Before the ceremony
Get ready with the bride and bridal party
Be the messenger between the couple
Keep the bride calm
Keep all vendor information handy
Making sure everything stays on schedule
Day of the wedding: During the ceremony
Hold the bride's bouquet and the groom's ring
If applicable, make sure the bride's train and/or veil is arranged properly at the altar.
Sign the marriage license as a witness
Day of the wedding: Reception
Enter reception and dance with the best man
Keep the bride stress-free, ensure she has something to eat and drink and help her when needed
If applicable, collect the wedding gifts
Give a toast after the best man
Redditor reactions
"So let me get this straight. Your so-called best friend, who typically gets paid to plan weddings, has been planning yours free of charge. And you kicked her out of the wedding party because she personally opted out of strippers and drinking with no pressure to anybody else to do the same? Yup. [You're the a**hole]," u/ginselfies wrote, receiving the top comment of over 18,000 upvotes.
U/Temporary_Badger said, "[You're the a**hole]. She did a fantastic job planning everything to you the way you wanted, even though she wouldn't get to enjoy it. She was in no way judgmental of what you wanted, just politely bowed out because it was beyond her boundaries. But you've decided the main criteria for being your friend is enjoying strippers and getting drunk. So good luck with the rest of your adult life and marriage, I'm sure that's all going to work out great."
"[You're the a**hole]. You got the equivalent of hundreds (if not 1000's) in free skilled labour and because she has some boundaries and doesn't want a night out with strippers or get wasted at your wedding you were heartbroken? Oh do get over yourself," exclaimed u/CrystalQueen3000.
"[You're the a**hole]. So your friend has done a great job providing you with a professional level service and hasn't judged you for anything you want and is just maintaining her personal boundaries. And for this, you want to kick her out of the wedding party? She's not killing YOUR buzz. Someone not wanting to drink because they don't like the way it feels (or whatever reason) isn't doing anything TO you," u/madelinegumbo commented.
U/devlin95 exclaimed, "[You're the a**hole]. Time to look in the mirror, Bridezilla. She has gone above and beyond and donated thousands of dollars of her time and expertise to give you the wedding of your dreams. She's a buzzkill because she's not into strippers or drinking? Do you value actual friendship at all?"
Newsweek has published several articles regarding weddings, including where wedding guests reveal the worst weddings they've attended, a brother who was slammed online for an "awful" comment to his crying sister on her wedding day and a bride who got bashed for expecting guests to pay for their own meal at her wedding.
Has a wedding come between your relationship with a loved one? Let us know via life@newsweek.com. We can ask experts for advice, and your story could be featured on Newsweek.