You Can Now Stay in the Byers' House From 'Stranger Things' on Airbnb
Calling all Stranger Things fans—you can now rent the Byers' current house on Airbnb, which even has some iconic props.
The second half of Season 4 dropped on Netflix earlier this month, seeing people glued to the T.V. to find out the fate of Eleven and the town of Hawkins.
If you can't get enough of the heady mix of nostalgia infused with the supernatural, you can now stay at the bricks-and-mortar property seen in the latest installments of the show.
Home to Will, played by Noah Schnapp, Joyce, portrayed by Winona Ryder, and Charlie Heaton as Jonathan, along with Eleven, played by Millie Bobby Brown, the owners of the Albuquerque home, Ryan and Karen Asher, have tried to keep the interior "as original/authentic as possible."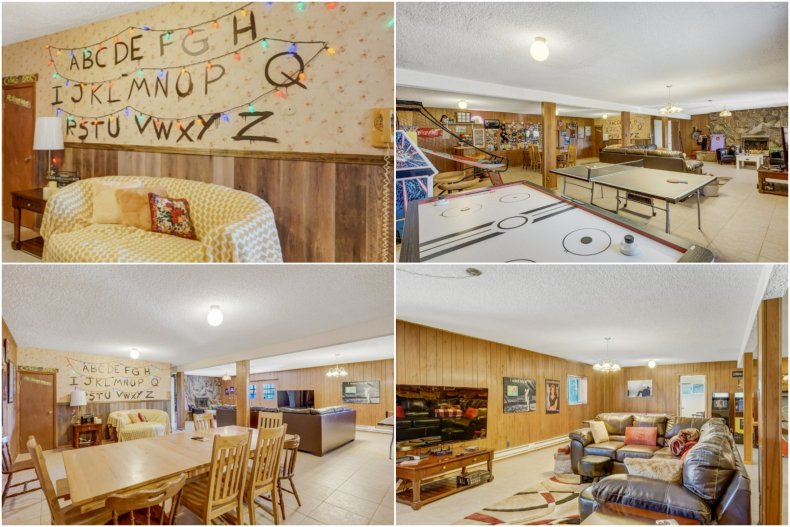 The Ashers told Newsweek: "We were initially going to move into the house until learning how popular Stranger Things has become. We decided to turn it into an Airbnb in order to share the home with others to enjoy as well.
"We love watching the Stranger Things fans excitement when they stop by to take a peek in the house or ask to take a photo.
"Of course we are big fans as well & Season 4 has become our favorite by far. All of it is pure genius. We are Gen Xers so to go back in time and be able to showcase this time capsule of a house has been an incredible experience.
"The only challenge is finding similar décor used throughout the house. We have been rewatching certain scenes, pausing every frame within hopes to replicate the rooms as close as possible. It's not an easy task but definitely a fun one."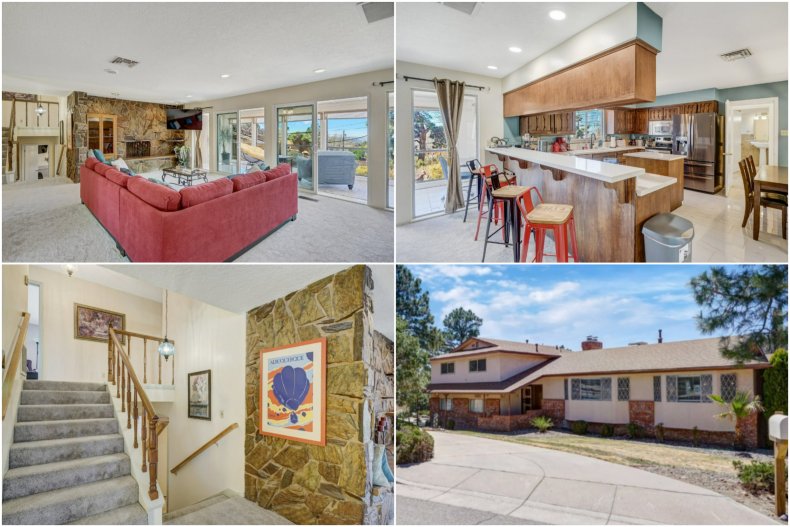 The Airbnb listing says: "Welcome to the New Mexico Upside Down. This 4 bedroom, 4 bath, 4,000 sq ft residence is the Byers new home in Netflix, "Stranger Things" Season 4.
"Go back in time with 70's and 80's décor with updated, modern conveniences.
"The basement is 80s themed with a couple of arcade games, air hockey, ping pong and iconic movies to watch."
Also in the basement is an alphabet painted on the wall, with fairy lights attached above, a throwback to one of the iconic plotlines in the first season, as Joyce uses it communicate with Will in the Upside Down.
The home, which can sleep 14, boasts mountain views, a fire pit and a HD T.V. to binge watch your favorite series.
Stranger Things, first released in 2016, has won a slew of awards over the years, including Emmys and Teen Choice Awards, with an impressive list of nominations to boot.
The show's influence in popular culture is so great it's seen Kate Bush's song, Running up That Hill, storm back into the charts at number one, some 37 years since its release in 1985.
The cast are due to hit our screens one last time for season five, confirmed to be the last ever season of the 1980s show.
Creators, The Duffer Brothers, shared a letter with fans explaining the story arc of Eleven, played by Millie Bobby Brown.
It said: "Seven years ago we planned out the complete story arc for Stranger Things. At the time we predicted the story would last four to five seasons.
"It proved too large to tell in four, but—as you'll soon see for yourselves—we are now hurtling toward our finale. Season 4 will be the penultimate season, and season 5 will be the last."