If Kylee Shepherd were to come back to Brigham Young University (BYU) in 20 years' time, the one thing she'd want to see is the fall of the "Black" table.
Shepherd, a junior at BYU, and her friends all hang out at one table in the Wilkinson Student Center, not because it's in an ideal location nor because of some social order that separates kids by club affiliation, but mainly because there's only enough of them to take up one table.
Of the university's more than 30,000 undergraduate students, less than one percent are Black. The school's white population is higher than any other university in the state, both public and private (although these figures do mirror Utah's membership of the Church of Jesus Christ of Latter-day Saints (LDS Church), which operates BYU).
"The fact that we have a 'Black' table is an issue in itself," Shepherd told Newsweek. "It just goes to show that we're not welcomed at anybody else's table. To relate it back, because we go to a church school, Jesus would have wanted me at his table and so, I should be allowed at any table."
Although the Black student population at BYU is small, the enrollment of any Black students shocked many Tik Tok audiences, who—up until they stumbled upon the Black Menaces on their For You Page—didn't know Black BYU students existed.
This worked well for the Menaces, given that the reason they created the account was to showcase the realities of Black students at predominantly white institutions.
At the beginning of Black History Month this year, Shepherd, Nate Byrd, Rachel Weaver, Kennethia Dorse and Sebastian Stewart-Johnson—also known as the Black Menaces—launched their Tik Tok. Today, they have amassed more than 393,000 followers and 14 million likes.
Their account mainly features videos where the Menaces go around campus asking students, and sometimes professors, questions on divisive topics from Black Lives Matter to former president Donald Trump to abortion rights to same-sex marriage.
In one of their most-watched videos, with 10.5 million views, they ask students on campus: "How many Black friends do you have at BYU?" (A third of the students interviewed had none).
The comments section of their Tik Toks can be tough, sometimes hostile and at best, compassionately surprised. Users can be quick to slam students who are evasive about the LDS church's exclusionary history of Black members, but can be just as quick to sympathize, "this is honestly so sad," under a video where a professor is unable to identify a picture of Rosa Parks.
"The reason we bring up these quotes is not to pin people against the church or church leaders or anything like that. It's more so people realize that this is the history of the church," Shepherd said. "We bring up these hard conversations to make people understand what they are really asking us to do by being members of the church."
Shepherd, who is originally from Bakersfield, California, said she understands that many of BYU's students may have never been exposed to these parts of the LDS Church because they may have been born into the faith or converted at a young age.
She said that while it may be difficult, it's important for white members to understand not only the history of the church, but the hardships and criticisms Black members face for joining a faith that has been known to discriminate against them in the past.
"We want people to be uncomfortable when we ask those questions because a lot of them have never been truly uncomfortable in their life," Byrd, a senior from Detroit, told Newsweek.
"In the Black community, there's a lot of perceptions of BYU and the Mormon church that are pretty negative, and for good reason," he said. "And so if we're Black and go to BYU, there's this perception like, 'Oh, they go to BYU. They must not really support the culture or they must be from Utah or they were raised by parents who are not Black'—all those kinds of things go through people's minds."
Many BYU students may find it easy to meet friends when they first arrive on campus, perhaps because almost the entire student population are members of the LDS Church. And because 81 percent of the undergraduate population is white, the majority of students don't have to reconcile faith with racial identity.
Black students at the school, however, have to grapple with the seemingly contradictory idea of being Black and Mormon, and more often than not, they're forced to do it alone.
A 2021 report written by a BYU faculty committee found that many of the school's students of color often "feel isolated and unsafe as a result of their experiences with racism at BYU."
A campus survey conducted around the same time also found that only 55 percent of non-White BYU students and employees felt satisfied with their sense of belonging on campus, compared to 75 percent of their white counterparts.
"Coming in as a Black student, unless you know at least one person, my experience was that it was really hard to find other Black people," Shepherd said. "When there's less than 200 of us, it is kind of hard to find your community."
Unlike White students who might just fall into a group of friends, Black students have to actively seek out their community. Weaver said this means some students may spend their whole college experience looking for the Black community, only becoming a part of it during their senior year.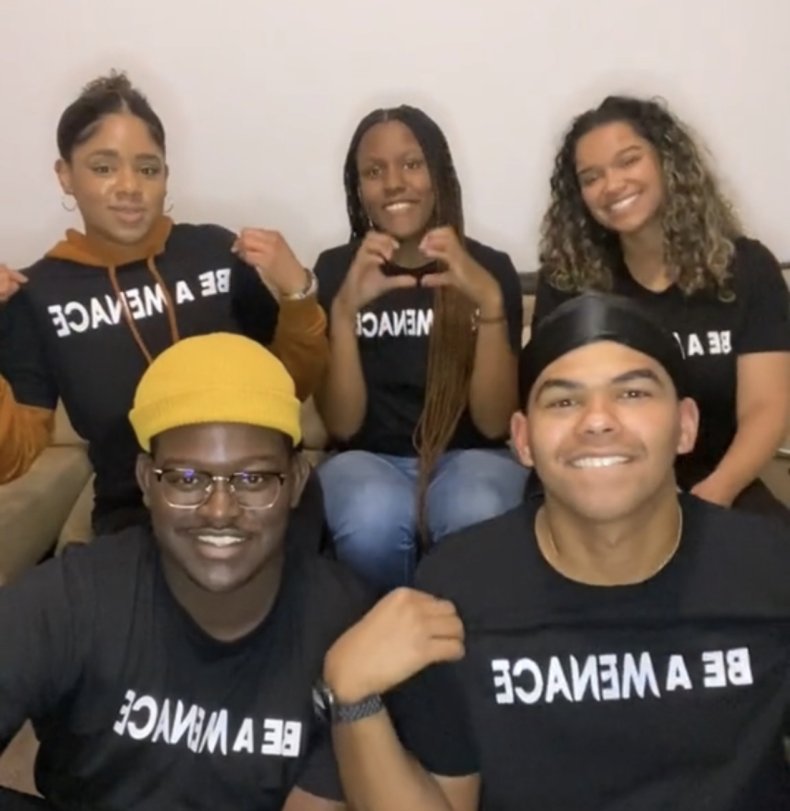 The Black Menaces have begun to lay the groundwork for a stronger Black community at BYU, but they want those efforts to be reciprocated by the school and they want their white peers to join in by challenging the ideas promoted by the university.
Although the administration of BYU has taken steps in that direction, the Menaces aren't satisfied with the school's current state of affairs.
"The church and BYU are very closely linked, and both are very concerned with preserving a certain image: an image of wholesomeness, purity and overall neutrality. But in doing that, they ignore a lot of things," Byrd said.
In the wake of the George Floyd protests, LDS Church President Russell Nelson joined the NAACP in calling for "educational leaders at every level to review processes, laws, and organizational attitudes regarding racism and root them out once and for all."
In response, BYU President Kevin Worthen formed a Committee on Race, Equity & Belonging (CoREB) to suggest recommendations for change at the university.
But less than a year later, Brad Wilcox, a professor with the school's Department of Ancient Scripture and a high-level leader in the LDS church, made a controversial speech during which he suggested that those asking about the Church's former priesthood and temple ban against its Black members were asking the "wrong question."
"Maybe instead of asking why the Blacks had to wait until 1978 to get the priesthood, we should be asking why did the whites and other races have to wait until 1829," he said at a youth fireside in February.
Wilcox later apologized for those comments and BYU issued a statement on the incident, saying it was "deeply concerned" with Wilcox's words but that the college "appreciate[d] his sincere apology & believe he is committed to learn from this experience."
"The school makes very performative efforts, so they'll tweet about it like, 'We are deeply disturbed about his comments,' but Brad Wilcox still sits very happily in his office. Or they met with some of us, but nothing came from it," Stewart-Johnson, a sophomore from Dallas, told Newsweek. "[BYU] never takes any real action to root out racist ideologies or perceptions or comments. They never increase the accountability standards."
"I think that's one of the toughest things because there's some action, so you can say they're doing things, but none of their actions ever lead to any greater, safer space for Black students," he said.
When reached for comment, BYU referred Newsweek to the school's March 22 statement announcing the appointment of its new vice president of belonging, a position Professor Carl Hernandez will fill effective in June.
The university also pointed to the school's new Office of Belonging, which was formed in August, but remained without a leader until last month's announcement. Both the office and Hernandez's position were recommendations made by the CoREB.
BYU did not directly respond to Newsweek's request for comment regarding concerns made by Black students at the college or possible action related to Wilcox's position at the university.
"What I find the funniest is that we never actually give our opinion [in the Tik Toks], yet everybody thinks they know it. It's funny watching people argue in the comments like 'y'all are this way' when we probably all think differently," Shepherd said. "It shows ignorance and hate because they're so quick to stereotype all Black people into believing the same thing."
One of the most common questions the Menaces get on their Tik Toks is, "Why don't you leave BYU?"
For Dorse, a junior from Nashville, it's the one thing she had not anticipated when the Menaces began their journey: "I didn't think I was gonna be so annoyed with that question, but that question comes up multiple times a day on every single post that we make."
Religion was a motivating factor for each of the Menaces when they decided to attend BYU. While their level of involvement varies now, all five of the Menaces are still members of the church and none of them have considered transferring to another university.
"Sometimes the comments sections really bother me, especially on Instagram. I don't know why but I feel like the people on Instagram are worse," Stewart-Johnson said. "Today, there was one dude who commented on like 20 of our videos on Instagram. I was reading his comments and they were just aggravating me because they were so foundationally [sic] ignorant."
"That's a struggle for me because I imagine how difficult it will be to make that person see what we go through," he continued. "I don't make it my battle, I don't argue with those people because it's just wasting my time, but those are one of the defeating things for me."
The Menaces aim to reach people who have never really considered many of the issues they ask about. Even though most of their questions are posed as binaries, "sometimes it's okay to be in the middle."
"If it's because of a lack of knowledge, there's nothing wrong with that," Weaver, a senior and Chicago native, said. "But I wish more people would just say, 'I'm not educated on this' or 'I don't know,' rather than trying to be in the middle because they're ignorant to the other side."
Being uninformed, though, has its limits and can quickly turn into ignorance. A number of the Menaces were taken aback by how little some of their peers knew about major events that are shaping the lives of millions of Black Americans today, like the historic nomination of Judge Ketanji Brown Jackson, who could soon be the first Black woman to sit on the Supreme Court.
"I get surprised at how much people don't know, whether it's about history in the church that affects Black people or if it's just about current day-to-day events that affect Black people," Stewart-Johnson said. "When we asked about the Supreme Court nomination, nobody knew about it. We were actually shocked because that's a pretty big deal. It's the Supreme Court. And yet, nobody knew anything about it."
"It's also shocking to me when people say they haven't thought about something before or say, ''I haven't thought about that in a long time,'" he added. "Suddenly, I remember they get that privilege of not thinking about things for a long time."
While the answers from some BYU students have been a disappointment for the Menaces, they believe the majority of the student population is ready for institutional change. Now, they say it's up to the school to help lead students toward a future where the LDS Church will be more inclusive.
"There are more students with us than we believe, but the resistance is strong," Weaver said. "It's not only conservative people, but also that the idea of being conservative and not talking about these things is a part of our church culture, which is really strong at BYU."
"The administration, the people who make decisions for the university, also doesn't want that change," she added. "They're not going to go with the trends of society. Even if the majority of the school wanted something, that doesn't necessarily mean that the leaders of our church do."
This is why the Menaces are so focused on building community at BYU. The community they want to create extends beyond the Black students and other students of color at BYU. They want that community to include people who hold the same beliefs and hope for a new vision of the church.
"We want to work to create a community for people who are othered in Utah," Stewart-Johnson said. "People who don't fit the typical norm of a white, heterosexual member of the church who's conservative. Hearing from the people who come up to us on a daily basis, they're in need of it too."
"Even for people who didn't necessarily identify with these communities, but feel a closeness to these communities or want to support these communities, I think it'll be a good way for them to get support," Weaver said. "There's a lot of white, liberal people here who want to help and do their part. I think it'll be a good opportunity for them to be part of these communities as well."
One day, maybe in 20 years' time, Weaver hopes the Menaces will be able to give back to the Black community in Utah through scholarships for Black students at BYU or through recruitment processes that will increase the number of Black admits.
"If my kids went here, I would hope that they wouldn't feel like they have to seclude themselves from their college experience in order to feel safe, because I've had to do that in lots of ways," she said. "I want my kids to fully immerse themselves at their university—go to any club they want, go to any event, and not be afraid of feeling uncomfortable and othered."