Caitlyn Jenner Calls For 'Better' Candidates, More Diversity in the GOP
Caitlyn Jenner has called for the Republican party to put forward "better" candidates and become more diverse to attract potential voters.
Earlier this year, Jenner ran a doomed race to replace California Governor Gavin Newsom, scraping just 1 percent of the total vote in the September election.
However, the former Olympian revealed in an interview with U.K. TV show Good Morning Britain on Friday that she is "not out of the political game," as she works to boost the GOP's appeal among a wider demographic.
"I am actually working with the Republican party right now to be more inclusive," she said in the remote interview from her home in Malibu, California. "We need to be what I would call the big tent party. We need more diversity in our party, we need more ideas and we need to put forward better candidates."
The former Keeping Up with the Kardashians star said that she felt she was "right for California" as a governor because she ran as a "moderate republican."
I'm on the Republican side because I have conservative economic values. They work," she said.
"Every time you have less taxes, less regulations, a pro-business environment, the economy grows. But on the other side, when it comes to social issues, I was much more progressive. But you can't have one without the other. You can't have progressive programs if you don't have a vibrant economy."
Caitlyn Jenner on Gavin Newsom
Jenner, who conceded that "politics is a tough game," also discussed the unsuccessful bid to recall Newsom, who will likely now serve the remainder of his term.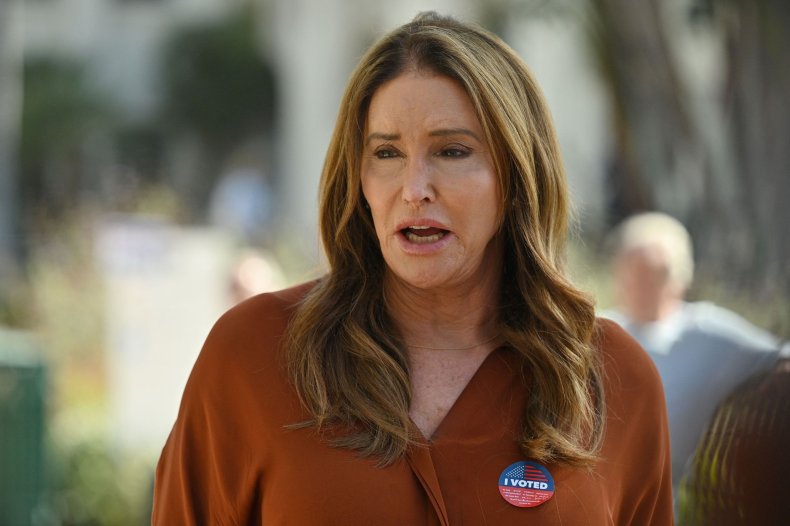 "There's a lot of things that are happening in this country right now that I don't like, and I want to be an example to people—no matter who you are, no matter what you've been through and your past—that if you don't like what's going on it's time to stand up and get in a position of power.
"It was a five-month run on the recall. Unfortunately, in the end, Gavin Newsom was not recalled. That was extraordinarily disappointing to me. Not because of me personally, but for the people of California.
"We deserve better. We deserve better than Gavin Newsom. We deserve better than what's happening in Sacramento. We've had 18,000 companies leave and more are gonna leave now. People are leaving the state... high taxes, high regulations and it's a shame.
"California is such a beautiful place. I came here with the California dream and accomplished that dream and to see it go downhill like this [is] just terribly disappointing."
Caitlyn Jenner on Her Family
Elsewhere in the interview, she spoke about awaiting the arrival of her 19th and 20th grandchildren. Her youngest child, Kylie Jenner, previously announced that she is expecting a second baby with her partner, Travis Scott.
However, Caitlyn Jenner has plans for an even bigger family, saying: "I told all the kids, I'm going for 30 grandchildren. That's a nice round number.
"Now the girls weren't too excited about that, but I figure if you have ten children you average three apiece but one might have four, one might have two so we're kind of on schedule. I love a good goal and the girls are on it."
Caitlyn Jenner on Meghan Markle
Caitlyn Jenner, who was previously married to Kardashian-Jenner matriarch Kris Jenner, also weighed in on Meghan Markle's interview with Ellen DeGeneres, which hit screens on Thursday.
"I think Meghan is in an extremely difficult position," she said. "She's coming from out here in L.A., meets the love of her life and goes back there and all of a sudden next thing you know she's in the royal family. I kind of have a royal family here in L.A. but nothing like she's dealing with."
"To be honest with you, I think it just takes time to see how you fit in," she went on. "I thought she was so much more real and at peace with herself. I thought it was great for her.
"You go from obscurity to the cameras on you every day—everywhere you go, you're scrutinised and the media and the rags over there can be very tough on people and if you're not used to that, that's tough to deal with. In that interview she was kind of herself and good for her."
Over the summer, Jenner flew out to Australia to appear on the reality show Big Brother VIP as part of a cast that included the Duchess of Sussex's estranged half brother, Thomas Markle, Jr.
"I understand the politics of family," the erstwhile gubernatorial candidate said. "You're talking to a professional right here! I have so many kids, so many things going on.
"The politics of a family can be very difficult. I think Tom, Like so many families, they're very difficult relationships. It's difficult, it's not easy on people. I am very fortunate in my family, I pretty much have a good relationship with all of them.
"You have to work at it and you have to spend the time with your family and your kids, now I've got so many kids, grandchildren—it takes work. It honestly takes work."