California Fire Map, Update as Mosquito, Fairview Blaze Rage Out of Control
Firefighters in California are battling two dangerous wildfires, with the Fairview Fire and Mosquito Fire hitting the south and north of the state respectively.
The Fairview Fire, which is burning by Hemet in Riverside County, has continued to grow, consuming 4,500 acres by Tuesday evening, according to the California Department of Forestry and Fire Protection (CAL FIRE).
As of Tuesday evening, CAL FIRE said the blaze was only five percent contained, with the Los Angeles Times reporting 3,500 buildings are under threat.
An existing evacuation order, covering an area from Stetson Avenue in the north to Cactus Valley Road in the south, remains in place.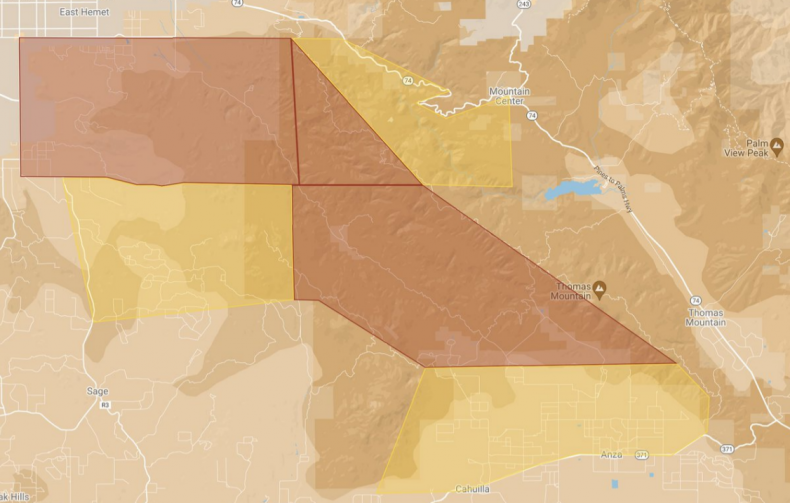 It has been extended further east by new orders, and now includes communities in Cactus Valley, Bautista Canyon and Thomas Mountain Ridge South.
Evacuation warnings have also been issued for areas further to the south, east and west.
An evacuation order means an area is closed to the public, with residents legally compelled to leave. If an evacuation warning is issued, it means authorities believe there is a threat to life or property in an area, and residents should consider leaving.
On Tuesday, two people were killed by the Fairview Fire, whilst another was taken to hospital with severe burns to the face, arms and back.
The Riverside County Fire Department first responded to the blaze at 3:37 p.m. on Monday, at which point it covered 20 acres. It grew quickly, reaching 2,000 acres in the evening, according to local authorities.
A care center for evacuees has been setup in Tahquitz High School, on 4425 Titan Trail.
Investigators do not yet know what caused the Fairview Fire, which firefighters have been tackling from the air and the ground.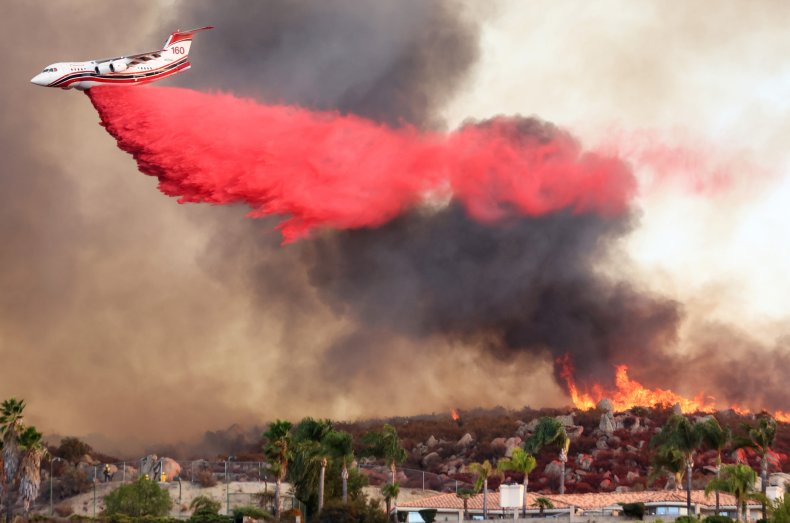 Evacuation orders are also in place for parts of the Tahoe National Forest, about four miles east of Foresthill on the border between Placer and El Dorado counties, after the Mosquito Fire burned through 100 acres.
The blaze is currently zero percent contained, though it is not reported to be threatening any structures at present.
In a statement, Foresthill Fire Protection District described the Mosquito Fire as "a serious major fire."
Evacuation warnings have also been issued for "areas north of Foresthill Road east of town and all areas of Foresthill proper along Foresthill Road down to Hillcrest Mobile Home Park," according to the district.
An evacuation shelter has been established at Bell Road Baptist Church, 707 Bell Road, Auburn according to the Placer County Sheriff's Office.
California is in the midst of a heat wave, which extreme weather expert Colin McCarthy said was "one of the worst" in the state's "modern history."
There are concerns California could be hit by blackouts as the heat wave causes a dramatic increase in energy demand.
On Tuesday, California residents were asked to reduce their energy consumption from 4-9 p.m., whilst brief power outages were reported in the San Francisco Bay Area cities of Palo Alto and Alameda.